Official Team 9 Thread
11-29-2011, 04:24 PM
---
Where I live/hunt in Virginia, the firearms (muzzleloader, shotgun, and rifle) starts at the beginning of November and runs through the end of hunting season which is usually around the first Saturday in January. I'm amazed we have any bucks left from year to year with such a long gun season.

I wish I could go hunt some place else that has a good late archery season. Good luck to you guys still trying to score some points for us!
Rifle season ends here tomorrow,Then 10 days of muzzleloader, then a late doe season for a week or so but from tomorrow till the end of January its also bow season. In 23 yrs of hunting don't think i've ever hunted past tomorrow.But with the spot ive got this yr and after sundays rifle hunt and seeing what i'm sure was one of the big ones left(even tho i only seen it at a tremendous distance, an ant in the binos) It's makin me want to still keep at it. Think its mostly this dang contest!! Hate to let you guys down!! We'll see how things work out with the holidays coming and all.
Oh yeah, i know it has nothing to do with bow hunting but i gotta show him off anyways! Not my biggest rack, but been cutting him up the last couple days and no doubt!! My biggest deer ever!! gotta show ya's a pick so ya know i can actually kill one!!!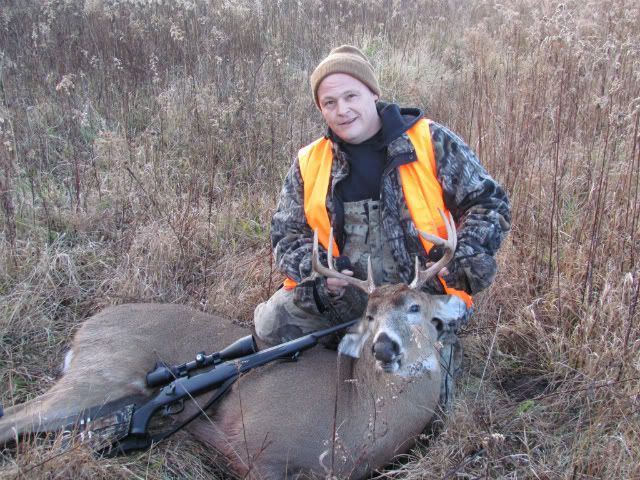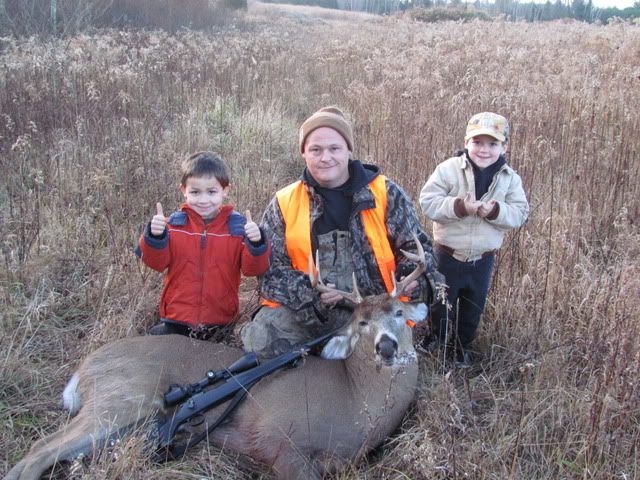 ---
Last edited by j76; 11-29-2011 at

04:32 PM

.
12-03-2011, 04:24 AM
Cheated, but here he is.
---
Well here he is, 17 yards on the run toward me. Wish it was with the bow. We have the shed of this deer from last year and we passed him up during rifle season about 20 times last year as well.
R L
21 2/8 22 3/8
2 4/8 2 5/8
13 4/8 13 5/8
11 5/8 9 7/8
12 3/8 10 0/8
4 6/8 5 0/8
4 5/8 4 2/8
3 5/8 3 5/8
4 2/8 4 2/8
5 5/8 abnormal
17 5/8 spread
Total gross Score would be 177 2/8 would be 141.8 if it was a bow kill for the team.
12-03-2011, 08:40 PM
---
Well my son tagged out last weekend so that gives me the rest of the season to get busy. It's raining so it looks as the next couple of days are out however, I have the last two weeks of the year off and doing nothing but hunting. Congrats to sticks on a real nice buck.
12-05-2011, 10:30 PM
---
Another off the wall weekend, took today off so I could have 3 day weekend to hunt. Saturday high temps kept deer from moving much, Sunday and Monday rain all day. This has been a funny season went from high temps to wind to rain. This is the first time in many years I have not already killed a buck, off again next Monday then the last two weeks of the month. Hopefully I will put an arrow in something before long.
12-06-2011, 03:47 PM
Got my mount back
---
Got my contest mount back already. The guy said by Thanksgiving but he lost power for almost two weeks so I cut him some slack.
What do you think?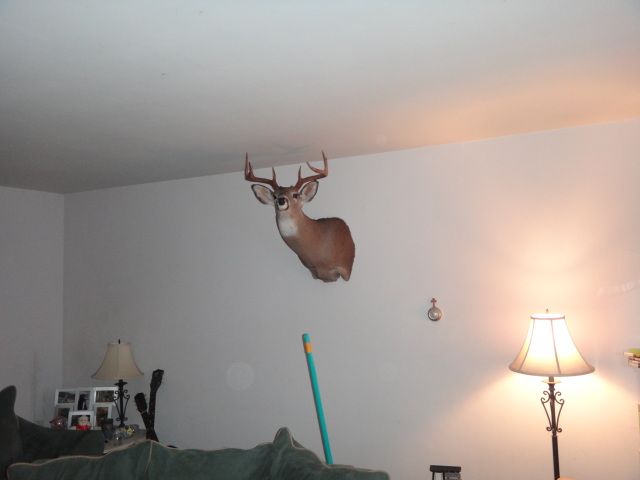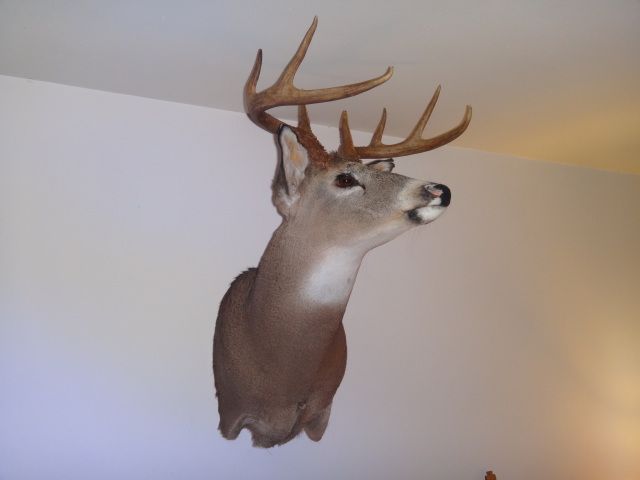 Theres several patches of messed up fur on the shoulder in this pic, I think its from dragging him out but the taxidermist said it might be from another buck.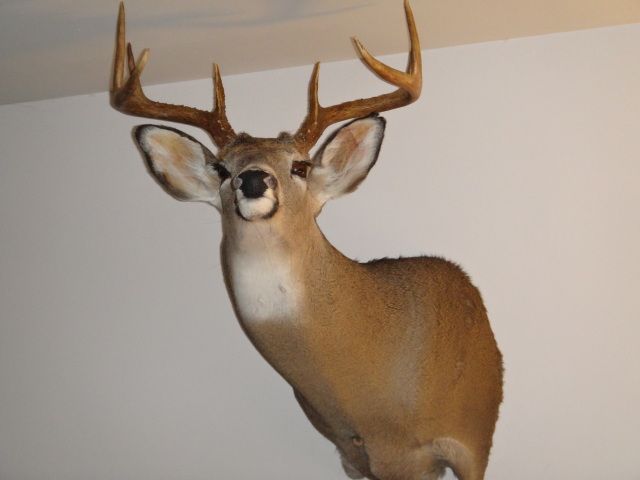 Its my first mount, I like it.
Not sure if its staying there or not, that was the easiest spot to hang him for now.
---
Last edited by Leverdude; 12-23-2011 at

03:30 PM

.
12-21-2011, 05:15 PM
---
Had to post cause we have been towards the bottom of this thread for wayyy too long! Leverdude, no pics of your mount!! would love to see it tho, that was a dandy!! is anyone still at em???? My hopes of late bowhunting are fading fast, but was a pretty cool season none the less. Snareing some coyotes is taken over now, but do plan on gun hunting the late doe season at least once this weekend is where i;m at right now. Whats up with the rest of ya??>?????