"Team All-In" Team 11 Check In Thread
11-25-2011, 08:51 PM
---
Louie, use my score as a guide on scoring your buck. It looks like you left off your 4th H measurement and I did not see the length of each main beam either. There are always 4 H measurements no matter what size the buck is. Try putting the tape on it again and let us know. Also we are only interested in gross score. We aren't taking any deductions in this contest. Right now my computer is acting up so I can't see any pictures. Here is a sample of my score to use as a guide:

RMB - 21 7/8 LMB - 21 5/8
Inside Spread - 17 4/8
R G1 - 5 5/8 R H1 - 5 4/8
R G2 - 8 2/8 R H2 - 3 5/8
R G3 - 7 5/8 R H3 - 4 2/8
R G4 - 2 3/8 R H4 - 3 3/8
R G5 - 1 3/8
Abnormal Point R 1 1/8
L G1 - 5 4/8 L H1 - 5 2/8
L G2 - 8 3/8 L H2 - 3 4/8
L G3 - 7 3/8 L H3 - 3 3/8
LG4 - 3 2/8 L H4 - 3 2/8
TOTAL SCORE = 144 1/8
11-26-2011, 07:32 AM
---
The h4 is 1/2 the length between the tip of the main beam and the non present g3 so you use that # twice. I guess my gross score is 57-4/8 then. If this looks correct Ill submit it, and I added the main beam lengths.

RMB: 11-2/8 - LMB:10-5/8
INSIDE SPREAD: 9-1/8
RIGHT ---------- LEFT
g1: 1-5/8 ------- 1-2/8
g2: 2-7/8 ------- 3

h1 2-5/8 ------- 3
h2 2-3/8 ------- 2-4/8
h3 2 ------ 1-5/8
h4 2 ------ 1-5/8
11-27-2011, 07:41 PM
---
I had a little luck in Nebraska this past weekend. On Saturday morning, I managed to shoot every arrow in my quiver. I missed a coyote at 50 yards, killed one at 10 yards, shot a doe at 15 yards and missed one at 23 (she totally jumped string on me). On my last shot, my string jumped the bow's lower cam track. My bow was dead in the water. Luckily, the gents I hunted with had a press. I was able to get my bow back into working condition for an evening hunt. I proceeded to arrow a second doe Saturday evening.
Here are some pictures: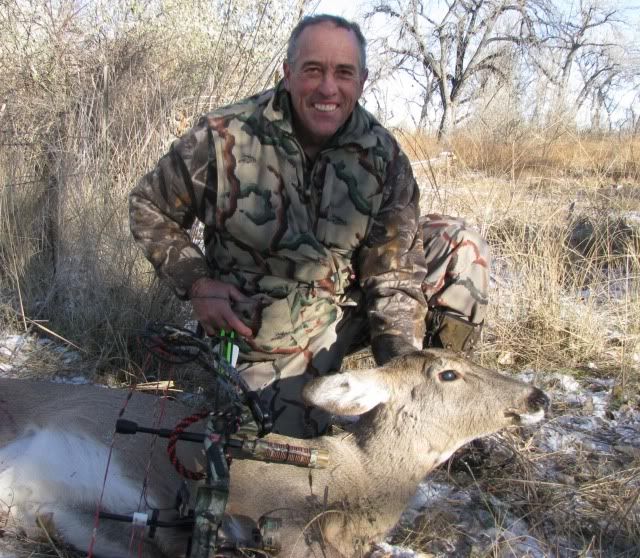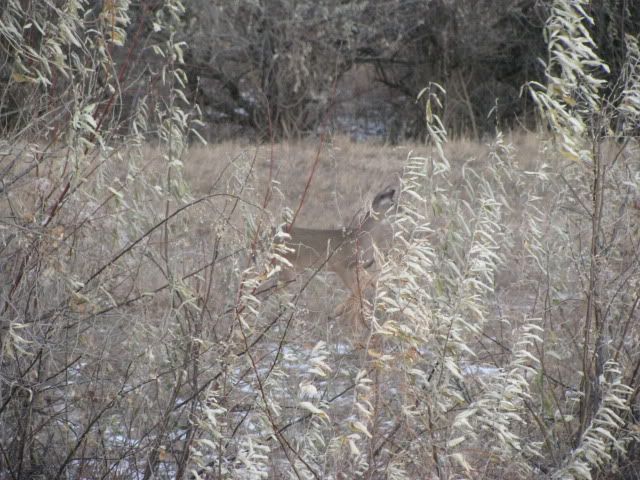 ---
Last edited by iamyourhuckleberry; 11-27-2011 at

07:43 PM

.
11-29-2011, 07:48 PM
---
12-02-2011, 11:41 AM
---
I have been pretty limited in my hunting the past couple weeks. I had my gun season but havn't really had a chance to get back out with the bow. After this weekend of gun hunting I should be able to get out and hit it hard on the weekends with my bow.