GR8 VIII's Official Team Thread
09-18-2011, 09:49 AM
---
First blood yesterday afternoon - took a 20yd "war shot" at this groundhog that has been showing up on my cam covering the foodplot. Centerpunched him, good riddance! The only doe I saw was well out of range.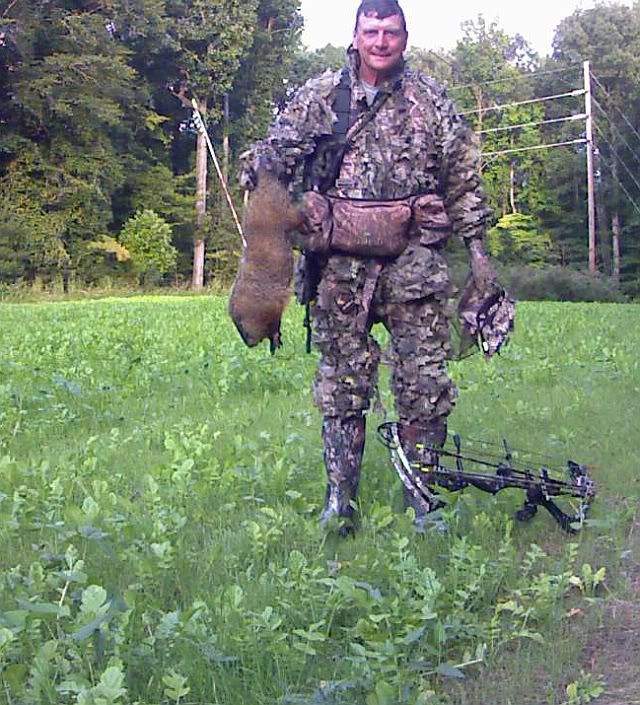 09-19-2011, 07:51 AM
---
Cool fsh! I love rippin varmints when I can.
I went out a couple times on our early doe season. I didn't have any luck but did see a buck we'll be after this year. We call him Fonzie. We name the bucks for a couple reasons but mainly to help ID them when someone sees them. Last year it was don't shoot Fonzie he needs a year or two. Looks like he only needed one. He's not a giant but he looked pretty good Saturday. We know he's at least a 3.5 year old and that's saying something for Michigan.
I'll post some t-cam pics of him soon.
09-21-2011, 04:55 AM
---
[quote=Mottz;3850607]I want to see those trail pics robow!
I realized they are videos and I need to see how to post them.
Actually you can see Fonzie if you click the link below. Click the green hoof print and he is the one third from the bottom. If you watch the show pay no attention to the dork leaning on the truck with the red hat on.
http://www.midwestwhitetail.com/states/michigan
09-21-2011, 05:56 PM
Nontypical Buck
Join Date: Feb 2003
Location: Isle, MN
Posts: 1,469
---
just got back from cabelas. oh, is my wife going to kill me when she sees the credit card bill. picked up some axis arrows and a very painful in the wallet lone wolf climber. i like my summit but it packs so far off my back that it's a pain to carry. buyers remorse i guess.
i went out last night in 25/30 mph winds and guess what? i didn't see anything. not even a bird or a squirrel. same stand i got my first buck (of 3
) last year in. checked the camera and there's a nice 10 and 8 hanging out there. so, at least i now have some prospects in mn. i've had no shooter pics for the past 3 weeks.
---
Last edited by RackLuster; 09-21-2011 at

05:58 PM

.
09-21-2011, 08:21 PM
---
sorry guys....I've been a little absorbed in work and haven't been on...

Who is hunting now? I still have to wait till October 15 (but have a wedding to do!) might not get into the woods until the 17th.