Team 5 Thundering Toms
03-14-2010, 05:27 PM
---
I didnt get to scout today... but my van is ready for the week for work all cleaned out and organized . May get some evenings to scout this week so crossing fingers.If i didnt have work id be driving 200 miles across the state to hunt, it opens tommarow there.A bud asked me to join him, but need to work when ya can get it in the roofing business.
I am ready to unleash the Thunder from my gun at some Toms.
Talked to the farmer next to my hunting property and he said the birds have broken into small groups .
03-15-2010, 02:41 PM
---
nice! my dad called me today and said the birds are starting to break up near where we hunt... i might take (i think it was muds idea) and go to one of the parks and mess with some turkeys.. its been a while since i had a bird going
03-15-2010, 04:05 PM
---
Hey all... Sorry I havent been around for a while... Just got promoted at work so have lots goin on there along with searching for a new job as well...
I like the avatar and I like the team name so my vote wouldnt have meant much...
I will read over the posts to get caught up in the next day or so!
03-15-2010, 05:46 PM
---
Well team it looks like we will have to shock all the other teams when we come back and smoke their butts, team 11 has a bird on the board already. I know the lead will soon change and we will take the lead and all the other teams can chase us to the end and we will still be on top. I like a little competition so let them get started, our time is coming.
03-17-2010, 02:53 PM
---
I got out and went and looked at the flock that i primarily hunt in the spring. There was only about 250-300 birds out there, I don't know what the deal was but there is normaly closer to 400. I didnt see any huge toms but, there were a ton of two year old toms out there with about 9" beards and 1" spurs. I am really getting excited for season to start.
03-18-2010, 08:48 AM
---
It is like a little refuge for them. There is these two old men that live there and they feed them year round and know one hunts them. I just happen to hunt right across the road from there. I will try and get some pictures of them.
03-18-2010, 06:50 PM
---
ksfowler, I only live about 3-4 hours from you if you have more turkeys then you can handle give me a shout and I will come down and kill a few of them for you. Are you in Rio Grande country? I hunted in northeast kansas a few years back with my son-inlaw when they lived down there but it was in the easterns area. Maybe I could put you on some waterfowl hunting here in SW Iowa.

2moro is not going to feel like spring around here, we are forecasted for snow, 2-3 inches thru friday nite. Cold this weekend but back in the 50's for next week.
03-19-2010, 05:49 AM
---
Yea it is all Rios around here. They say there are some easterns in part of the county I hunt in but I have never seen one. Here are some pictures from this morning. Those toms were really fired up they were gobbling at everything. They seem to be breaking up some too. There was quite a bit of gobbling going on from birds that I could not see.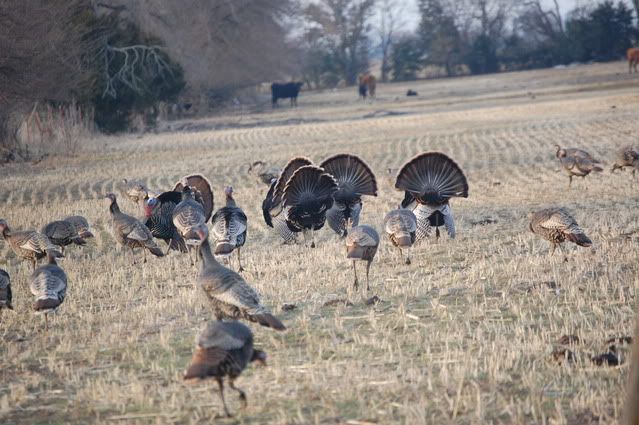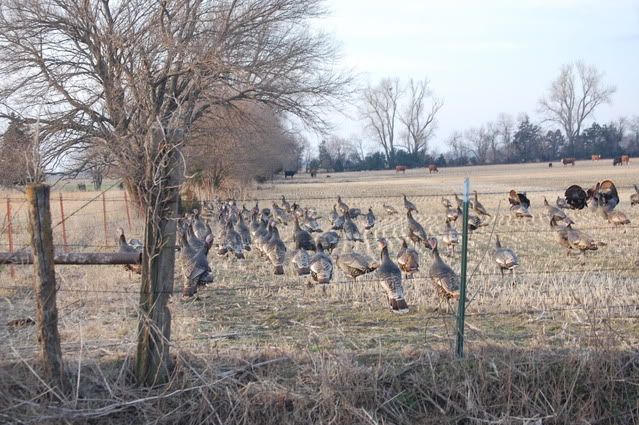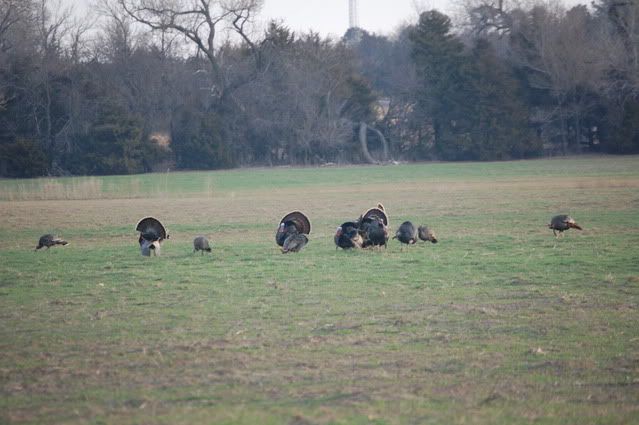 I will leave this picture big so you can see the beard on the bird on the left!