Team 5 Thundering Toms
03-27-2010, 07:36 PM
---
Well all im itching to get out only a 5 days left till our opener here .
I am waiting on my firingpin assembly to get here for my mossberg.
But i will use my .410 and bow till it gets here.
Ready to put the smack down on some birds.
03-28-2010, 08:57 AM
---
Went out yesterday to one of my best spots and seen 17 longbeards in a 1/2 mile, all of wich I can hunt. Man I am so ready to put the smack down on some big Iowa birds. I still have three weeks till my season. But youth season starts in two and I have some kids lined up and ready to go.
03-28-2010, 05:29 PM
---
nice. well i would do that except the grades come out this week... i go on spring break on thursday and the season starts the 17th for me so that gives me one week to have good grades which is near impossible seeing as you start at a 0% but i guess if i can get a grade check i will look extra good with all a's in a week because they cant really give us that much to be graded on in a week right?
03-29-2010, 01:39 PM
---
bad news guys... as of right now it doesnt look like im going to be turkey hunting this year... i may be able to convince my dad to give me a chance to get my grades up and give him a report right before the season starts but i wouldnt count on it. once again guys im really sorry but i know you guys will make it through with or without me seeing as we have 11 people not counting me which i believe is more than any team. im really sorry but ill keep you updated with the situation
03-29-2010, 05:55 PM
---
So is this a 40 yard gun?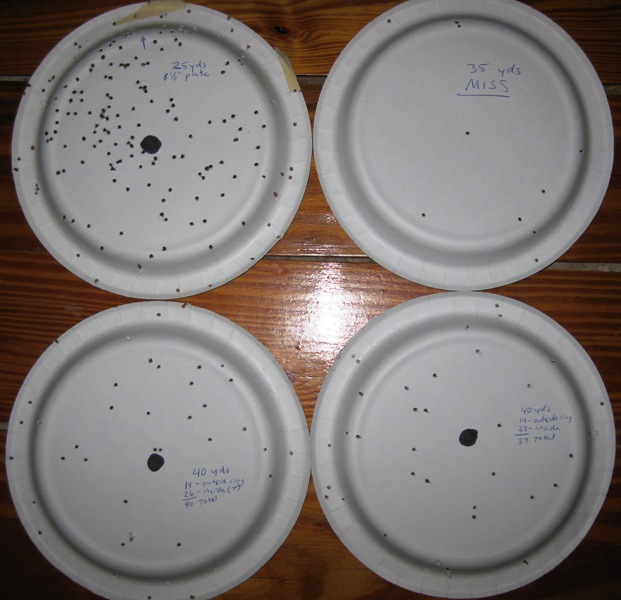 It is an 8 1/2" plate. I didn't have a backdrop so not sure how the rest of the pattern went. Shot the 25 yard first and that smoked, then did the 2 at 40 and those look a little iffy to me, probably pushing it a little.
I moved up to 35 yards for the last shot was the 35 yard one on the top right, I had the flinches by that time with the 3 1/2" magnums and just flat missed.
I was using a shooting stick and sitting on the ground to mimick real life situations, not using a bench or anything like that.
Ended up with 40 pellets in one of the 40 yard plates and 37 in the other. They both felt like good shots and am pretty sure those were aimed well.
Winchester Supreme #5 is what I was shooting.
What do you guys think?
Thanks, Nathan
---
Last edited by npaden; 03-29-2010 at

06:05 PM

.
03-30-2010, 02:48 AM
---
I would check the whole pattern first but those 40yrd plates don't look good to me. What are u shooting , gun , choke? I would do alot more shooting with some different loads and chokes to see if it will improve. if not you might only have a 25 - 30 yrd gun.