Team 10 - Those Flockin Gobblers
05-31-2011, 12:57 PM
---
Thanks for the pics Jay, thats is an awsome bird!!!!

Well i did some figurin and it looks like our best bird per hunter score is 382.875
Total bird count is 672.375

If i figured right, that puts us 14 pts and some change shy of second place. Would have been really cool to win it but a top 3 finish is pretty darn good i think!!
---
Last edited by j76; 06-01-2011 at

04:18 AM

.
05-31-2011, 06:51 PM
Fork Horn
Join Date: Jun 2009
Location: Des Moines, Iowa. Raised in Minnesota
Posts: 207
---
Had an issue in my other contest on no beard measurements from base to tip, and being I saved everything in the frig there wasn't a problem. Here's the photo in case there's a question about it.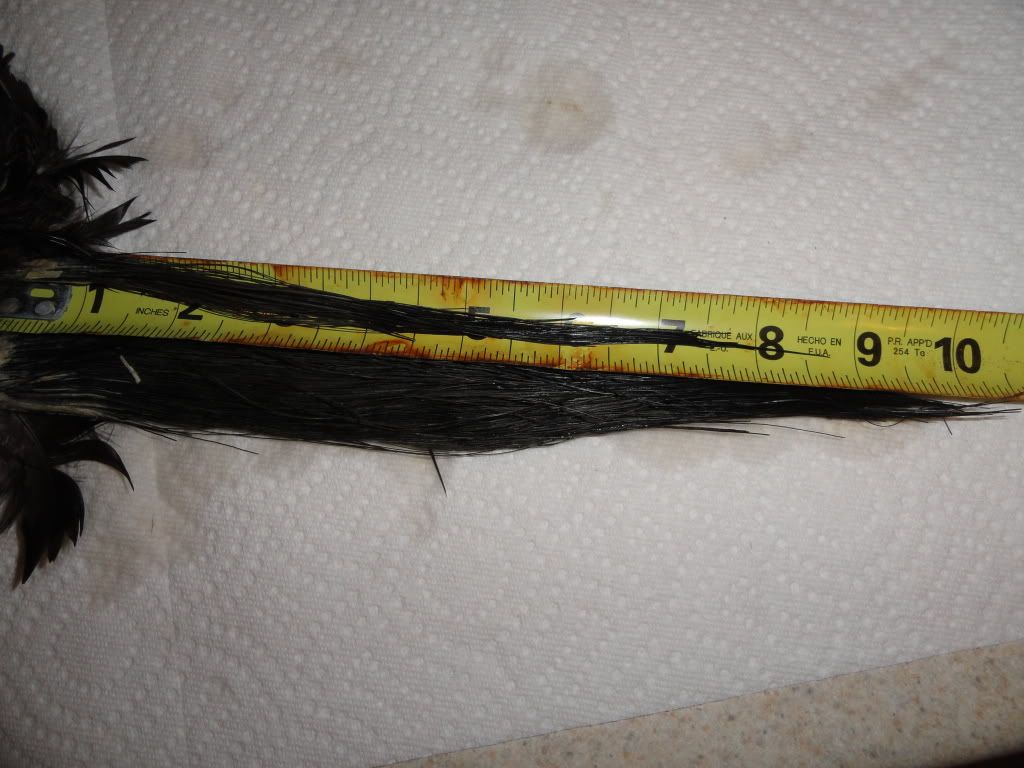 06-01-2011, 04:58 AM
---
Well, if i'm not mistaken, team 10 has done all the damage in this contest that it is going to do. To be honest when this thing started i didn't have very high hopes for us but we turned out to be one of the top contenders. The contest doesn't end till June 15 and we prob won't get final tally's till then, but pretty sure we have 3rd place locked up for best bird per hunter.

We had 7 out of 10 members put down a bird and a total of 12 shot. Those are some pretty impressive numbers in my opinion!

I just want to thank all you guys once again for all your hard work and participation in this thing this season! This is my 3rd yr in the contest and has by far been the most enjoyable yr i've had with it. I feel like i've made some really good friends on here this season and hope to keep in touch with you guys throughout the rest of the yr on here.

Not to take anything away from any one else, but i especially want to thank Mottz, Kellyguinn, and Iowajaybird for all the posts and keeping us up to date on all your success and failures, I enjoyed reading about the hunts that didn't quite work out just as much as the ones that did. Jay, thanks for all the phone calls and givin me your kill reports often times while he was still floppin on the ground! That was very cool, and i really enjoyed talkin to ya!

Sorry if this post is gettin a little long but also thought we should all take a minute and give one last post about how next season is lookin for everybody. I'm already gettin fired up about next spring cause a couple of the farms i hunt are getting corn planted in them this yr which is gonna help me out bigtime i think!! Plus the spot i shot mine this yr is just lousy with jakes and should be really good next season! But thats a ways off and i've got a lot of fishing and then deer season to look forward too. All that corn is gonna be great for that too! Alright guys, good luck with whatever ya got goin on for the rest of the yr and hope to stay in touch with ya all. Thanks again!
06-01-2011, 02:14 PM
Fork Horn
Join Date: Jun 2009
Location: Des Moines, Iowa. Raised in Minnesota
Posts: 207
---
On my team in another contest putting that doublebeard down jumped us from 5th to 3rd also. Man, you talk about a last second contest changer. When I saw how long both beards were I was like one excited puppy. I figured at least in the 80's somewhere with any kind of weight at all, which I didn't get. This bird was emancipated from all the breeding and no eating. I'll bet you it was a mid 20 bird early in the season. I would like to know what kind of weight a dominant bird loses in a heavily populated area with Hens.
06-01-2011, 07:04 PM
---
Great post j!! I have to agree on this being a really fun year for this contest. My goal was to try and keep the team chat going. Recent contests have gone days without any posts and that can make a guy lose interest pretty quick. And just looking at the numbers we are over 100 posts ahead of the 2nd closest. Thats what I wanted to see!
As far as turkey season goes for next year, its in the back burner of my mind. Some reason I just cannot figure them out and I hope I'll just hop in next year and everything will fall into place.
Main priority now is to get my 3 year old out for a little fishing. He's never done it but he has alot of interest in it. And the Easter Bunny brought him a spiderman fishing rod that he keeps eyeing. So I better get him out before he breaks it
2nd priority is to switch mindset, and get deer fever going. Have 6 cameras out now and have been getting alot of pics. I have a few posted in trail cam section under Mottz photos if you're interested in seeing what I have. I'm just going to keep updating that thread as the year goes on.
Lets all keep in touch (and contest mods, if you read this we won the chat, so you should keep us as a team next year also
) and remember that they don't lock these threads so we can still post on here if anything interesting happens. I'll keep checking this thread. Thanks everyone for a great year!!!!
06-02-2011, 04:42 AM
---
Cool Mottz! My boys are 4 and 5 and the 4 yr old has the same pole i think only it has Lightening Mcqueen on it!
Both boys are constantly in the backyard with the casting sinkers trying their best to get them as tangled in the trees as they can! They both are always pretending they are fishing and have a ton of interest in it which is awsome! Only prob is i have a brand new boat and an 8,800 acre lake across the street and beleive it or not i don't think there's a single bluegill in it.Walleye, pike bass and some perch but they are hard to get into, gonna have to start travelin to find some gills, but got the call from my boss yesterday and goin back to work monday so the fishin is gonna slow right down now.
Also got the 5 yr old a little compound for his birthday a few weeks ago which he really enjoys shooting and is making some real progress with.
And i have a little 30 dollar crossman pellet gun which i cut the stock down on and he shoots, that kid is amazing with the thing! He can almost shoot as good as me with it. Michigan is talking about passing some type of apprentice hunting law which will allow a kid of any age to hunt as long as they are with an adult,(have to be 12 to hunt now), and if that goes thru i'm gonna have to find a little 22 that fits him cause the kid is gonna be deadly on some squirrels this fall.
Really looking forward to deer season this yr, they are putting the corn in places i hunt that have never had any crops at all in them since i've hunted them so it's gonna be like a whole new world out there this fall!
Later in the summer i too will have the trail cams out and be hangin around the trail cam forum, plus i assume you'll be on the deer hunting forums so i'll see ya there! Also i hang out on the fishing forum quite a bit so ya might want to check that one out now and then if ya don't already. Good luck with the fishin Mottz!
06-06-2011, 09:54 AM
---
Sorry I havn't been on in a while. I was out on the wifes and I 1st anniversary. I actually conned her into going out to Lake Texoma for a guided striper fishing trip. I'll put a pic up at the end.

I really enjoyed hunting in the team contest with all of yall. I hope that next year we will be giving em hell again.

I'll keep checking this thread and hope we can keep in touch. If any of yall want to come down to Oklahoma to try your luck I'll point ya in the right direction as best I can. I don't have private land but the public has been pretty good to me the last few years. I had a lease last year and I dropped it because the public land was just that much better.

Any way here is a pic of the stripers we caught, 10 of them was in about 15 min. 2 was at 24", 2 more at 20" and the rest were at 19" or just below. Texoma has a limit of only 2 over 20" per fisherman only 10 fish per person total.
06-06-2011, 04:40 PM
---
Dang!! 1st anniversary out fishin!!! congrats man!! Thats awsome! Hope you have many more as good as that one. Spent my 1st anniversary in the hospital with our first born, think you got me beat in the fun department on that one!!!