Team 8 Longbeard Mafia
04-04-2011, 03:22 PM
---
ATTEN: Team 8

Even if you have harvest multiple turkeys post everyone you harvest with pics of the measurements. There is a contest that includes ALL turkey's harvest by a team.

Below is a list of all the contest catagories:

1. High Team Score - 1 bird per hunter/per team (can be your best bird if you do shoot more than one)

2. Overall Team Score - Overall of ALL birds taken by any team member on that team (Means enter all the birds you harvest we will keep track)

3. Hunter - Best bird overall as per NWTF scoring system

4. Best Rio

5. Best Eastern

6. Best Merriam

7. Best Osceola

8. Best Typical

9. Best Non-Typical ( Multiple beards and or spurs)

Thanks!!!
04-04-2011, 04:23 PM
Spike
Join Date: Dec 2010
Location: South Alabama or LA
Posts: 98
---
04-08-2011, 08:41 PM
Spike
Join Date: Dec 2010
Location: South Alabama or LA
Posts: 98
---
Alright guys and gals. Back from Oklahoma/Texas and what a trip it was. Weather was normal. Warm with windy afternoons, but Oklahoma and Texas delivered. My first morning in Oklahoma I hunted a familiar piece of ground. I had roosted more than 100 birds the evening before and knew where I wanted to sit. I don't like to setup close to the roost on Rios because I like to encourage them to roost in the same spot each night. I setup across a dirt road(very remote and not much traffic) on the edge of a wheat field. I built a blind out of dead wood and cedar limbs. It was awesome. They started gobbling before daylight and eventually flew down. I had out my B-Mobile and hen decoy about 25 yards out. I could hear all the hens and gobblers just over the hill forever as I called relentlessly. Finally a group of hens came over the hill and passed by followed by two or three more flocks of hens. I was saying to myself where are all the gobblers when I started hearing drumming. Just then I look up and see several fans coming over the hill. Two gobblers skirted me, but two saw my setup and ran the remaining distance to my decoys. The first one ran up to the strutter decoy and I noticed he had a double beard. BOOM! I let him have it. He flopped around up there as I started to do fight and purr on my mouth call. One of the other gobblers ran down to stomp him then ran back up the hill after spooking. I gave him a double dose of my mouth call and slate call and he couldn't stand it. I let him have it when he was standing over my first bird. It was truly an awesome hunt. Just an incredible hunt!
The outfitter I use in southwest Oklahoma has ground in Texas as well and I killed my two turkeys in Oklahoma in a two bird county, so I ran over that afternoon to some of their Texas ground and scouted and ended up roosting about 50 birds including 8 toms and numerous jakes. The next morning I was in there early and ended up setting up in the wrong spot. They flew down in a big wheat field and ended up not seeing my decoys. They went back and forth and up and down in that big field until they were almost over a dirt road, so I crawled over to my decoys and grabbed them and walked over to a burm that bordered the field. I sat there and watched in disbelief as a large herd of cattle had come into that end of the field and were pushing the turkeys back to me. They were about 250 yards away so I quickly put my decoy up on the burm so they could see it and got on my stomach and in position for a shot. I called really loudly as two gobblers and several hens angled for my position. They got closer when I realized this was going to happen. They saw my strutter decoy and made a beeline for me. I dropped the first one in his tracks and the other one proceeded to stomp him in the dirt. I went ahead and let him have the business then rolled over on my back before walking out to get my turkey and thank the herd of cattle for their generosity. Crazy, crazy development. That is why you should never give up. Up loading pics now and will have them up shortly.
04-08-2011, 08:58 PM
Spike
Join Date: Dec 2010
Location: South Alabama or LA
Posts: 98
---
My two Oklahoma Rios.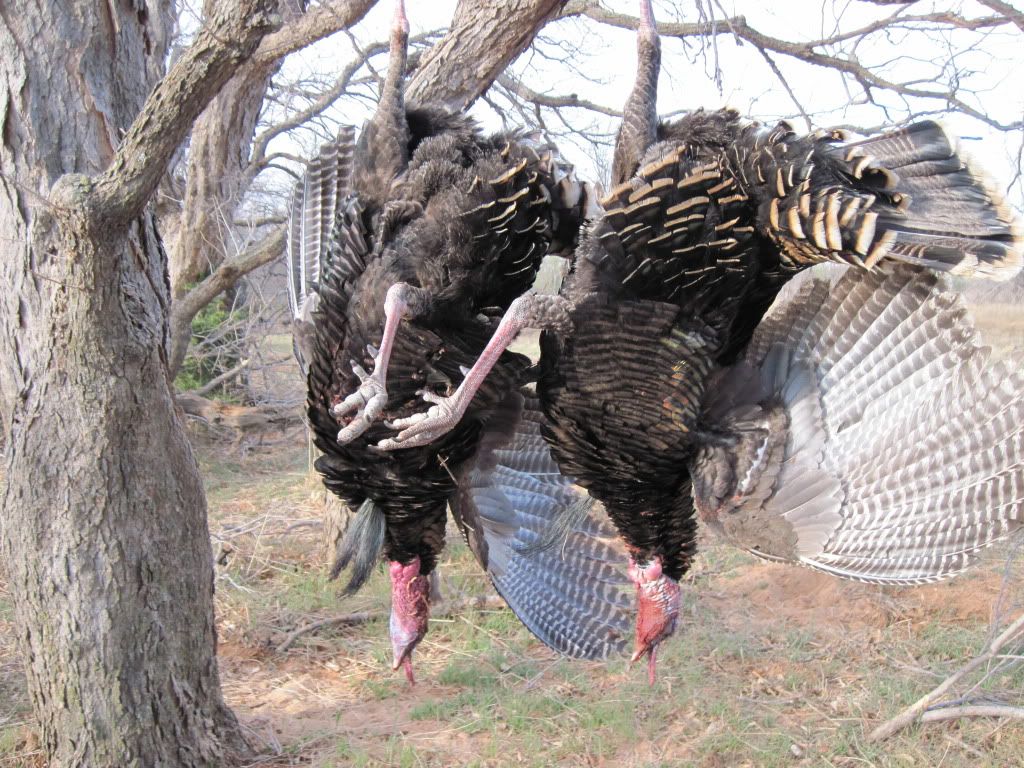 One had an incredible double beard.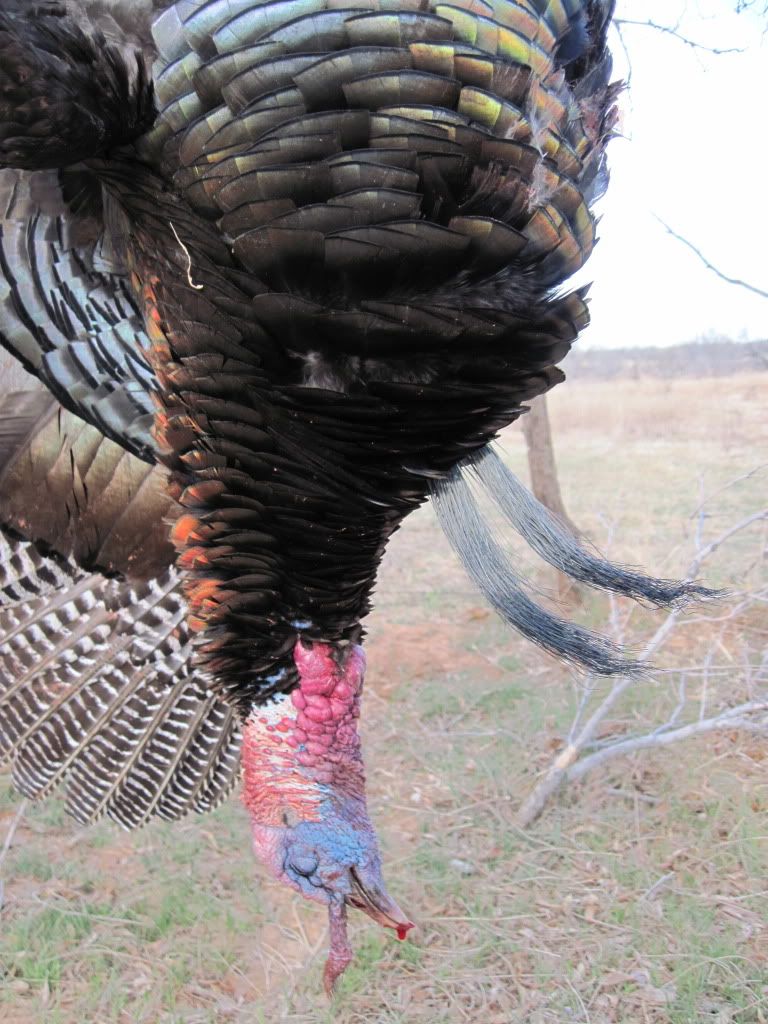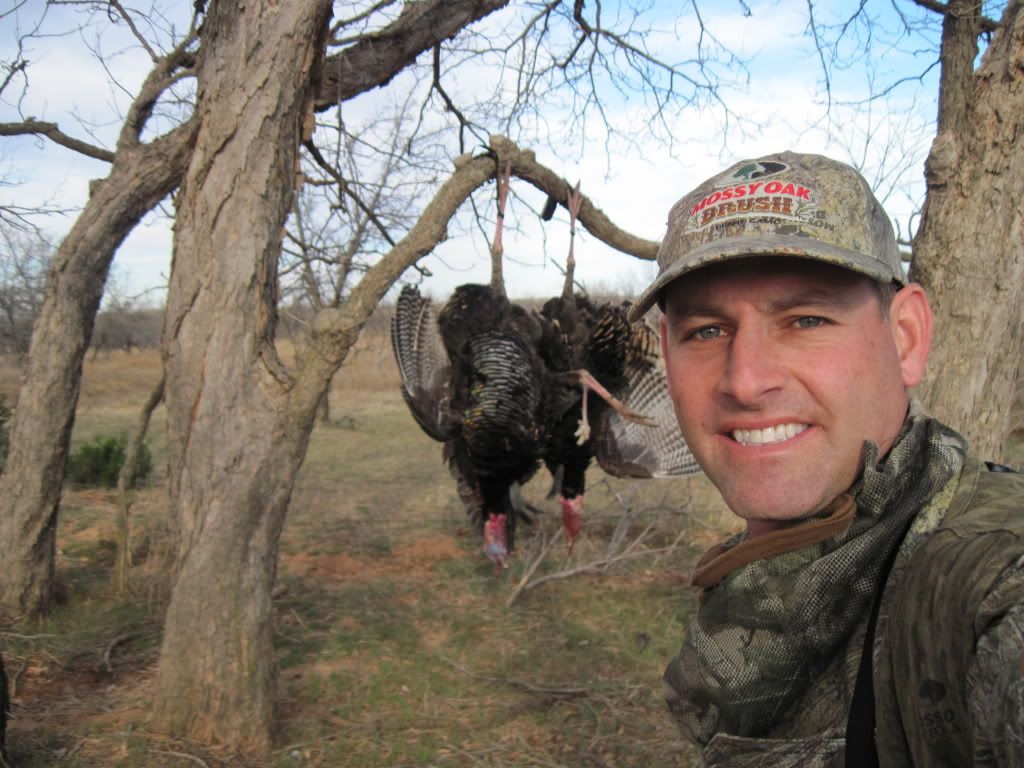 My beautiful blind that over 50 hens walked by without busting me.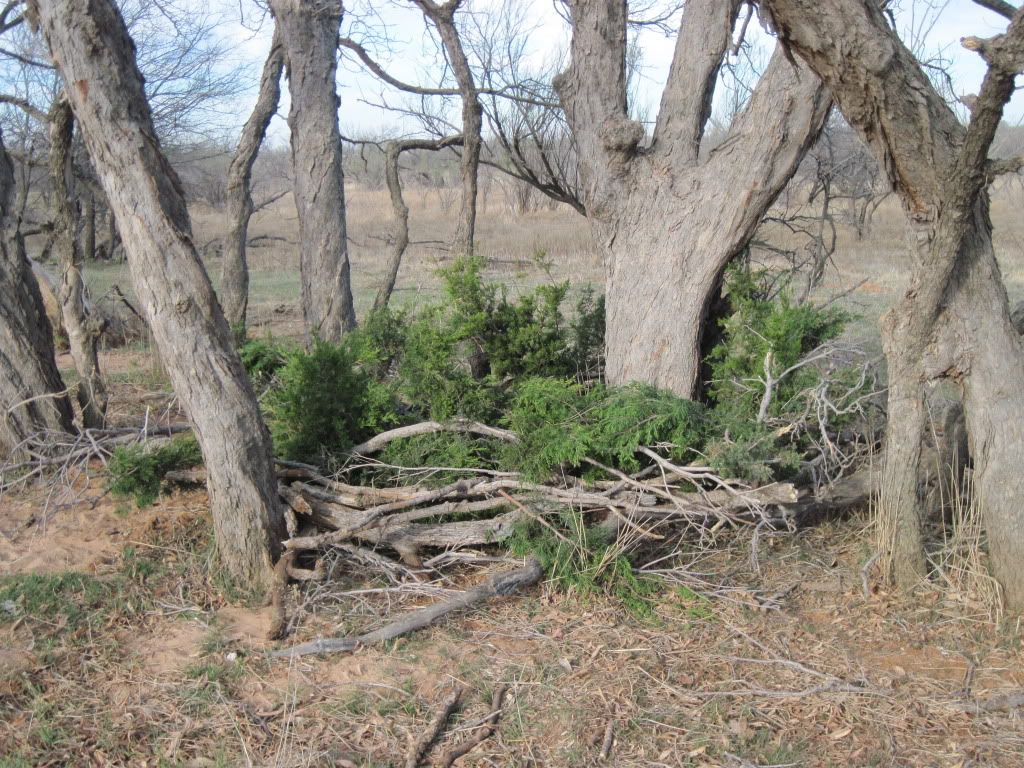 Both beards on the double were exactly 8". he weighed 18 1/2 lbs. and had 1 " spurs. I did a poor job on the spur pictures.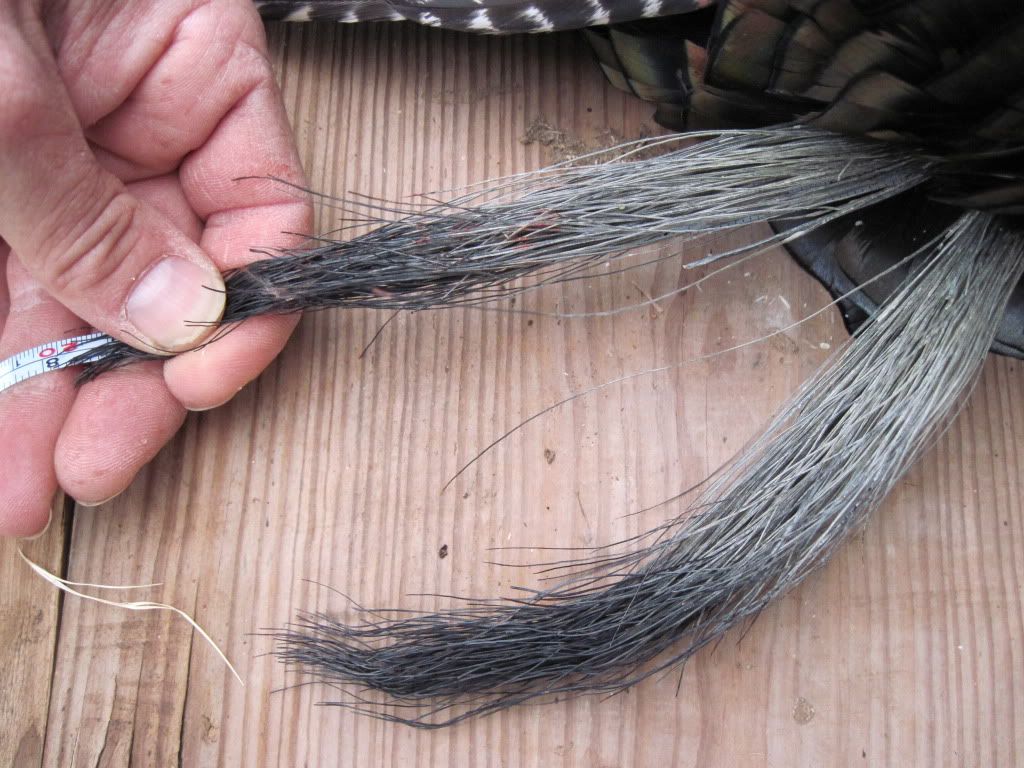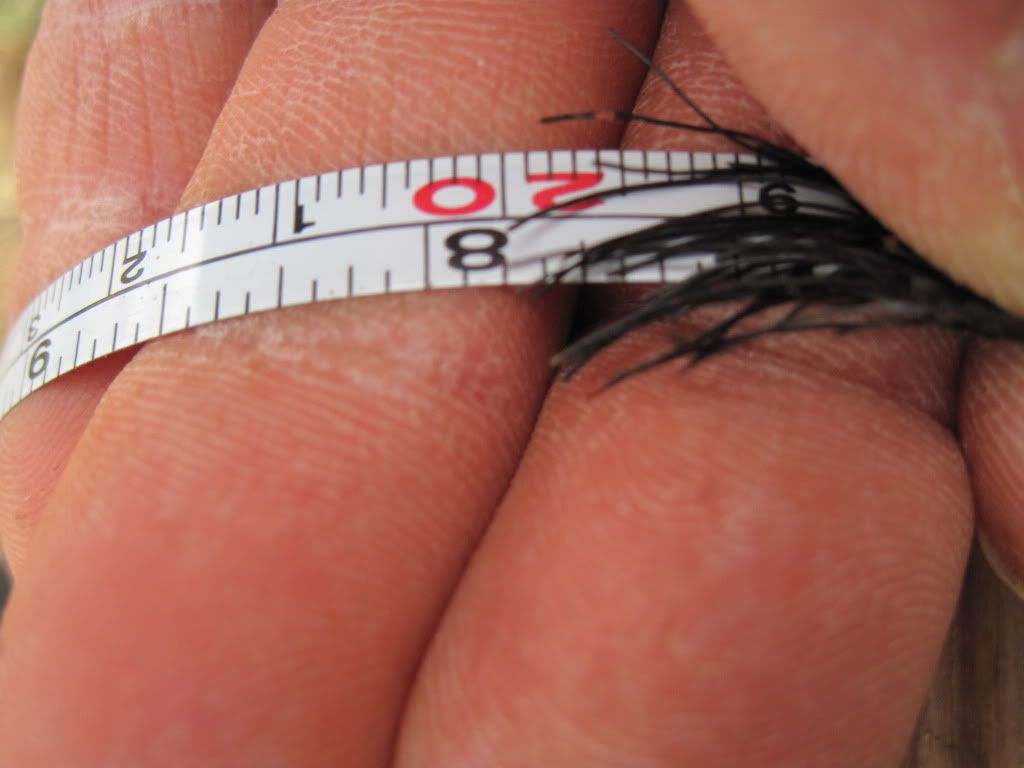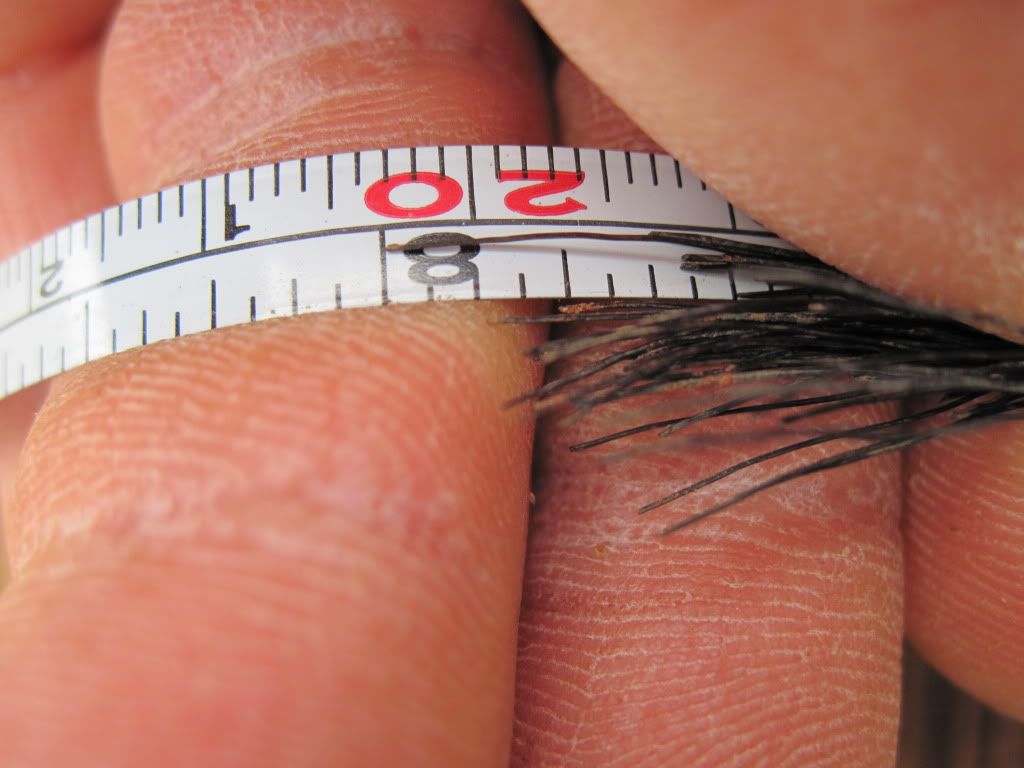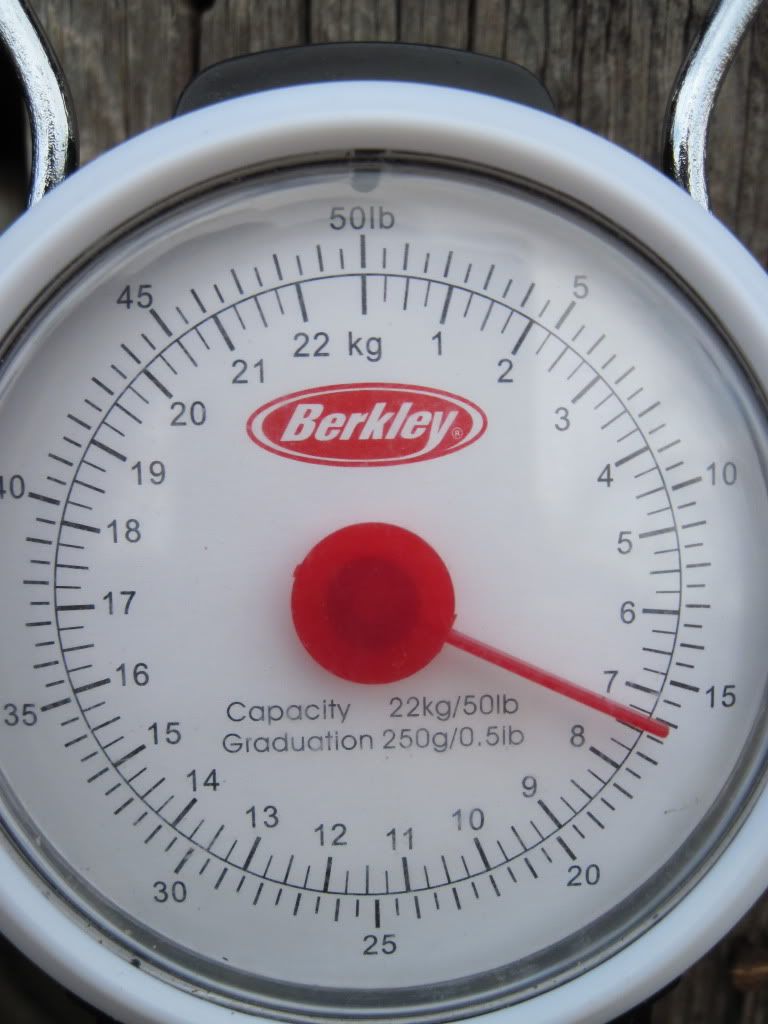 The single beard turkey was 16 1/4 lbs. had an 8 1/2" beard, and 1" spurs. The pic on the spurs was not good.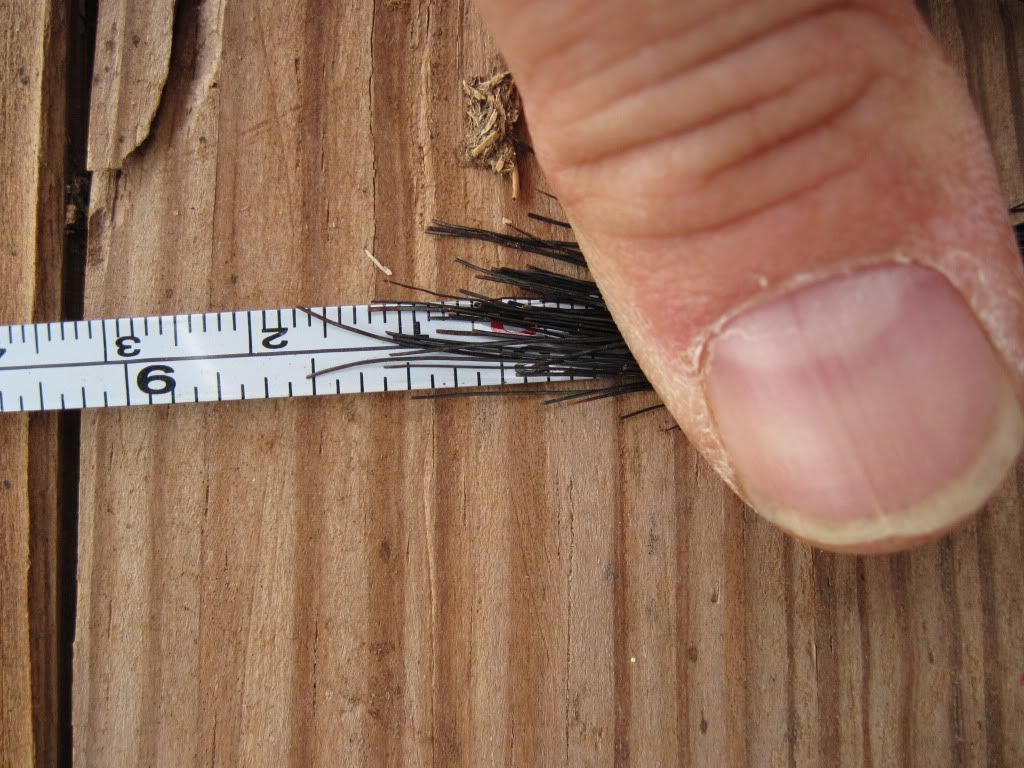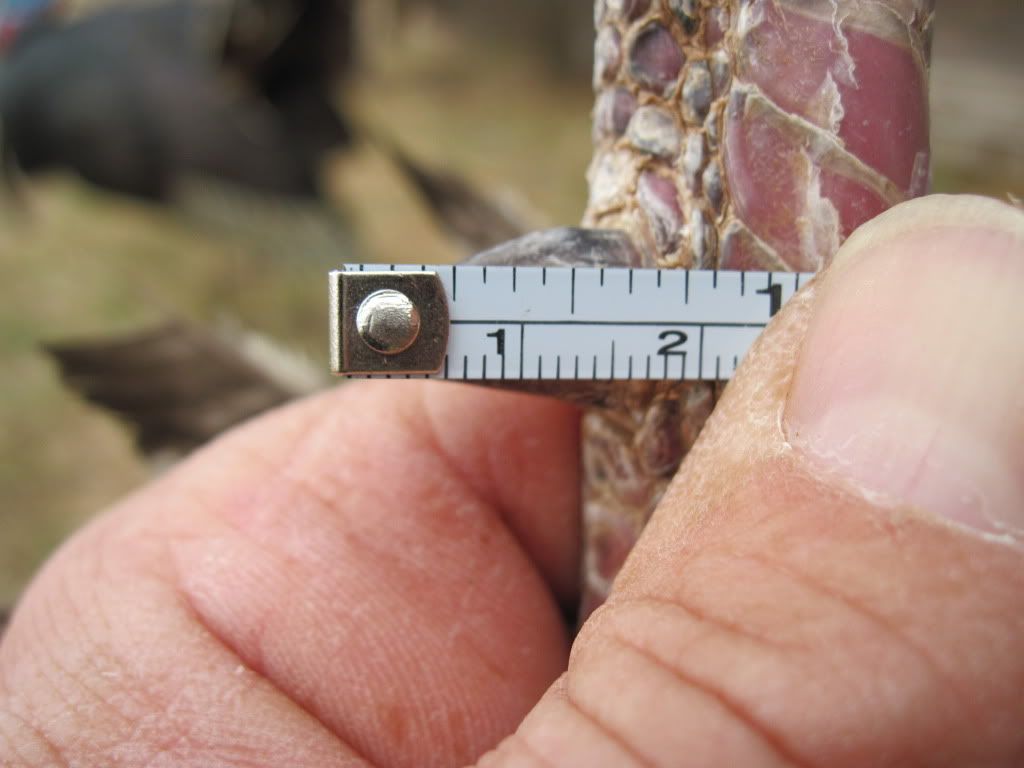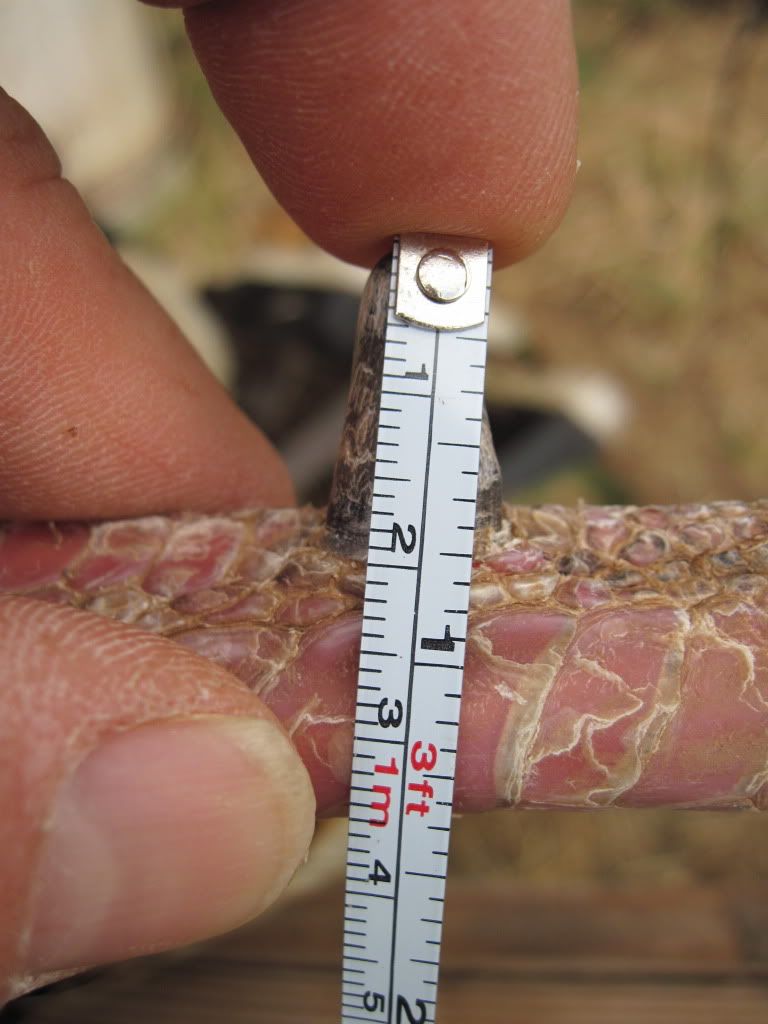 04-08-2011, 09:04 PM
---
helluva job nauticstar! opening day starts at daylight however my schedule wont allow me to go hunting til monday afternoon. me and my buddy went scouting thursday evening we had 3 gobblers coming up a ridge gobbling thier heads off they came within 20-25 yrds but not within sight b/c of all the timber and angle of the hill. they gobbled for 15 minutes str8 i'm uploading the video on youtube i'll post a thread when i get'em up! i shot the video from my phone so the sound quality was a little low for the gobbling but you can hear it. we went in pretty loud just hunting sign when i found some sign of scratching and hen feathers i said to my buddy "put ya mask on and lets do some calling.
within minutes we had one gobbling at the bottom of the hollar and 2 to the left and right of us one wouldnt gobble but the one coming thru the laurels was raising hell
i had a good time woulda loved it had it been season my bow was itching to let one go!
---
Last edited by silent arrow; 04-08-2011 at

09:06 PM

.
04-09-2011, 03:54 AM
Spike
Join Date: Dec 2010
Location: South Alabama or LA
Posts: 98
---
Here are my Texas Rios.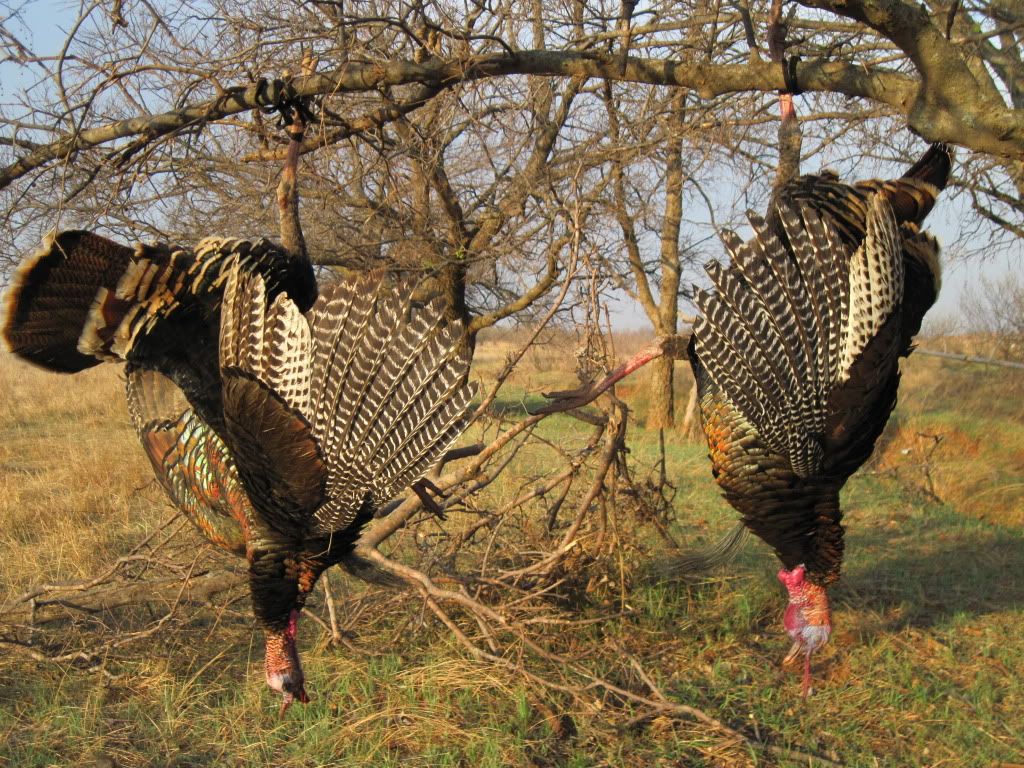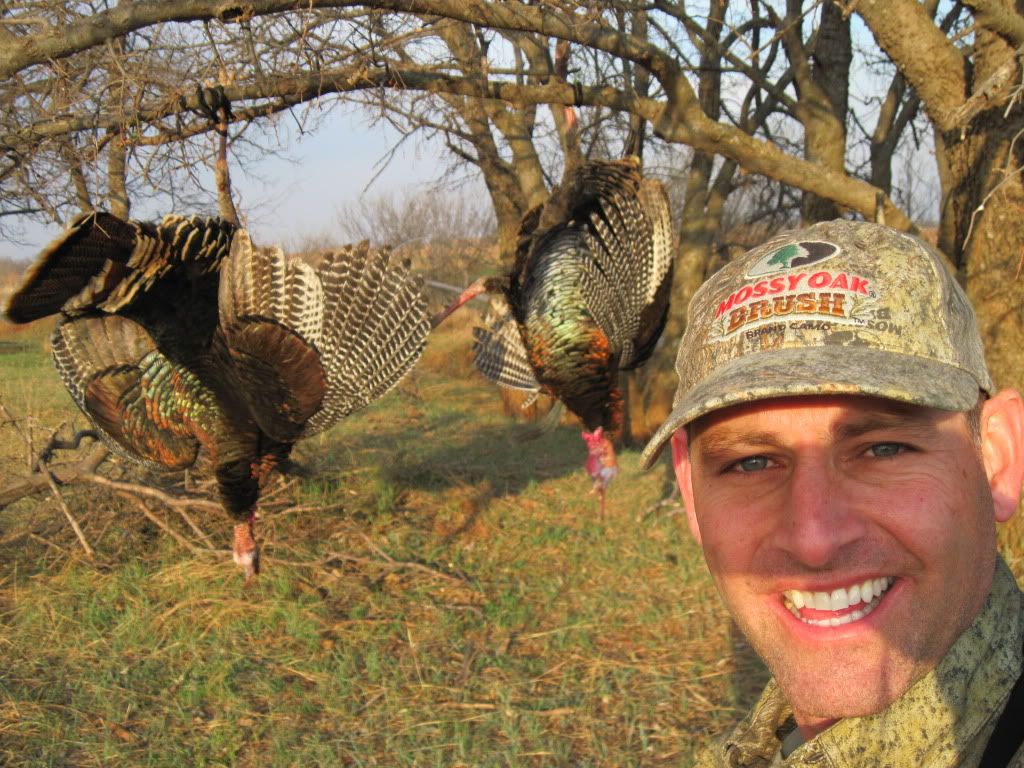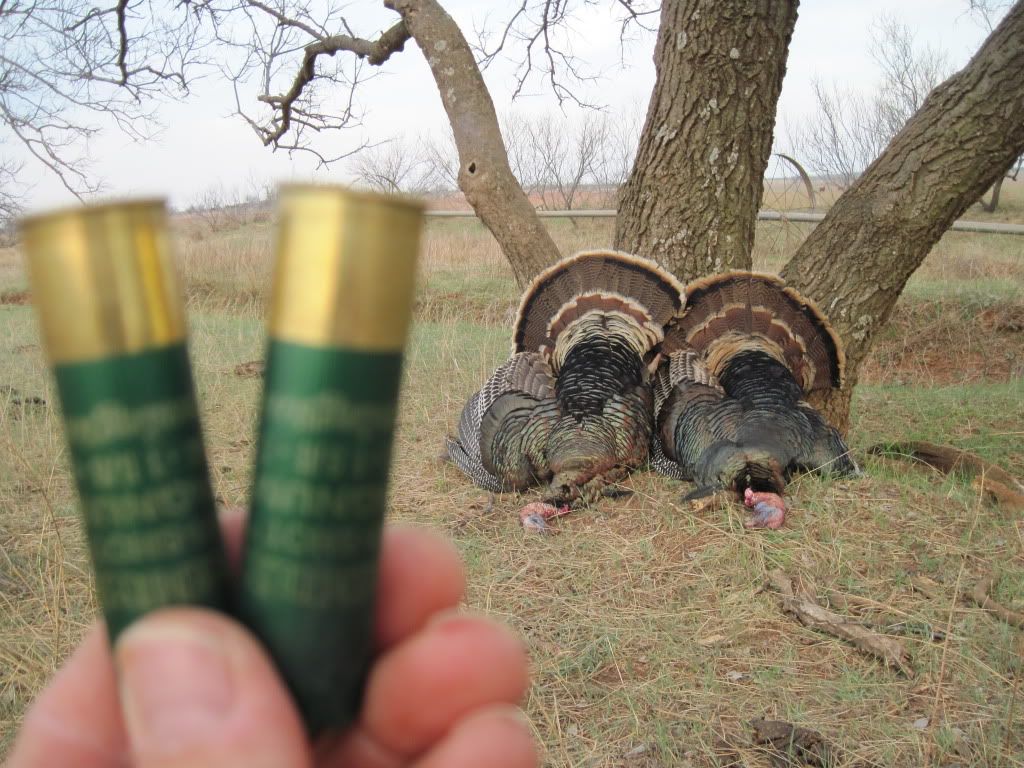 Had to include all my help. This is Henry and Rita. My beloved decoys. Rios can't stand a full strut decoy.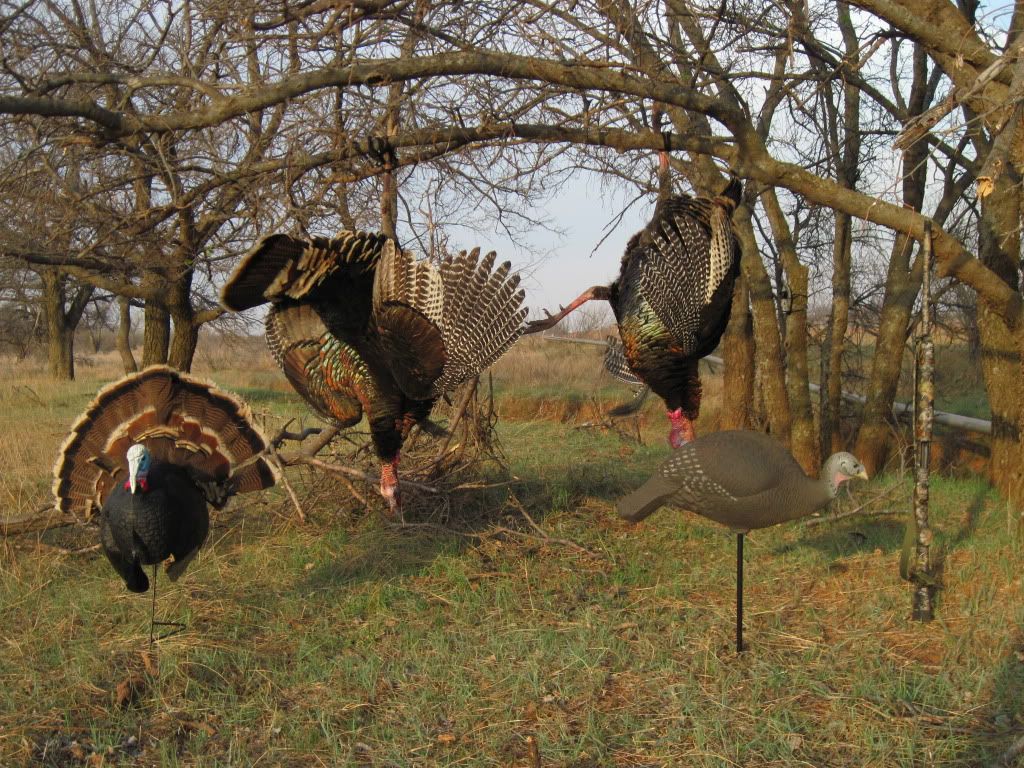 First bird was 20 1/2 lbs, with a 9" beard and 7/8" spurs. Really nice bird.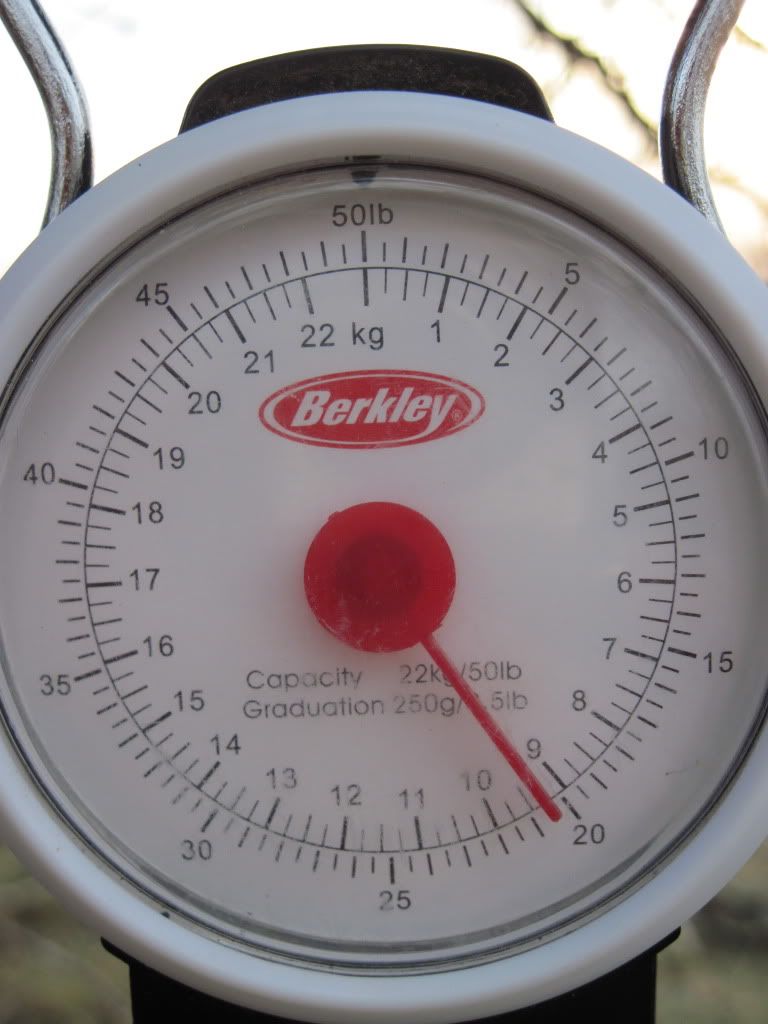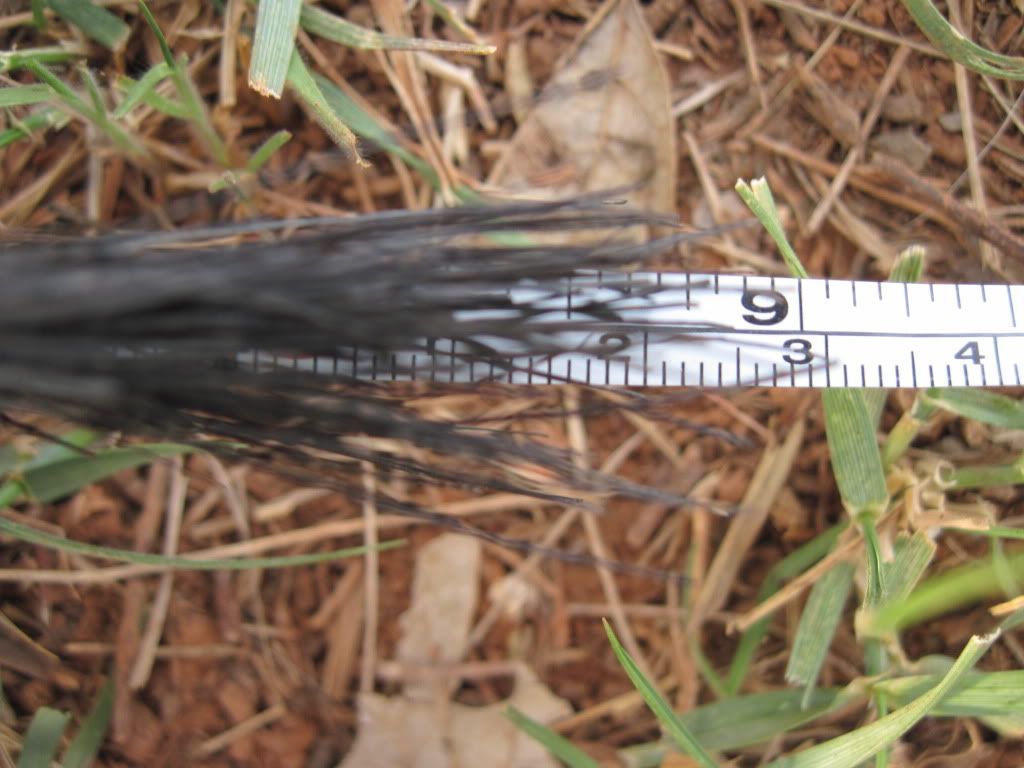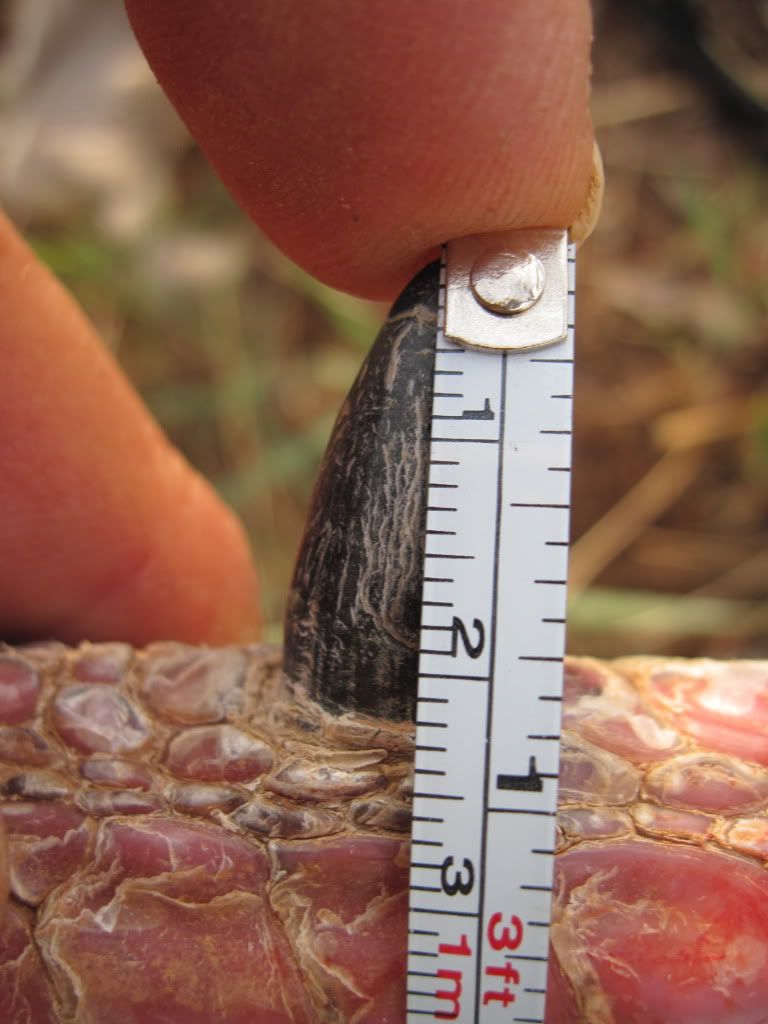 Second bird weighed 18 3/4 lbs. had a 9 1/4" beard and 1 1/8' spurs.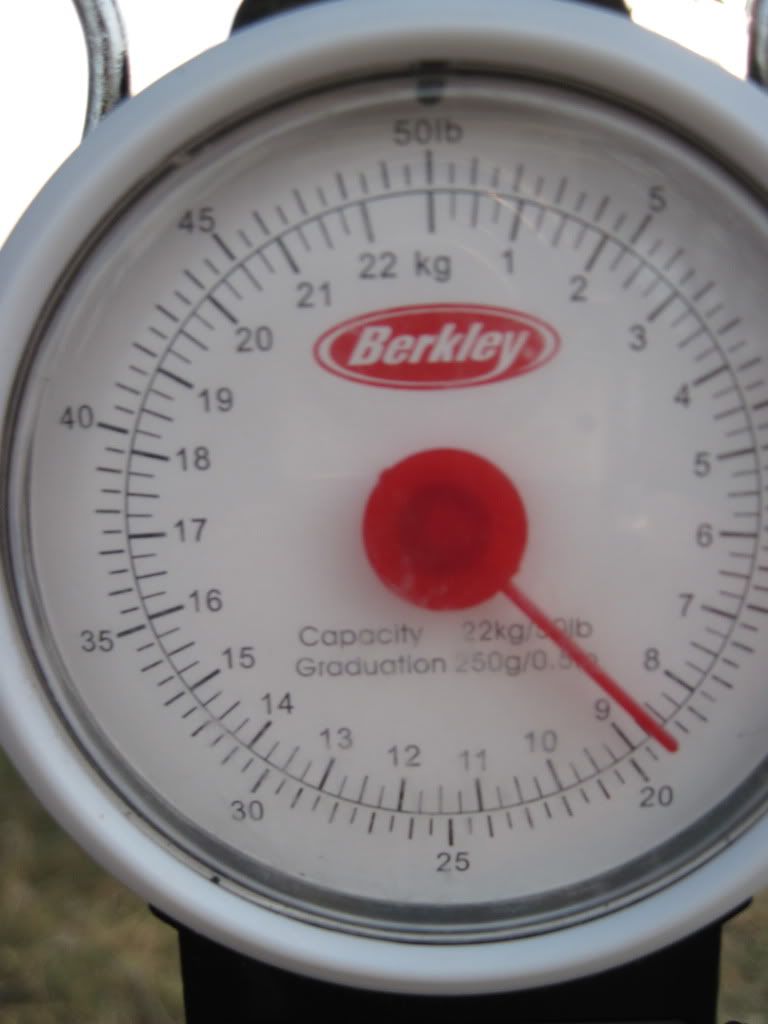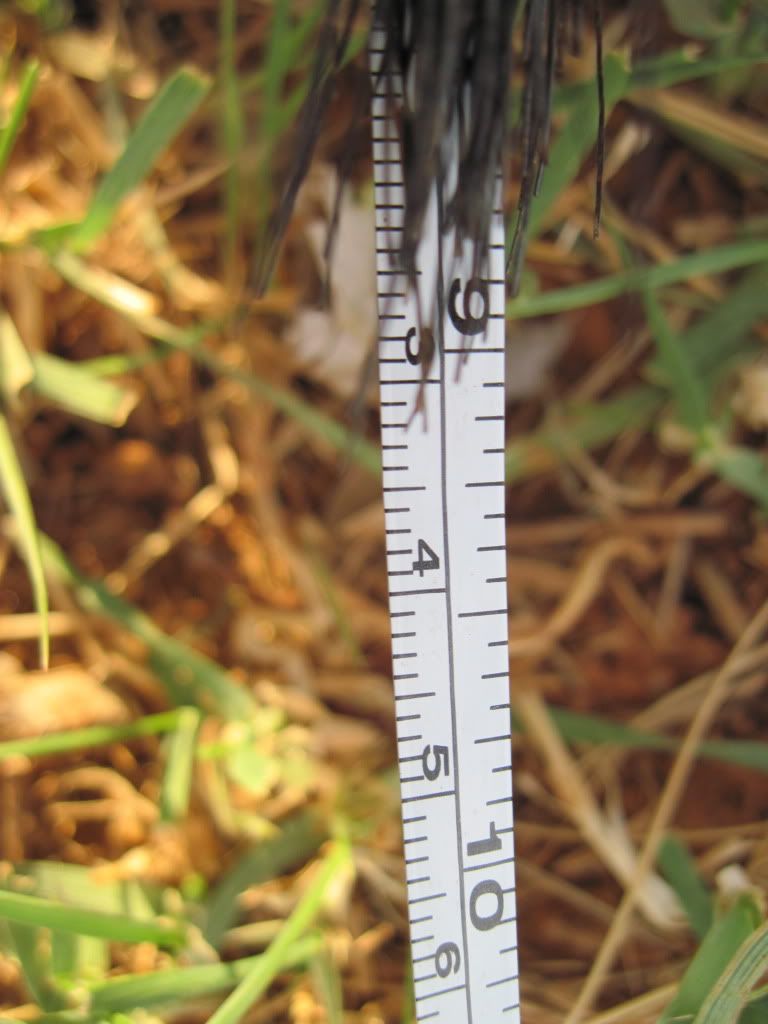 04-09-2011, 03:56 AM
Spike
Join Date: Dec 2010
Location: South Alabama or LA
Posts: 98
---
You can legally take up to 7 birds on this trip, but I had two unbelievable hunts and decided to sit with one of my friends the rest of the trip that is just getting into turkey hunting. He actually killed his first bird on this trip, but missed two others. He learned a great deal during our hunts and is hooked for life which was my goal when I introduced him to the sport. Headed to Missouri on April 17th. Doubt I will hunt Alabama again. Kinda scared to ask my wife.