Team 7 - The Blood Trail Posse
09-26-2010, 10:29 AM
---
Just waiting for the season to get going. Nothing really to report.
09-26-2010, 04:45 PM
---
Season starts next Friday for me. I've got a lot of good bucks on camera, along with a lot of sign littered around the farm. Hopefully I'll be able to put an early season buck on the ground.
09-26-2010, 06:37 PM
---
I saw 11 does and fawns and 2 bucks tonight but all were too far to shoot. Oh well.
09-26-2010, 08:09 PM
---
We open the 1st but I won't be out until the 3rd
09-30-2010, 07:11 PM
---
10-02-2010, 04:03 AM
---
first day is here! good luck to all. im posting this via cell phone. got set up around 5:45 this morning. no action yet.
10-02-2010, 11:14 AM
Nontypical Buck
Join Date: Jun 2004
Location: NW Ohio , 5 min from Ottawa National / Magee Marsh
Posts: 2,051
---
I keep seeing the same 3 2 year old 8 point bucks
2 could be twins ( might be brothers )

I have only goten 1 look at the 10 point that I am hunting for
But the corn is starting to come off

That should move him into areas I can hunt
Not out in the middle of a 400 acre corn feild

John
10-02-2010, 06:19 PM
---
Well guys I had nice first day saw a few bucks and almost had a shot at a real nice shooter. He came in to about 50yds but I couldn't convince him to come any closer
. He spared a little with a smaller buck but hung out about 60yds away. I'm pretty sure he was the 10pt I have on the trail cam but not positive. Like they say close only counts in horseshoes and hand gernades. Good Luck everyone.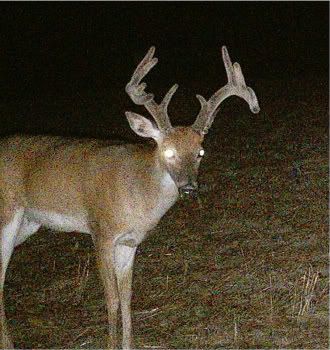 10-02-2010, 07:10 PM
---
I've hunted the first 2 afternoons here in Illinois.

Friday, as I was hanging my Lone Wolf stand and sticks, a doe and button came in and busted me. I got settled in and right before dark a mid 150's 10 pointer and 2 does fed about 150 yards away.

Today, I didn't see a deer and right before dark I had a 120's 8 pointer come into about 60 yards, before catching my wind.

They are calling for temps to drop into the 30's tonight, so I am headed out tomorrow for my first A.M. hunt. Best of luck team.
10-02-2010, 07:12 PM
---
My bad luck continues, I had a doe at 25 yards quartering away but I think my arrow deflected off a small branch and I ended up just grazing her shoulder blade. No penetration at all. No blood or hair on arrow. I seen the doe a few minutes after I shot and noticed a 4"diameter spot of blood on her shoulder blade. She licked the wound and walked off. I'm not worried about that one making it. Hopefully I used up all my bad luck tonight. I got a stand set up for the rut today, I can't wait for that first and second week of Nov.