Team 21 - Team Deep Penetration
10-20-2010, 02:14 AM
---
We have a front supposed to move in on Sat. I'm going out on Fri evening to see what is moving.... I know for a fact we have some monsters out there. Unfortunately it has been the little ones coming in lately.... We will see!
10-20-2010, 06:16 AM
---
I have been out every weekend seeing lots of does and fawns on my food plots but no horns yet. I'll be out this weekend again. Finally starting to cool down here in WI. I took off the whole week of work the 1st week in Nov. for rut so I'll be out there for 9 days straight hunting em! Good luck to everyone else!
10-20-2010, 11:03 AM
---
was out on Monday evening and had no action until about 30 minutes before dark. I figure what the heck and gave a good 5 second grunt. From up the hill a good buck comes hauling down the hill. It stayed about 70 yards out and in some heavy brush so I never got a good look at him. As night fell, I started climbing down out of the tree. I try to be a little noisy to keep them out of the area, but instead it drew two huge deer in. They stood at about 10 yards the whole time I climbed out. I could barely make out the outline of the deer but I am going to say both buck. Anyway they hung around until I was on the ground gathering up my stuff before the trotted away. I guess they thought a little fight was going on? As I was leaving the area I caught three good bucks sparring in a little field. Not full hard contact, but hard enough to get the blood pumping.
10-21-2010, 09:13 PM
---
I got one Guys, 18 scoreable points and scored 178 3/8. I'll post it up tomorrow, its been a long day.
10-22-2010, 02:08 AM
---
Holy chit!!!! Nice work!!!!! Can't wait to see the pics and hear the story....
I'm going out this afternoon after work. We have a storm front pushing though tonight... Should be good.
10-22-2010, 07:55 AM
10-22-2010, 10:59 AM
---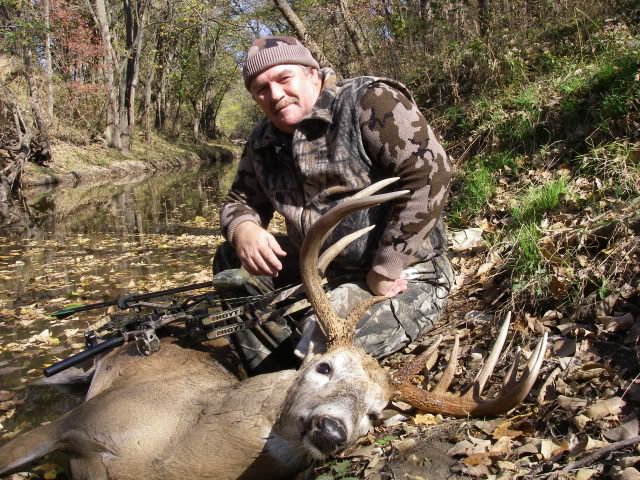 Sliverflicker
Team 13
18 scoreable points
IS 18 2/8
RMB 22 2/8 LMB 22 4/8
RG1 5 6/8 LG1 6 2/8
RG2 10 4/8 LG2 8 6/8
RG3 10 4/8 LG3 9 2/8
RG4 1 2/8 LG4 3 2/8
RH1 6 4/8 LH1 6
RH2 5 LH2 5 2/4
RH3 4 4/8 LH3 5
RH4 3 6/8 LH4 4 4/8
APR 1 1/8 APL 1
1 4/8 1 1/8
1 5/8 6
3 2/8
3 6/8
IS & MB 63"
Gs 55 4/8
Hs 40 4/8
AP 19 3/8
Total 178 3/8"
__________________
10-22-2010, 12:08 PM
---
NICE FREAKIN DEER MAN!!!!!!!!!! thats a great bow kill. the bad news is, its hard to go up from there. Congrats again.
10-22-2010, 05:44 PM
---
Very nice deer! Congrats!
10-23-2010, 06:19 AM
---
Boo-yah!! Sweet fricken deer Silverflicker!!! What a stud. Congrats on a fine fine deer my man.

That will add nicely to the team's total. Congrats again.