Team 21 - Team Deep Penetration
10-02-2010, 01:50 PM
---
Connected on a pretty nice 10 pointer today. 18" inside. Probably go 135 or so. I never have luck on opening weekend, but things seemed to align today. Pics are on the camera, and I'm exhaused. Will post more later.
10-02-2010, 06:37 PM
---
Congrats on the buck Zubba.... I went out all opening day. I got some nice footage of 5 different bucks (all about 1 1/2 yrs) at 10 - 35 yrds....they just wouldn't go away!... They just sat there and fed on acorns for 30 min at a time.... Last night at last light I had 3 fawns come in and their fat ole momma right behind them.... Yup you guessed it, momma went for a nice ride in the back of my Tundra!...
10-03-2010, 11:33 AM
---
I shot a decent buck this morning, opening weekend being so cool really did good things for deer movement.. Seen a lot of deer.. Shot this guy first thing. Have not scored him yet but when I do I will post it for our team score.. He really has some good character but has 2 broken tines already.. Not sure how good he'll score out, but it's all good.. Good Luck to everyone else!!

Oh.. I'm not done yet, hopefully get another one in the next couple months but I will enter this one just in case..
10-03-2010, 03:48 PM
---
Nice buck Demo..... I would guess around 125 - 128...... Just remember if you do shoot another buck you cannot enter it also... You can only enter one buck and it is supposed to be your first one of the season..

Good Job!
10-03-2010, 05:49 PM
---
Very Nice DemoIL.
Here is a quick pic of my opening weekend buck. I have some better pics on a different camera. Anyways, thinking he will go around 135-140. I plan to score him tomorrow, will post score and story then.
Looks like we are on the board early.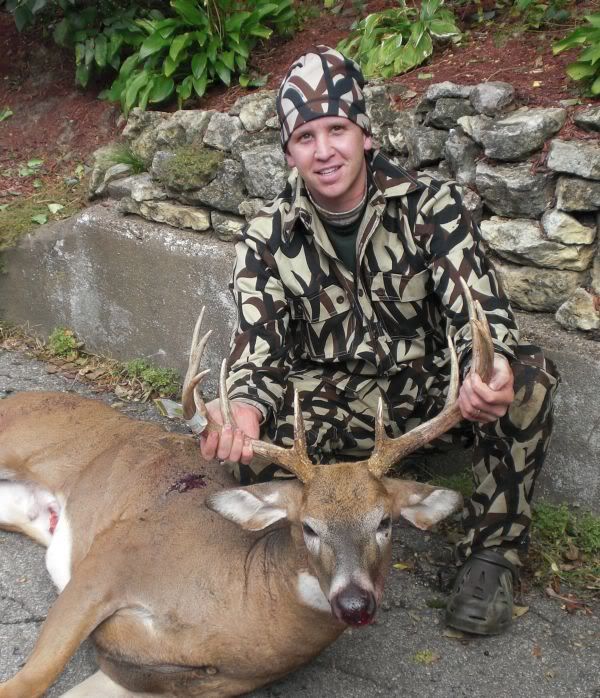 10-03-2010, 07:56 PM
---
Guys, ran out of time this weekend.. I will have to score him next weekend. Sorry for the delay.. Happy to see we have 2 early bucks though.. Nice One Zubba, love it!
10-04-2010, 05:37 PM
---
Congrats you 2 on the bucks. I only saw 1 buck this weekend. A young and dumb small 6 pointer. Saw 6 does Saturday and 2 does Sunday. They were across the field from me though. No where near close enough for a shot. Season still young will wait to see if I can get a bigger buck. Good luck all.
10-04-2010, 05:39 PM
---
10-05-2010, 07:32 AM
---
way to go guys......I only saw 1 doe. Season is usually slow the first day there anyway. Hopefully if things are like the past, things should pick up nicely this Saturday.
10-05-2010, 07:33 AM
---
where can I get a pair of boots like those?????