Team 5 - Arrows-n-Antlers
10-28-2010, 04:05 PM
---
Heading to nebraska tomorrow night and will be in the stand saturday night after pheasant hunting in the morning. It sounds like the corn harvest is going pretty well so they should be visible!
10-28-2010, 05:57 PM
---
Let me know how that pheasant hunt turns out for ya. I hunt around alot of milo and I have yet to see 1 bird. All the farmers I've talked to said they are very slim in this area.
10-31-2010, 06:32 AM
---
2 out of the last 3 evening sits have been VERY exciting!! Hoping to add to this story this week.
10-31-2010, 05:21 PM
---
sorry i haven't checked in for a few days. just plain worn out. i will be working 7 days for at least another 3 weeks. was close to gettin a doe yesterday after work but didn't come within range, was about 60yds. away. seen 1 6pt. about 90 yds. away- not bad at all for only sitting 3 hrs.

i'll try to check in more.

goodluck y'all!
10-31-2010, 07:08 PM
---
Very slow today except for the wind.
11-01-2010, 03:30 PM
---
gonna give wed. a try for sure. goodluck everyone!
11-03-2010, 05:28 PM
---
Well, I went out hunting tonight at 4 o clock and sat in the same tree stand I shot my deer out of in 07. Had a Doe come in about 5 then a 1 1/2 year old buck at 635, as I was watching him I glanced to my right and saw tines straight west of me. He gave me a shot opportunity at 34 but some leaves were covering his vitals. I let him walk thinking he would follow the trail and be 28 yard chip shot, he went right and was 38 away and I let him have it. I heard the arrow deflect off of something right before it got to him. I looked for my arrow for about 5 minutes and got out of there. Gonna wait till noon tomorrow to go look, I hope it was a cleean miss and I dont have to worry about this deer being wounded. I think this is the deer that I saw last year twice that scored around 150 last year and I think he might go in the 160's this year. All I reemember is the arrow looking perfect til it got about 4 yards from him then I heard my arrow hiting brush or weeds. The deer bolted about 10 yards and stopped behind brush. I Felt sick after i shot but I really am confident that I missed the deer but there is always that chance that I hit him and he is wounded or dead. HOPE for the best and I will keep everyone updated
11-05-2010, 11:39 AM
---
The worst possible situation happened. I found blood and tracked it for 300 yards or so. The blood was about dime size and every 5 feet. Every 20 yards we found a leaf with blood on it the size of a chew can or so. He went through one treestrip, across a highway, through another tree strip and headed across a corn field. I am not sure whether this deer is dead or alive. I have checked several tree strips and gridded one picked corn field. All that is left is another picked corn field to grid and a water source to the north that is a swamp. I will keep everyone posted but it doesnt look good as of right now.
11-06-2010, 04:03 PM
11-07-2010, 04:58 PM
---
No luck on finding the deer. I have checked corn fields, all the tree strips, the swamp was thick and he very well could have gone in there but I never saw any blood near the edges and I also walked through some of it but wouldnt find him unless stumbled upon him. I have told several people from the area and hopefully someone finds him or sees him alive. I am going to put out cameras to see if I can get a pic of him alive, and go from there. Other than that I am done for the year except for a bonus whitetail doe tag, and a rifle tag.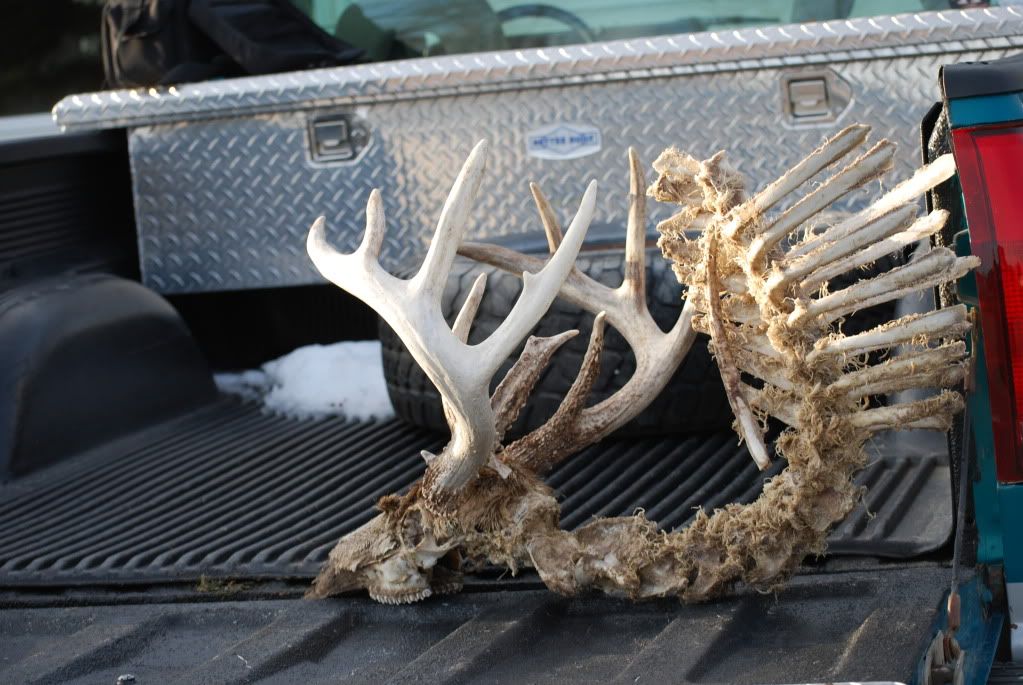 Good luck to everyone and by the way in nebraska the rut is in full swing, watched four whitetail bucks chase a small doe for a quarter mile across a field.
---
Last edited by sticknstringer; 04-19-2011 at

04:57 AM

.