Team 5 - Arrows-n-Antlers
09-28-2010, 10:23 AM
---
We start this Sat here in Eastern Va... got a tropical storm aiming right up our pooper for the end of this week... Could be good or bad... I don't know, but Ill be out there either way.
09-30-2010, 08:21 AM
---
My Colorado elk hunt didn't turn out as I would've liked but good times were had meeting a bunch of new faces!! I ended up leaving early and headed back up to northern Minnesota bear hunting. Stuck a bear on the very last day there. Now on to whitetails!!!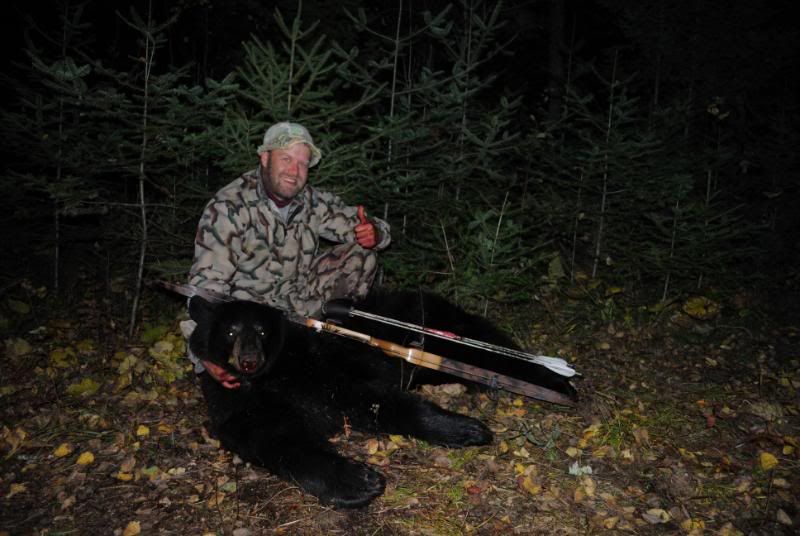 09-30-2010, 10:28 AM
---
Nice job Schultzy!! Good luck with the whitetails!
09-30-2010, 04:14 PM
---
well i don't have sun. off. guess it'll be sat. eve. only for this week.

good job schultzy.
10-01-2010, 05:02 PM
---
Wind looks good for me this Sunday morning. And the temp is going to be about 38 Degrees. Not quite ready for those temps but its better than being 70 degrees at daybreak. Good luck to everyone who is heading out. I'm sure I'll need it.
10-02-2010, 02:16 PM
---
good news. sunday work is cancelled. now i can go hunting all day sunday
:biggrin :
10-03-2010, 12:22 AM
---
Hey gents, had to take bow into archery shop this week. Just about ruined the string on it. The serving got cut by the cam module due to the string riding up on it. I bought my bow and my sons bow last fall brand new. What had happened was when I was shooting my bow it made a weird sound, I shot 3 arrows and then looking at it I noticed the serving was cut. When talking to the shop owner the cam module on it was for a left handed bow. Well I got it fixed, the string had a serving put on and was still good but boy it could have been a disaster had I pulled that bow back a few more times. Back in Business
10-03-2010, 12:33 PM
---
Didn't even see any deer today. Long wait til next weekend.
10-03-2010, 02:58 PM
---
I've ben hunting every day since Friday and I've seen about 4 does and three bucks. Nothing within range. Two of the bucks were basket rack 8's, one was a NICE 10. Nothing giant, but I would definitely shoot him if I got the chance. It was hard to tell because he was so far away but I think it might be Wendell, the deer I've been watching since last summer. I know he's around because this is the second time I've seen him in the last month. Only a matter of time, right?
I'm hoping if I put in enough time that Wendell will make a fatal mistake. It would be awesome to have him as my first deer (bow or otherwise).
10-03-2010, 06:05 PM
---
keep on the checkin ins'..........
it's great to hear updates.
seen 4 does today and missed my shot at one(hit a twig because of the wind plus missed judged the yardage....go figure) but at least it was a clean miss- nothing wounded!
i'll see what's up for later this week as far as me hunting again.
goodluck everyone!