Team 9 --- "Beard Me"
04-27-2009, 07:28 AM
RE: Team 9 check in
---
Well guys I officially have shot my first bird with my bow. We had birds all over us from the get go. At around 6:45 am we had two hens working their way to my B-Mobile, She-Mobile and another hen decoy from about 200 yards away. We were set up in a pinch point funnel that connects two fields of winter wheat. A tom joined the hens and they started slowly making their way. The hens weren't to interested in joining my decoys but the tom made his way to withing 15 yards and stood side by side with the B-Mobile. I set my pin on the vitals and let one fly and missed solidly by a foot. I really don't know what happened. I think my 3d leaf suit hit my string and pulled my shot off. I've never missed an animal before and definitely not within 15 yards! After the shot I try to knock another arrow but the tom spooks and walks off to join the hens which were down in a bowl area 75 yards away. I was pretty disappointed in myself but I didn't give up.
I started to call a little more and had a hen come in and start walking around the decoys herself. She even did a little yelping for me. Those are the best decoys and callers right there...an actual hen. She gets a little bored or nervous and makes her way down to the other birds in the bowl area of the field. The birds were gobbling but they wouldn't come out of the woods into the field. Eventually 3 nice toms came out but stayed down in the bowl area with the other tom that I missed and they worked their way under a fence and crossed a creek 150 yards away. As we were looking at them cross the creek through our binos we noticed a major bird strutting across the ditch that the other birds were going to. He was a monster. We devised a plan to get out of our blind and try to sneak around and get in front of the birds. Just as we were ready to exit the blind I looked out in the field and seen that monster tom making his way to us. I told my buddy that the tom somehow crossed that ditch and is coming. Redemption time. That bird stayed out there strutting from 200 yards out. He struts all the way until roughly 50 yards when he sees the B-mobile and make a b line right to him. This boy was mad! He runs on up and gets behind my decoy and fans out and then jumps and smacks him with his spurs. He jumps on his back and starts kicking and pecking the top of his head. I take aim and thwack right through boilermaker, complete pass through. It smacks him off my decoy and he dies about 10 feet away. The rage broadhead did its thing, complete pass through. He did a number on my decoy and destroyed my fan but now I have his to replace it. The B-Mobile has worked every single time I've used it. We filmed the entire hunt and I'll try to get it up soon.
The bird weighed 24 lbs. He has 1 1/8 inch on his left and 1 3/16 inch on his right for spurs and his beard was a meager 9 inches for a total of 65.125. He was an old Tom that's for sure and the biggest spurs I've ever taken and I've taken over 15 birds. Sorry my pics aren't that good. I had to take pictures by myself cause I was in a hurry for the Draft and needed to get him cut up. I'll be making my way out again next weekend for hopefully a similar fate.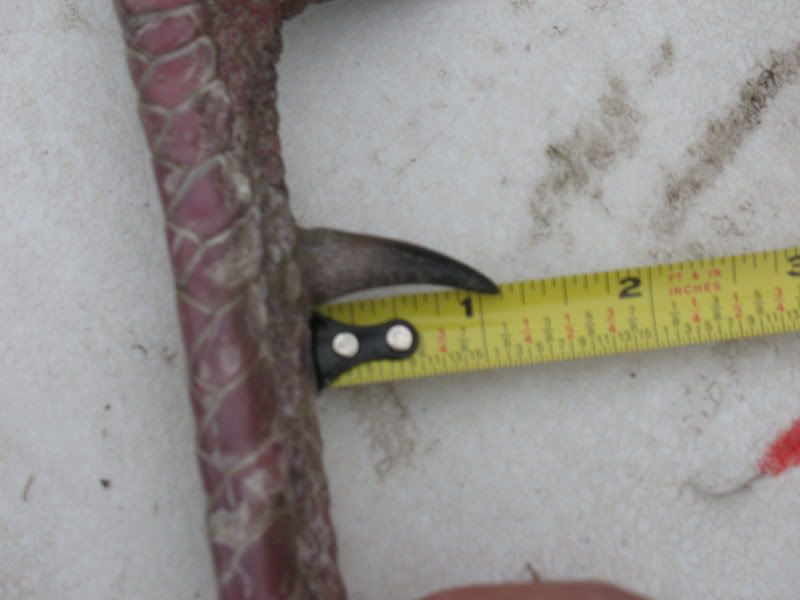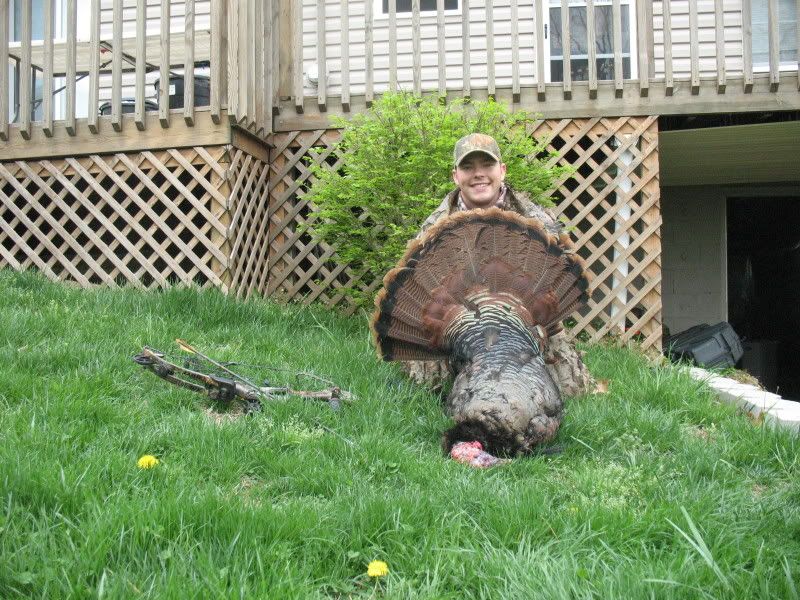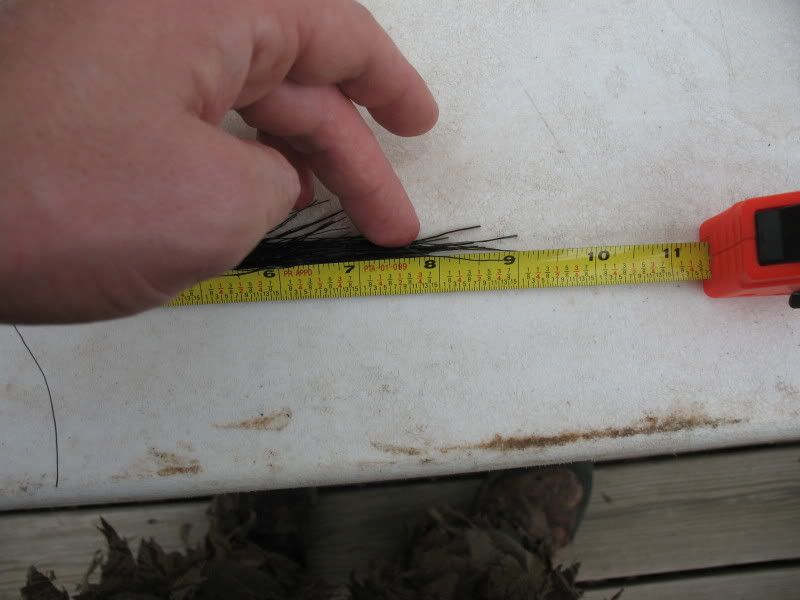 04-27-2009, 06:59 PM
RE: Team 9 check in
---
Congrats! That sounds like a great morning. I shot one with my shotgun on Sunday and now I will be out with my bow but it will have to wait till May 9th. I have to go out of town for a week so I wont be doing any hunting till then but when I get back I will check everyone out and see what is going on.
Posting Rules
You may not post new threads
You may not post replies
You may not post attachments
You may not edit your posts
---
HTML code is Off
---