Official Team The Widow Makers Thread (28)
09-09-2009, 05:01 AM
---
Just an update about what I've been up to. We have 4 stands hung now, a feeder has been out for about 2 months, and we just put a camera out. I've seen some nice bucks on that property, now lets see what's up there that we haven't seen yet.
Last year it seemed that the big bucks went nocturnal around Nov. and were never seen again. I hope to put an end to that before they decide to do that little trick.
Less then a week to go now for me, finally!!!! This weekend should be awesome. Football starts up (go Ravens, LOL) and then deer hunting on Tue morning, It doesn't get much better then that
09-10-2009, 06:25 AM
---
Anyone go out yesterday?
09-11-2009, 06:43 PM
---
My season starts Tue, and I'm ready to get this thing started. Gonna be a tough long weekend.
09-12-2009, 03:30 AM
---
your lucky! I gotta wait another week and a half or so.

rick
09-12-2009, 06:29 AM
09-12-2009, 01:12 PM
---
Looking at some good weather for me on opening day. By wed looking at highs of 71, that is well below the norm in my area, but I'm not complaining.
09-14-2009, 06:28 AM
---
Alright boys, tomorrow is opening day for me. I'll be in the stand about 5:30 am, I hope to have a report later on in the day. Wish me luck.
09-14-2009, 04:17 PM
---
09-15-2009, 08:48 AM
---
Went out this morning, saw 10 doe and one little 4 pointer. I hope this is not a sign of things to come. We are planning on taking out a hefty load of doe this year because the buck/doe ratio is way out of wack.

The stand I'll be in this evening is right on an old orchard, saw a nice buck there a few weeks ago. Hopefully he wants to show himself. I'll keep you all posted.
09-15-2009, 05:10 PM
---
Hello teammates! Per Rob, I am now on your team.
30. pwrsrtk350......................Team 28


A little bit about myself. My name is Joe, I hunt here in Ohio. I am a machinist father of 2. I have been in this contest 2 other times only to see them horses run all over it. That has to stop! I shoot a Parker compound, Easton ST Excels topped off with a Muzzy 3 blade 100 grain. I like long walks in the woods and a candle lit deer steak dinner.
Here are 2 bucks I have access to, but not exclusive access. These are on private lands that I share with a few other hunters.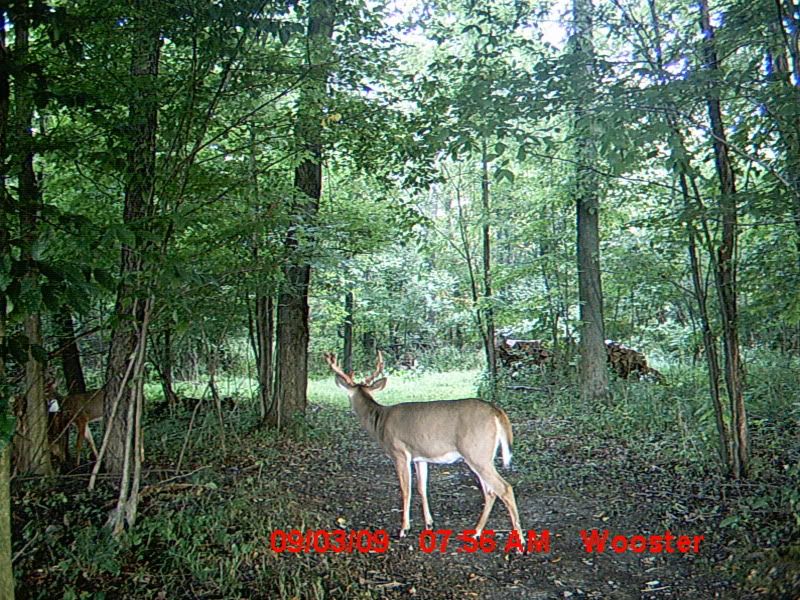 same deer...