Official Team Broadhead Bandits Thread (22)
11-24-2009, 04:08 PM
---
I know exactly how you feel. I am still licking my wounds that I suffered on my Illinois hunt. It really ticks me off that the deer were acting the way they were. I know it is all a part of bow hunting but everything should have been lined up for a better opportunity to get a shot at a nice deer. I did pass on a couple of decent deer bu6t I knew better deer were in the area and when you only have one tag for a buck I held onto the tag a little longer than I should have. I still had a good time, always have a good time in Illinois but when you put all the time in a stand and go home empty handed, it is just dissapointing. I'll stop whining now. Good luck to all that is still hunting.
12-02-2009, 12:27 PM
Spike
Join Date: Feb 2003
Location:
Posts: 13
2009 Iowa Buck
---
Ok team after getting back from Iowa a week ago finally getting a handle on work, home etc. I'm trying to post an attachment pic of my Iowa Buck gross score is 151 1/8. I'll try to get a scoring sheet done so we can get credit in the team scoring. Still trying to get my Ohio deer yet, just haven't seen anything I wanted to shoot yet.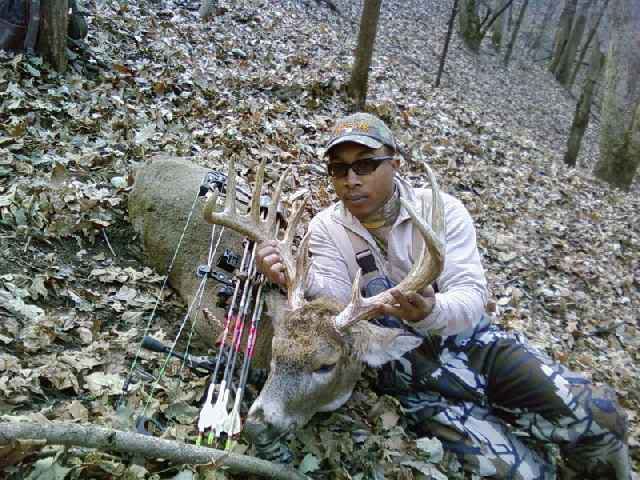 ---
Last edited by Chris.S; 12-03-2009 at

12:20 PM

.
12-02-2009, 04:43 PM
---
Way to go chris, nice buck.
I have let us down so far this year, but still have the late season to hunt with a bow.
Congrates chris.
12-03-2009, 06:57 PM
---
Alright Chris!

Sorry that I haven't been around guys...

I just got a new Wirehair Dachshund puppy to train for blood trailing. I have been on three tracks this year that didn't end up with a deer. I am probably going to go gun hunting more for the rest of the year, just to get hide, blood, and liver to train my dog with.

I will pick up the bow some more and my season runs through February, so I still have some time.
12-07-2009, 03:46 AM
---
How many of our team members are done bowhunting for the year?
I will have about three weeks left of bow season after shotgun season closes on the 20th. I will be out there trying to fill my any-sex tag.
Hang in there guys it aint over till its over.

GOOD LUCK.
12-08-2009, 08:31 AM
---
I went ahead and took a doe with my gun last weekend, and I plan to take the bow back out now that I have meat in the freezer. Our season lasts through Jan. So I got some time still, I will be able to hunt some during Christmas break. Good luck and be safe!

Congrats Chris!!! Great Buck!
12-09-2009, 09:30 AM
---
Chris, great buck. I have not had a chance to go back out since my Illinois trip in November. Will try and make it out a couple of times here in Florida before season ends.
12-15-2009, 04:47 AM
---
Going this afternoon. I found a good scrape and a rub line, that closes in at a creek crossing. It's in a pinch. I hope I set it all up right, if so and the deer do what I think, I should have a 35-40 yard shot, wind is perfect today. I'll let you guys know how it turns out!

Trae
12-16-2009, 05:59 PM
---
Congrats on the buck Cris. Im still trying.
12-16-2009, 06:01 PM
---
Oh yeah I did manage to shoot 3 does within about 4 minutes of each other on opening gun then got another doe 2 weeeks later during gun.