Official Team Broadhead Bandits Thread (22)
10-11-2009, 03:41 PM
---
I would much rather us all be successful, and happy. Then to put up big points. I mean, I would love to win though!
10-11-2009, 05:55 PM
---
Here is my big boy that im after now.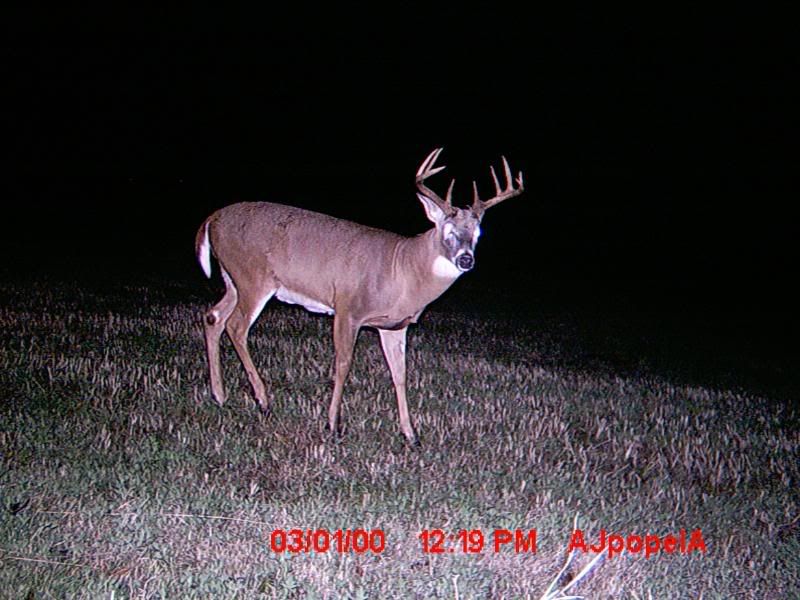 Smaller buck with a double white patch on his neck.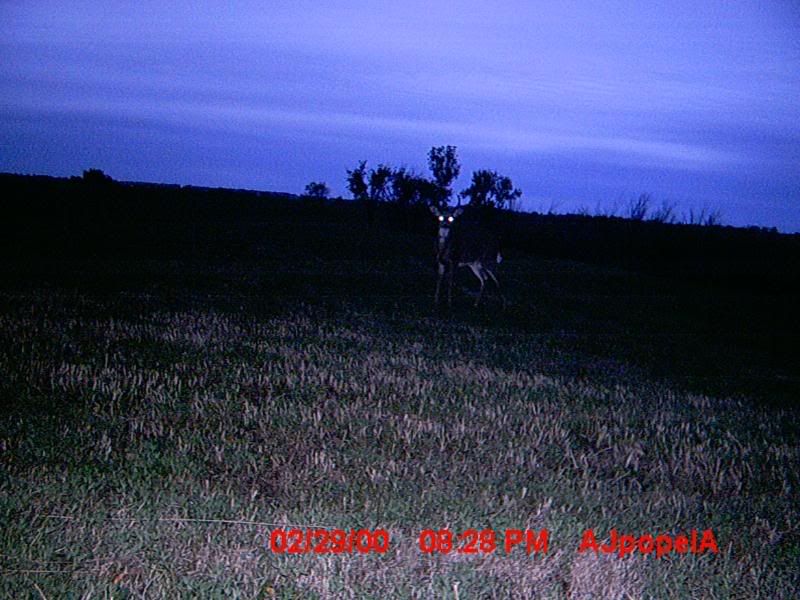 I had a pretty good weekend out. Temperture was decent. 36 at the highest during the day and 27 lowest for mornings. It snowed a little bit saturday morning. It didn't seem to help the deer hunting any. They were still moving the same. I had many close encounters with does and stuff but no shot.
10-12-2009, 03:46 AM
---
Pope, thats a good looking buck, good luck getting him.

I had several deer around me this weekend, 21 different deer but nothing that I wanted to shoot. Only two bucks and they were small. I did have two bald eagles about thirty yards and tried to get a picture but was not quick enough with the camera.

Its going to get real busy around here this weekend, as bow season is going on and fall turkey opens today, duck season opens this coming weekend and the wife starts muzzleloader hunting this weekend. Busy busy busy, i thank god that its finally here.
I will post results and pics. as the animals start dropping.

It was spitting snow again yesterday afternoon.
10-12-2009, 03:44 PM
---
: barmy:
OK Fellers Just Scored this Monster
39 1/4
WOW I think this may put us close to the lead
LOL
I'm not sorry for Culling him out , not at all . He had Good body size .
And like I said I am proud as punch with all my Bow kills weather it be Doe or Buck .
I am just sorry that I could not score better for the team thats all .
I wish all of you guys great luck this season , BUT most of all I hope every one out in the woods a
VERY SAFE Season
and I hope every one out there has as much Fun as I do each and every season !
HH
10-12-2009, 05:35 PM
---
39 1/4" is much better than 0. Any points will do our team some good and atleast we're not in last. :d
Not a single person should be unhappy about a bowkill. Hunting with a bow isn't as easy as a shotgun with 5 slugs packed in it.
10-13-2009, 04:39 AM
---
Congrats! I say if we all tag out, put meet in the freezer, have fun, are all safe, and most importantly don't take anything for granted.. Well, we can't loose. I guess it's up to me to shoot a 200" deer in Missouri. Oh by the way, I leave in 13 days!
10-13-2009, 10:30 AM
---
Congratulations on the deer. Pictures?
10-13-2009, 11:33 AM
---
Post some pictures! Every harvest is special! You done good!

I'll be in a tree in two days!!! I'm about to pop with excitment!
10-14-2009, 03:23 AM
---
Guys hows the hunting going?

I hope that I will be able to get out this weekend, I have to go to the doctor 2moro and have a eye looked at. They are going to have to do a small surgery on my left eye. I just hope that it wont be a big deal or I can get them to put it off until after the bow season here in Iowa. It is my non dominate eye so i will still be able to shoot my bow(i think) but I might not be able to drive myself to hunt, anybody want to drive a old fat guy to his stands, haha. I will have 3 weeks after bow season to get it done before muzzleloader season starts so maybe they will wait.
I have not been seeing anything that I want to shoot so maybe I should just get it done now, hunting wont get real good for a couple of weeks anyway.
It may not be a big deal but will have to see what they say 2moro. I will update you all 2moro when I get back.
10-14-2009, 04:45 AM
---
I hope that doctor visit goes well, hey offer to take the doc hunting and get him to do it when you want! Maybe he can drive you to your spot! ; )

One more day for me! I'll be in a tree at this time tomorrow! I'll probably wet and cold, but I'll be there! It's a 70% chance of rain on Thurs. but Fri and Sat look really good, and the temp drops on Fri about 15 degrees! I think it's a receipe for a bowkill!

Y'all be safe out there, I'll holla back after I get home on Sat night or Sun.