Official Team Wanna see my Booner Thread (31)
10-13-2009, 07:38 PM
---
It really sucks for a couple of reasons- 1, because someone is roaming the property (it's a neighbor because of the lay of the land) and 2, it was mine and my kids stand and held a lot of memories. I've killed several deer out of the stand and one of them was always with me because I only hunt it with them. It was pretty rough telling them that someone stole it, I know they like the "cool" factor of hunting out of a treestand with dad. We will still try to hunt out of a ground blind, but it won't be the same.

Went out this morning and seen a fork, six, doe and two fawns.

Chris
10-13-2009, 07:57 PM
---
2 Does this evening under my Daughters stand 100 yds from me. She was at a mandatory Nurses meeting. Isn't that always the way it goes. I'm not shooting any Does on this property until she gets something anyway. I have another place I can shoot Does on near where I live. I want her to get a shot sooooo bad.
Good Luck all-the best time is just around the corner....
10-16-2009, 05:20 AM
Typical Buck
Join Date: Sep 2008
Location: Indianapolis, IN
Posts: 800
---
Headed back down to the property tomorrow after my Written Firefighter exam. Going to hunt Sunday and Monday and with the cooler temps, I hope they are on the move! Good luck to everyone.
10-16-2009, 12:17 PM
---
Wednesday seen 2 does and 5 fawns, this morning I seen two spikes. I have been seeing a fair amount of bucks, but nothing of any size. Hopefully in a couple of weeks they will be moving.
Here are some pics I got over a mock scrape
The bait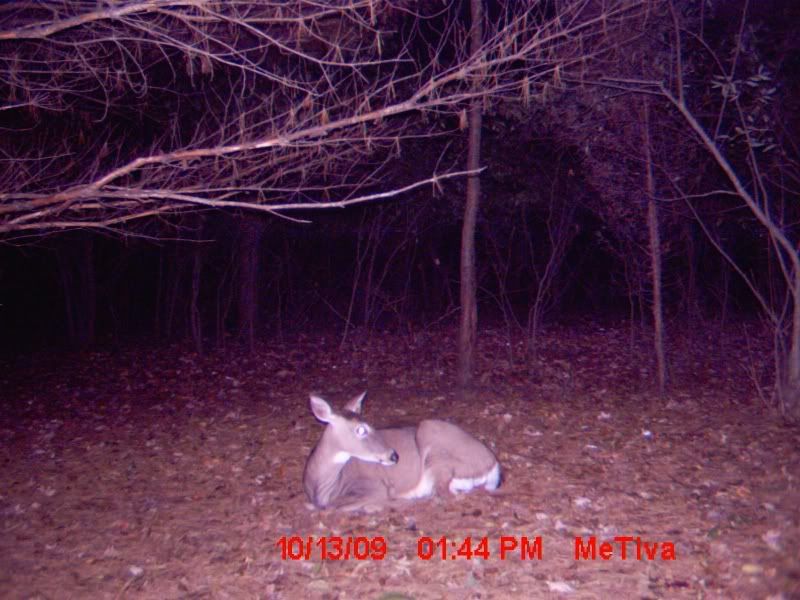 She's my hooker deer working it on the corner, I hope she works it during the rut for this one.
Fox looking for some action too.
See you guys in a week or so, I will be hunting the next 5 days.
chris
10-16-2009, 08:27 PM
---
Heading out to the property late Saturday after attending an Archery Course certification program. Hope it gets done by noon so I have time to zip up to the property for an evening sit. Else, I'll just glass the fields and focus on hunting all day Sunday. Good luck everyone this weekend.

Nice pics Hunger. Is the time stamp correct? Seems like the pics are with a flash judging by the reflection in the eyes. Hope they get moving during daylight soon.
10-17-2009, 08:02 PM
---
Wifes been sick all week so haven't been out but better today. Will be starting to hit it hard next week & from then on. Will be having daughter with also. It's TIME.....Good Luck all.
10-17-2009, 08:22 PM
---
HUNGAR-- Sorry to hear about that, definitely sucks. But on a lighter note, nice mock scrape pics. I have cams over 2 right now, gonna give them another few days before I check.
Just checking in everyone, I've been on deer but no shooters yet.. I did see a BIG buck in my headlights when I was pulling out of the farm, right on the roadside in my neighbors horse pasture. So far my brother and I have each taken a doe, and I let a few walk both tonight and last thursday waiting on antlers. Once i get it uploaded, I'll share some footage of the 2 dumbest fawns of all time. They were really asking for a trip to my freezer, but we have some meat and its early still. They browsed on honeysuckle directly under me and circled me within 15 yards, for 12 minutes, very curious about the mock scrape. Granted they were just 2 fawns, but it was a hunt I won't forget. Very exciting/up close encounter. Also, this evening I "got caught with my pants down" so to speak, when a big old doe appeared at <20 yards, out of thin air it seemed. Facing directly at me and standing in one of my shooting lanes on and old atv trail. Bow on the hook, I couldn't move at all. She got behind a cedar and never offered a shot. I had to sit in the dark for a half hour until she moved off. Good luck to all, I'll check back in later... Be safe
---
Last edited by bowmanaj; 10-17-2009 at

08:34 PM

.
10-20-2009, 06:31 AM
---
Congrats on the Doe. I had another zero deer sighting yesterday. Real slow. Plenty of tracks. More rain today & tomorrow.
10-20-2009, 07:12 AM
---
Hi guys
The weekend was awesome....cold, crisp and frost everywhere. The deer were out early in the bean fields. The stand I went to is a great early morning stand in the woods....unfortunately, I wasn't early enough I guess, as I only saw 2 does...not in range.
I saw 10 on the way there in the road!! The cold had them moving around.
The evening was a little more exciting. Had a buck out in the field grunting and chasing a doe...wow, a little early.
A very mature doe was coming my way and hung up when he started all the grunting. She was 20 yard out with limbs of a tree between us...no shot at all. She moved closer and was directly in front of me. The tree I was in was between us. I needed her to take two steps and that bitch stood there until my arm went numb and I had no pin light left!!! What fun!! Why everyone doesn't LOVE bow hunting is beyond me.
Had company and didn't get to go out Sunday.....they don't understand they are NOT supposed to visit during bow season!
I'm glad I have 5 days up there starting 10/28. should be fun. I think the rut will have a good start around the last of Oct., first of Nov. in NE Missouri.
Good luck guys and safe hunting.
Diann
10-21-2009, 04:23 AM
Typical Buck
Join Date: Sep 2008
Location: Indianapolis, IN
Posts: 800
---
Just checking in, hope everyone is getting some action still. Went down to the property after my firefighter test Saturday and got settled in and went and checked out my dads doe he got that evening. On sunday it was so nice I was destined to see something but nothing showed. Got back and found that my cousins son had killed a doe as well. Went out sunday evening and with 45 min of hunting left, he came in, a nice tall 8pt and his rack almost closes at the front. He will make the P&Y book. He was at 32 yds and drinking from the pond but I had no shot. Aggravating. Didnt see anything Monday either. Hopefully that big 8 will come back and offer me a shot, the rutting activity is starting to get going so hopefully I can rattle him in closer next time.