Official Team Drop Tine Terminators Thread (21)
09-17-2009, 05:48 AM
Spike
Join Date: Aug 2009
Location: Marion,Il
Posts: 25
---
well here i am checking in, alittle about myself, im 31 live and hunt in southern Illinois, we have alittle over 900 acres that is been under strict managment for the last 16 years, i am married to a lady thats is just a serious about hunting as i am. We have to little girls one is 5 and the other is 1. lets see,,,,,,ive been hunting since i was 5 first duck at six and first deer at 7, first bow kill at 10,,,I shoot a mathews rezen and the wife shoots a mathews passion,,,my 5 year old just got her first compound (was shooting recurve). Far as working goes I work in a tire factory in Mt.vernon IL,,iput in a lot of hours in the summer so i dont have to during season..well i wish everyone good luck this season.....hopefully my luck will be the same as last year 12pt 165inch,,,,,10 pt 158inch,,,,keeping fingers crossed got some good pics to start out with..
09-17-2009, 05:56 AM
Spike
Join Date: Aug 2009
Location: Marion,Il
Posts: 25
---
not a monster but couple of more years he'll be a good one
09-17-2009, 06:46 AM
---
welcome to the team great looking buck there
09-17-2009, 07:51 AM
---
Buckmark and Canuck is that the Moultrie 4.0 trail cam for around 100 bucks? Nice pics guys.
09-17-2009, 09:54 AM
09-17-2009, 08:31 PM
Typical Buck
Join Date: Feb 2003
Location: Grand Forks BC Canada
Posts: 760
---
Funky Monkey, welcome. That looks like a nice buck.

Tribal, I've got a Moultrie 5.0, which was on sale for the same price as the 4,0 at the time.
09-20-2009, 05:28 PM
---
09-20-2009, 05:37 PM
---
The 2nd pic is 3:00am Im like a human alarm clock we never take one I can get up at anytime I want and they hate me because of it lol
The 3rd pic is seconds after my buddy got busted by a cow at 13yards she was standing over the darkest log in front of him between the 2 trees you can see his pain .
colorado 008.jpg
co
colorado 004.jpg
lorado 037.jp
colorado 039.jpg
g
09-20-2009, 07:34 PM
Typical Buck
Join Date: Feb 2003
Location: Grand Forks BC Canada
Posts: 760
---
Well team, I hang my head in sorrow.
I went over to the dark side and shot a buck with my rifle. Therefore, it doesn't get our team any points.
However, there's still almost 3 months of season left here and I will be reverting to the bow. Never fear!
Here's the guy I shot yesterday morning at 150 yards. I didn't have a pin on my bow for that range anyway.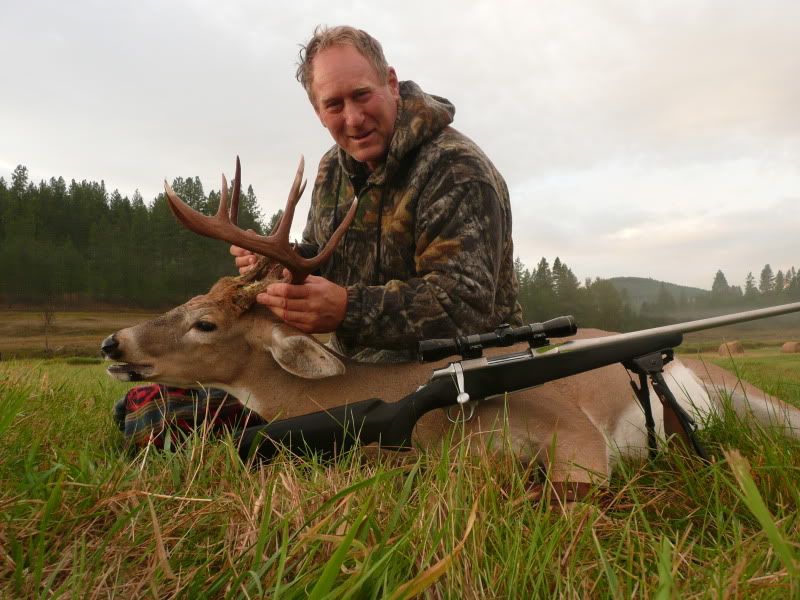 09-20-2009, 08:05 PM
---
First off, Shane looks like you had one nice trip. Great country and some awesome pics...

Jack, none to worry, its not like you are done by any means. 150 yards, man I tell you what, I've never taken a shot over 50 yards at a deer. Thats one nice shot. What caliber you using there if you don't mind me asking
---
Last edited by BUCKMARK; 09-20-2009 at

08:08 PM

.