Official Team Hooter's Shooters Thread (1)
11-03-2009, 10:48 PM
---
Guys we are on a ROLLLLLL!!!!!
I killed a STUD of a buck this afternoon. He's a main frame 10 pointer with 2 kickers off one browtine. I don't know what he's going to score, but he was definantly big enough for me to take. He came to the horns a little after 5 and presented me with a 5 yard shot, and I took out both lungs. I will have a better in depth story posted on the general bowhunting forum tomorrow, but right now I'm tired. Here are some pics of the brute though.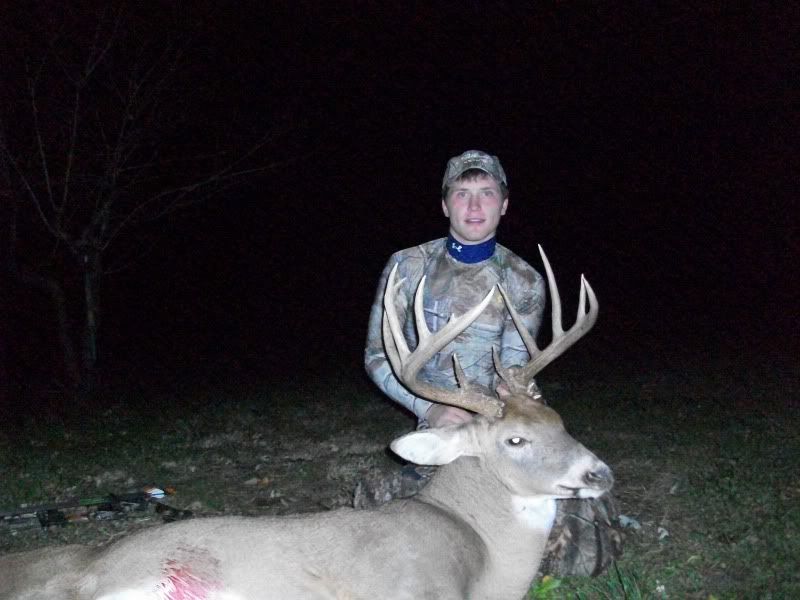 11-03-2009, 11:43 PM
---
Ok guys sleep isn't coming so I went ahead and wrote up a thread. Here's the link.
http://huntingnet.com/forum/bowhunti...ml#post3494610
I was actually going to go ahead and hunt in the morning, but the shop here in town was closed when I drove through, so I have to go down tomorrow to get my other buck tag. Today was my first day of vacation, so I still have some days to another brute in the freezer. Who knows lightning may strike twice.
Oh yea GR8, that's a nice buck you got. I sent you a congrats "over there", but thought I would jump here as well. I was reading through this thread a few minutes before my buck came through.
11-04-2009, 03:34 AM
---
Hey guys look at my post and tell me what those numbers add up too, not too sure about all the fraction numbers?
11-04-2009, 03:37 AM
---
Hell ya, great buck IL buck hunter............. We are on a freakin roll keep it up boys.....
11-04-2009, 04:27 AM
---
Wow, what an awesome morning to wake up to if I'm not on the stand. Great looking bucks. Congrats GR8 and Illinois. With these three, we are on a roll.

I had a good hunt last night. Tons of Bucks but not big ones. I saw over a dozen walk past me and if the first one wasn't a half rack (not totally a half rack), I would have dropped him. I still have time and will put things together. These bucks make it easier for the rest of the team. Just shoot a decent 6 or an 8 and the contest is ours.

I fly home today but plan on taking my bow back with me and will jump into the woods there on Thu and Fri.

Good luck guys.
11-04-2009, 05:16 AM
---
Scott...fantastic buck! I wanted to see you score on a bruiser and you did.

As you look back in future years, this buck will mean more to you with every passing season. Congrats..well deserved!
11-04-2009, 05:26 AM
---
11-04-2009, 05:50 AM
---
x2....that is the easiest way to do it.
I think that is 3 bucks in 3 days.......so who is it going to be today? Lets keep this momentum going.
11-04-2009, 06:29 AM
---
So my question would be what would be my H4 measurment on my right side. Could I get some help. Would I not get a H4 measurment then...
11-04-2009, 09:47 AM
---
Not to sound greedy, but I hope its me. The weather is just perfect today...the weather (cold front) is coming from Illinois across to PA. Hopefully it will bring the luck you guys are having out there over my way. High of 45 with temps dropping though the day down to 40 by daybreak. Horns will be smashing this afternoon...leaving work in 2 hours to hunt the last 3 of daylight. Can't wait!
Cograts Mark/Gr8/Illinois on the Buck!
I believe the top team right now has 408"....we're approaching that number quickly! At this rate someone else will have their buck before this weekend for sure. Good luck all...and lets keep it up!