Official Team Surpass Thread (37)
10-02-2009, 11:53 AM
---
Awesome Brent, congrats!

I'm off to S. Dakota tonight for my first deer hunt of the season tomorrow. Knock em dead this weekend!
10-02-2009, 07:31 PM
10-03-2009, 07:52 AM
---
Congrats Hog
Nice lttle black bear Hog,and great pictures. Sounded like you were just as excited when you shot him as when you wrote the articale. That's always a good sign that your enjoying yourself. Bravo young fella
. May your enjoyment continue as you grow with the love of archery.
Sorry team for not writing daily as I've been a mess lately trying to get my bull moose this week. Go to work at 5am and get back from my hunt at 8:30pm for the last week,took yesterday and today off to rest my weary legs up from constantly climbing over deadfall in the bush.
Had the big bull in on Thursday nite at 7:30 at 12 yards,called him in from over a mile away from atop a ridge where I noticed movement. He was a top me in less than 5 minutes. I was at full draw when he was 30 yards away.
Why the Lord had to put 5 trees in the place he did ,I will never know
! I couldn't hold the draw anymore and let off thinking he's gonzo,but he stayed as still as can be. No movement for at least the next 10 minutes and the light was fading quickly.
I needed to move my leg up on a stump I was sitting on to ease the stress on my bad knee and that was it for him,he bolted nocking down everything in front of him. I actually lost sight of him at that close of his pressence. So you know how dark it was getting for me to lose sight of him. Funny how no movement will keep you totaly blind to what ever is looking your way in the bush with any camo on .
Back at it tomorrow morning as it's supposed to be -5 at 6am as I get in the bush. It will be the 1st time for me to get out after moose in the morning. My bud says it's the best time to hunt them because they'll move till 11 before bedding . Best of luck to everyone hunting and be safe. God Bless
Rocky
10-05-2009, 10:33 AM
---
Went out yesterday to move my climber. Trying to hunt a lil different now for a buck. I fould a pretty good trail across a ditch bout a hundred yards in our big woods. Rite beside a 3 or 400 year old bur oak lol ground is loaded with acorns. When I was headed back to the truck I found a scrape line along the edge of the woods! Really early for that I would imagine it was a young buck but you never know. I think this weekend will be pretty good since there startin to get territorial. There were eleven scrapes in all in the line now I'm gonna move my lock on stand down from where I shot my doe got a pretty good idea where to put it long as the deer beddin in a certain area and the paw paw trees aren't too thick. Once the corn's shelled should start seein a lot more on that end of the woods.
10-07-2009, 11:57 AM
---
Hey guys, hope all is going well. Had a great hunt this morning that just about ended right. I had gotten out pretty early today, about 5:20 am. Was set up and ready to go, enjoying the almost full moon and kept hearing tree limbs rustle, sort of like when squirrels jump from tree to tree. I finally noticed a black blob headed my direction. Lucky for me, the black spot had nice visible antlers...even in the moonlight. I'm guessing he was the 140-ish I saw a few weeks ago. As the sun came up, this guy was headed right at me. 60 yards, 55 yards, 50 yards...I was ready to blast him. My nerves were under control, I was already posing for pics in my mind. All he had to do was turn. Right, left...who cares. 40 yards, just give me a shot, right? He instantly threw his head up and looked at the treeline. And his big brother stepped out. I kid you not, this was a 170 plus. I nearly freaked out. He ran straight at the buck I was gladly going to shoot. Prodded him in the rear with his rack and then they locked up like Mt. Sheep. They only went at it for 10-15 seconds and big boy chased him directly away. There went my photo shoot! But what a great day. Had a flight of probably 20 Wood Ducks go over as well as 50 Geese. About quitting time I had 2 small spikes walk underneath me, and that was that. I'm supposed to be going camping with my family at KY Lake this whole next week. Not sure how I'm going to be satisfied with a campfire and fishing knowing that this stud is hanging around. Hope ya'll kill something soon.
10-08-2009, 09:29 PM
---
A Huckleupdate:

First day in S. Dakota went well. I had a small 5 point at 15 yards (pass) and then a doe at 25 (was on the ground w/ longbow in hand). The doe busted me as I repositioned my feet for a shot. The next morning I had a brute cruise past my ground blind at first light. He never came within shooting range (77 yards was the closest). Thirty minutes later I had a big doe walking towards me. I could not accurately range her (my range finder inadvertently got switch over to rain mode). I guessed 40 and took a shot-missed low. She ran to the top of a hill 60 yards out. I doe bleated her (using the "can") and she walk back down to me. On the second shot I heard that TWACK sound. The arrow looked good! the doe ran to the top of the hill again. I started to glass her;she stood there for thirty minutes. I coul not find blod on her anywhere-I had a good look at both sides. Then, a spike came over the hill and was moving towards me. I thought what the heck, I turned the can over and started bleating. The buck walked right to me. I ranged him at 23 (at this pint I discovered the error in my finder). The doe followed the buck down the hill and stopped facing me at 28 yards-no shot situation. I waited for her to turn. I was byside myself. Who ever gets a third shot at the same whitetail? Could I be so lucky-nope. The buck busted me and took the doe with him. The two stopped about 60 yards away. I continue to glass the doe looking for blood-none. After they left I found my second arrow. The arrow shaft was covered with blood. It also had meat and belly hair attached. Two of the three fletchings had blood. I concluded a low brisket non vital hit. I spent an hour looking to no avail. It was a thoughtful seven hour drive back home.

I sat my Colorado Zebra stand tonight and endured rain mixed with snow. I saw a hoot owl, a hawk, and about 20 wood ducks making use of a warm water slough-definitely on their way south. The good news, I'm starting to see deer trails through the tall grass. There's hope! Maybe Colorado does have white-tailed deer after all! Guess my time will tell. It's back up to South Dakota tomorrow. I got a feeling deer will be hitting the dirt this weekend!

GO Surpass!
10-12-2009, 05:29 AM
---
Well lads, I struck a deal with God.
It started Friday afternoon when I packed the bow in the truck and took off towards South Dakota's Black Hills. I left Denver around 4:30 pm. By 8:30 pm, I was just south of Chugwater, Wy. It took me four hours to drive what I normally drive in two. Northern Colorado and southern Wyoming where experiencing white out blizzard conditions. Cheyenne was buried under 17 inches of blowing snow. I spent four intense hour maneuvering around and avoiding crashing into highway hazards. Vehicles were wedged under semis, on top of guard rails, spun out off the road, and on their tops. The wind, poor visibility, and icy conditions made for some white knuckle driving! At Cheyenne I started to pray. I said, "God, just get me there safely. Forgive me for my stupidity! Please overlook my sin for so wanting to be in a ladder stand enjoying life with my mistress (Mother Nature)." I continued, "Lord, I swear I will shoot the first eight I see without hesitation!" I arrived alive in Spearfish, South Dakota just after midnight-at Chugwater the highway and visibility became much better. Prayer answered.
I was up and in my stand by 6:30 am Saturday morning. The roads were still icy and Spearfish had snow of its own-about four inches. Deer movement was incredible! An easy 40 deer cruised past my stand! They were mostly does, fawns, and small bucks. I was standing and ready to drop the hammer on a fat doe when I caught movement to my left. I let down my draw. Two deer were working their way down to me. Both deer had head gear. I was getting a glimpse here and there as they walked through the oak brush. Both appeared to be eights-one slightly bigger than the other. It was difficult to track which deer was which as they jockeyed positions. One stopped twenty yards out. I had a vital shot through a small window in the brush-couldn't see the deer's head. I figured I had a 50/50 chance of killing the bigger of the two. I killed the smaller. My arrow blew right through him perfectly. Promise kept. He piled up within 100 yards. The snow made tracking child's play. Another good representation "Black Hills" buck in the bag! I'll tape him tomorrow...
One of the cool things about hunting the Black Hills, and although the whities do not get as big as the plains deer of S. Dakota (they do not have the agriculture fields to support them), is you're in a wildlife transition zone. At any time you could have either a white-tailed deer or a mule deer in front of you. I love hunting places like this!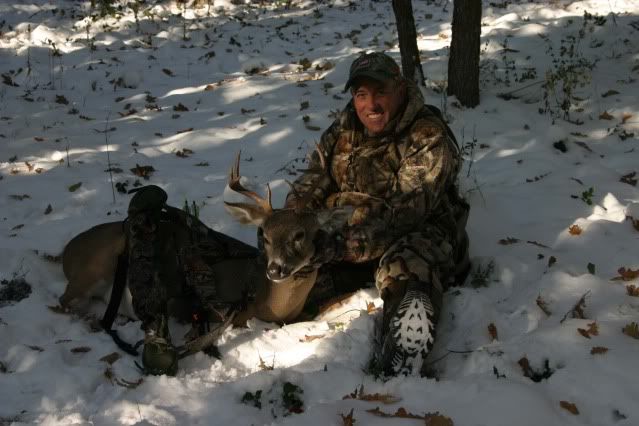 The hole cause by a 100 grain Eastman Outfitter's Silver Strike
Thirty minutes after shooting the buck, I arrowed a doe. Bonus!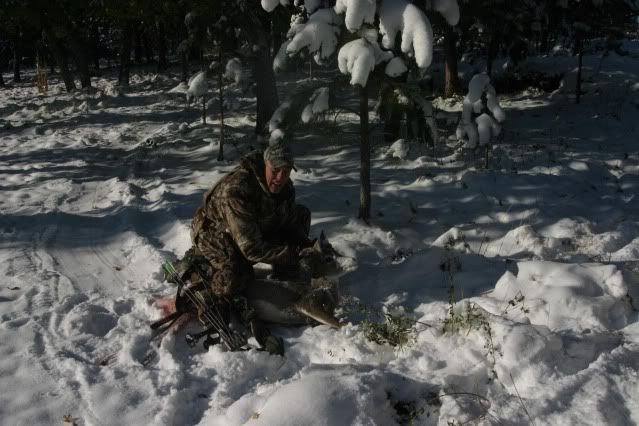 10-12-2009, 05:40 AM
---
Thought I would share a few more photos
This is the terrain associated with the Black Hills
A few of the critters I had the pleasure of photographing while heading home. The following photos were taken from the truck window along the highway in Wyoming (just left S. Dakota). The drive back was just about as treacherous as the intial drive up-daylight made the difference.
10-12-2009, 06:47 AM
---
Congrats on the deer Huck! I will have to take a look at the pictures when I get home. Our web filter at the office makes the pictures unviewable, so now I have to wait until I get home!

I was finally able to get out into the stand saturday morning. Sat for about 4.5 hours and didn't see a single deer. I did have about a dozen turkeys roosting in the trees around me, so that was the only high note of my hunt. Went out to Iowa City for the Iowa game in the afternoon, and ended up driving back home after the name feeling like death. Had a fever all day yesterday, so I never ended up getting back out into the stand. Hopefully later this week or this weekend.

Good luck everyone.
10-12-2009, 07:41 AM
---
Congrats on your deer hunting success Huck!!

Glad to see someone is getting out and hitting it in South Dakota, I've been able to sit once is all. I got snowed out at my farm that is 160 miles from home last night trying to combine soybeans, and snowed out at my home place as well. Might get ready to go sit for a big boy tonite.