Official Team Rage in the Cage Thread (34)
10-27-2008, 09:54 AM
Join Date: Feb 2004
Location: Inverness, MS
Posts: 3,982
RE: Official Team 34 thread!
---
I killed a doe last Thursday, other than that, its been slow. I've logged 40hrs in a tree so far with only 9 sightings. October is always the slowest month down south, so I'm not discouraged yet.

You midwest boys need to start laying down the wood over the next few weeks!

10-29-2008, 04:05 PM
RE: Official Team 34 thread!
---
the deer are starting to move good now all that i have had in is 1.5 old bucks. my buddies have killed some dandys the largest grossed 185 green and another in grossed in the 150's they both grunted and snort wheezed them in. i start my vacation next week. hope its on fire here. well good luck everyone and be safe
10-29-2008, 06:36 PM
Nontypical Buck
Join Date: Feb 2003
Location: Western PA
Posts: 1,356
RE: Official Team 34 thread!
---
Still nothing here. I've been seeing does but haven't seen any horn yet. I've talked to quite a few people who say the ruts kicking in so hopefully soon i'll see some bone. We got 5" of snow today with temps holding around 30 it made for a nice sit tonight. We're due to score some bone here real soon. Good luck boys!
10-31-2008, 09:49 PM
Nontypical Buck
Join Date: Feb 2003
Location: Western PA
Posts: 1,356
RE: Official Team 34 thread!
---
The rut is here in my area. Tonight my buddy i was hunting with harvested a 2.5yr old 80" 7pt. One other guy who was with us also missed a buck and another missed a doe. I had a opportunity to shoot a doe fawn and passed. I'll be out after em again tomorrow. It's startin 2 pick up here. GL fellas


11-01-2008, 08:49 PM
RE: Official Team 34 thread!
---
BBD!![/align][/align]Well I got into my stand early today, but the cows were not far behind me. I was only in my stand for about 15 mins. and the cows showed up. They hung around until about 10 after 8. Around 7:30 I did have a small buck come through well out of range and with cows under my stand he was moving through fast. Once the cows finally left it was quiet and calm and I could finally start enjoying the morning. At 8:45 I saw three deer up on the ridge, I knew the way they were headed they were going to come down and cross the creek and possible come into range. As they were moving across the ridge I could see they were three large deer but I didn't see any racks, just thought they were some big does. I herd them cross the creek and then I saw him, my first thought was hes a shooter. I took a second to take a look behind him just to see what was with him, they were (2) 1-1/2 year old bucks. So the big boy comes in picture perfect. I stopped him at 25 yards and made a good hit. He went about 100 to 125 yards. I got one lung really good and just barely hit the other one. He was just slightly quartering to me. I am truely blessed. The lord has blessed me with four great season in a row now.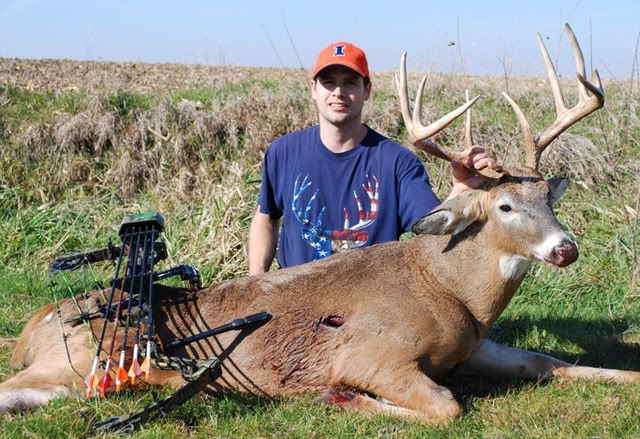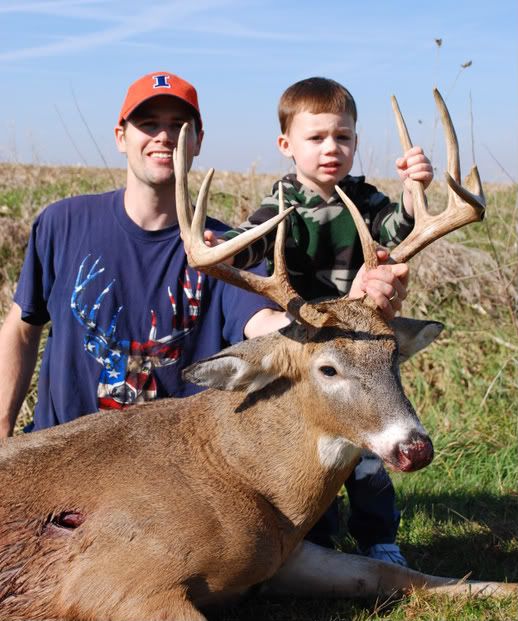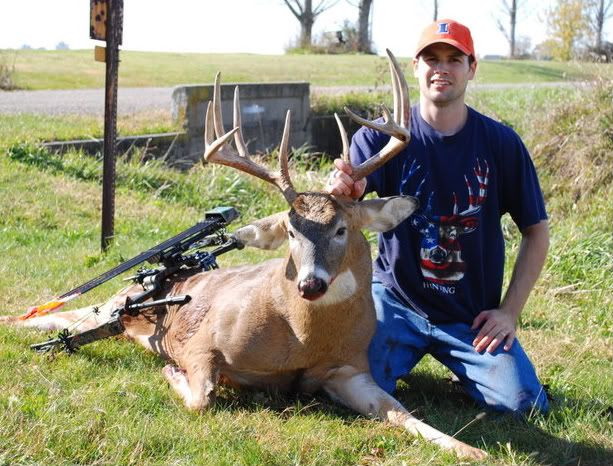 I scored him at 149-3/4". He would have been just over 150 if his G4 on the left wasn't broke. [/align]
11-02-2008, 06:19 AM
Fork Horn
Join Date: Nov 2004
Location: Altoona,Pa
Posts: 223
RE: Official Team 34 thread!
---
Il hunter awsome buck congrats. Great picks with you and your son. Sorry guys I havent been on much work has had me bogged down. I hunted a few days on and off with Rob with no success and at home with no sightings but I will beout in Illinois from the 8th to the 16th so I hope we have a little luck out there. Well Il hunter you got it started with a beautiful buck now its our tun to continue the streak..Again congrats on a nice buck.