Official Team The Dark Horses Thread (Returning Champs) (13)
12-08-2008, 12:13 PM
RE: Official Team The Dark Horses Thread (Returning Champs) (13)
---
Jason your killing me....
Good luck I hope you get it, Free product for your teammates
just kidding
Marty buddy good to hear from ya to bad about the shoulder that had to be smarts. Keep at it. When did you shoot yours last year? I could look it up but I'm lazy.
Mike I'm heading out thursday or friday afternoon to go scout and hunt the new property. It's the 4 day shoot the does until there's nothing left weekend. So it works for you come on up?
ORIGINAL: SouthDakotaHunter
[align=left]Al, I sent you a PM… Call me superstitious, but I'm waiting until things are fully finalized before openly making the official announcement…
[/align]
12-09-2008, 08:42 AM
RE: Official Team The Dark Horses Thread (Returning Champs) (13)
---
It was after Christmas and maybe in early Jan. This year I have until 11 Jan to get mine down, and my shoulder feels better today. I think this weekend I will be pretty good.
12-10-2008, 08:43 AM
RE: Official Team The Dark Horses Thread (Returning Champs) (13)
---
Good luck Marty, keep us posted!! It's just a matter of time until you put one down, I have faith in you buddy
I just got a different sight to play around with. It's a G5 Optix XR. Looks sweet, can't wait to get it mounted on a bow and all dialed in!
12-10-2008, 07:32 PM
RE: Official Team The Dark Horses Thread (Returning Champs) (13)
---
Whatzup boys! Haven't been online in a while (living at work).

Deer camp was a blast. I got to escape reality for a few days and share a handful of brewskies with the boys. Good times. I hunted my ass off and only saw 8 deer. The deer herd was spread pretty thin, so I never pulled the trigger on a doe. I saw two bucks, both legal. Our camp ended up dragging out 3 bucks, a 4x4, a 3x3 and a spiker for our youth hunter. Good times.

I won 14 dollars at poker, but had to give it all back once they figured out I was cheating. LMAO I took a few pics, but I'm too lazy to upload them from my digital camera. I will get around to that soon.


Good to see that everyone is doing well . . . all fattened-up from Thanksgiving.

Saturday is the last day of gun season here, so things are really winding down. I'm going out to push deer for my homeboy. Hopefully he can close the deal. I'll have the camera with me, so if there's any killing getting done, you guys will get some nice pictures.


Marty - keep that shoulder active. We're gonna need you back at 100 percent next year.


So what's Santa bringing all you guys?


I bought myself a $300 Dream Season jacketbackon Halloween- a "Christmas" present to myself. But, being the cheapass that I am, I already wore it for the whole bow season, killed my Ohio buck with it,andreturned it this weekendbecause it "didn't fit right" and "wasn't really that warm." God bless Cabelas and their return policy. Now I havea $300 gift card waiting for next fall. LMAO Low. I know.

I'm thinking about selling the gift card on Ebay and using the money on a Russian Bride. We'll see....


Y'all should give me a call sometime. I usually leave work around 7-8 (eastern) on weekdays. I like talking to you boys. We really need to all get together.



It's almost shed season! I've got about a million areas that I'm hell bent on checking out. Tick. Tick. Tick.



12-12-2008, 09:03 AM
RE: Official Team The Dark Horses Thread (Returning Champs) (13)
---
I went out this morning to the new property by my house. It was 3 degrees with a wind chill of -10. I bumped 2 deer walking in and that was it for me. It was more of a scouting mission than hunting,I left my truck at first light. I found the stands my cousin hung and I'll be ready to rock in the morning. It's a doe only hunt with the boom boom stick but I'll get a buck tag good for the rest of the season and for next year.

It's a good chunck of land,It has an oak ridge that goes down into a cedar swamp. It's bordered by 120 acres to the west that is not hunted (against the law to hunt there) to the South is private to the North and Eat is crop fields. (picked Corn) I hunted the south east side this morning it seems they bed on the edge of the swamp.Saturday afternoon I'll head to the northeat and hunt the corner by the fields.

There is some good sign I found a rub on a 8" cedar tree. Lots of fresh tracks. My plan is if my property doesn't look promising next year I'll hunt this. It's probably my best chance of scoring a buck over 150".

12-12-2008, 01:18 PM
RE: Official Team The Dark Horses Thread (Returning Champs) (13)
---
12-13-2008, 02:34 PM
RE: Official Team The Dark Horses Thread (Returning Champs) (13)
---
Boomstick? Did somebody say Boomstick?
The first set of pics are from Deer Camp. My cousin bagged the 4x4, and the spiker was shot by a kid that my aunt used to babysit. He's all grown-up now (15) and expressed an interest in deer hunting. He asked my dad to take him out. My dad loves kids, so he guided him into a spike buck at first light on opening day. We got a six pointer on the last day, but I didn't get a pic.
I think my dad was more excited than the boy about the spike. LOL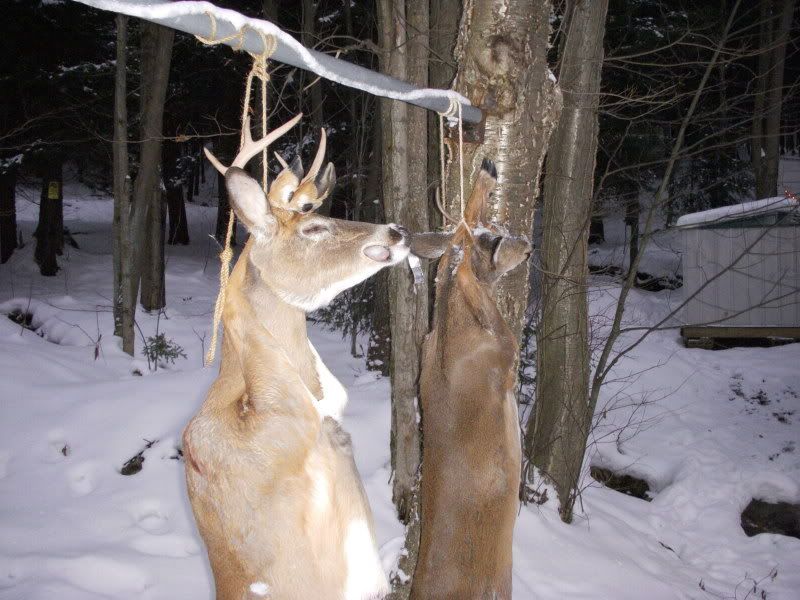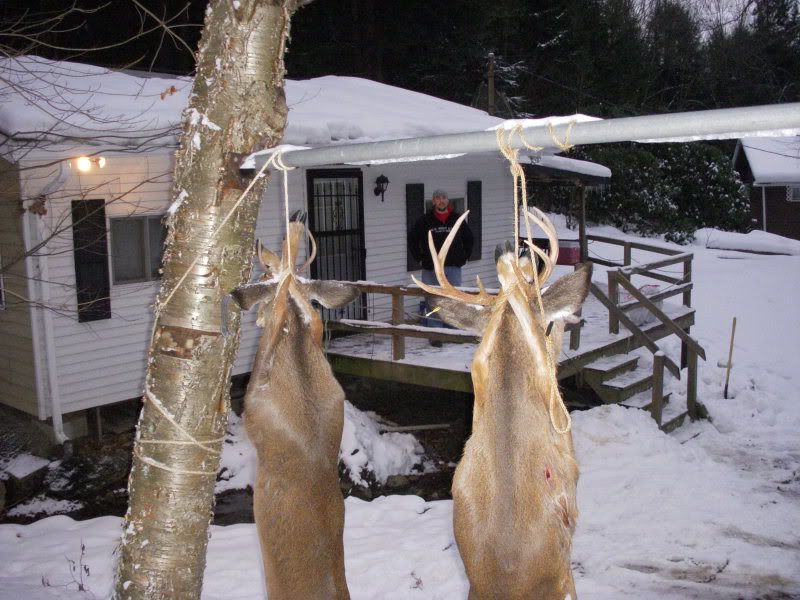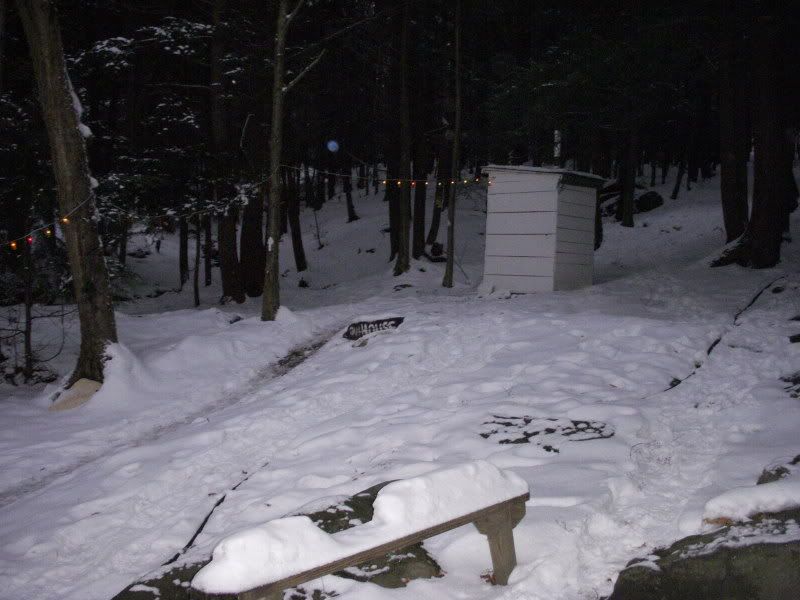 __________________________________________________ _________________________________________
These are from today, when I wasbraving the coldwith the .300, looking to bring the rain andfill a doe tag.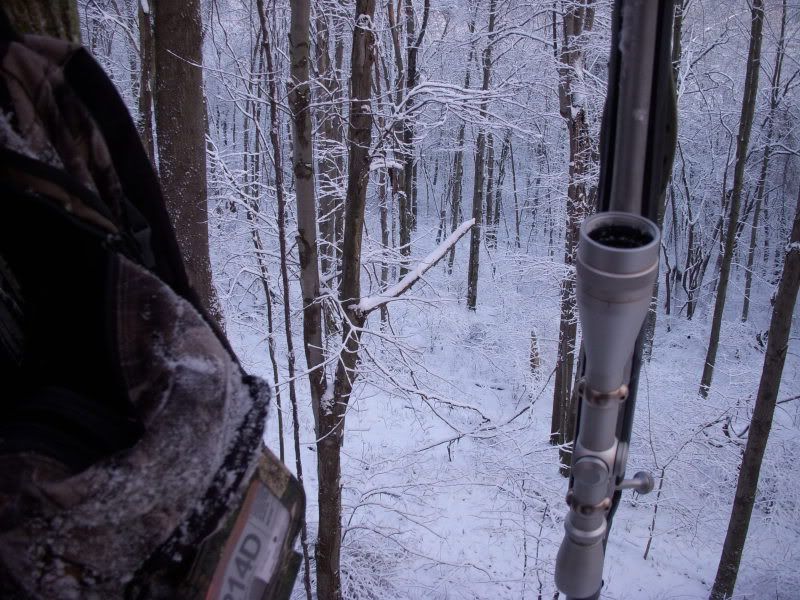 Cold as balls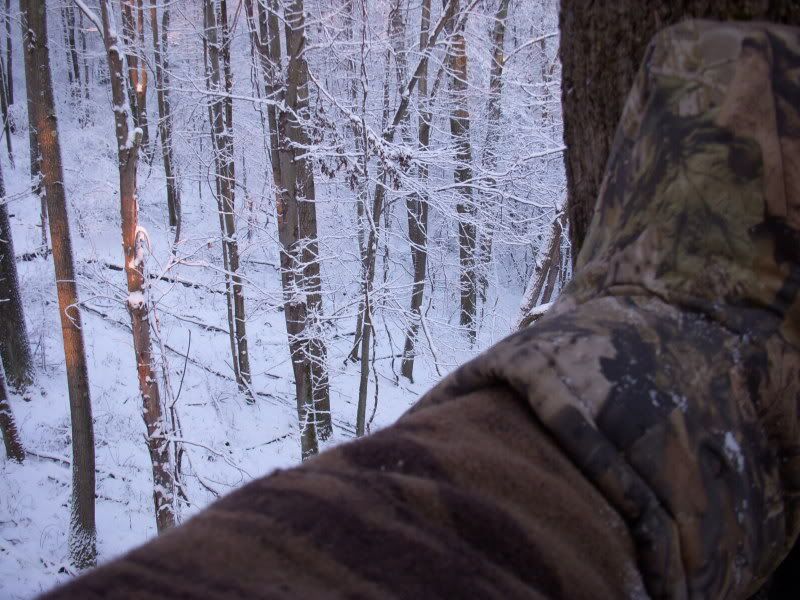 Foot Mittens - better than sliced bread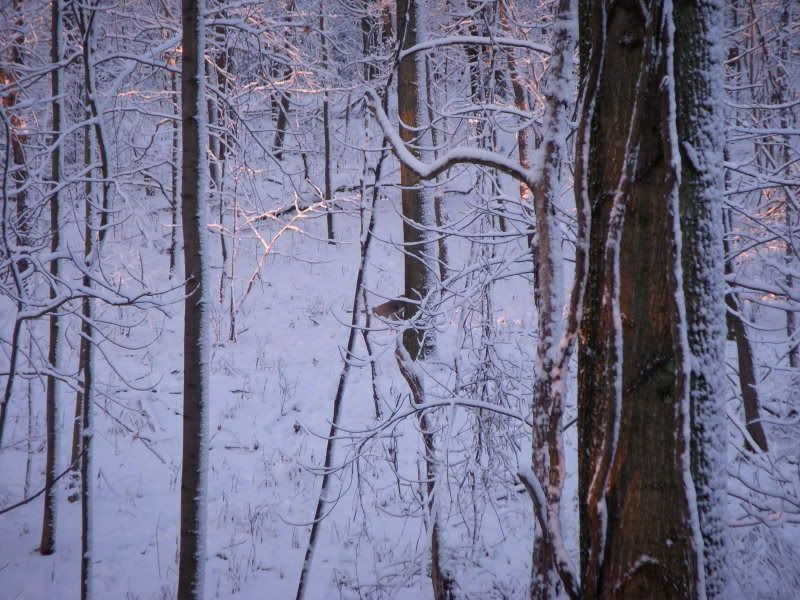 Boom goes the bomstick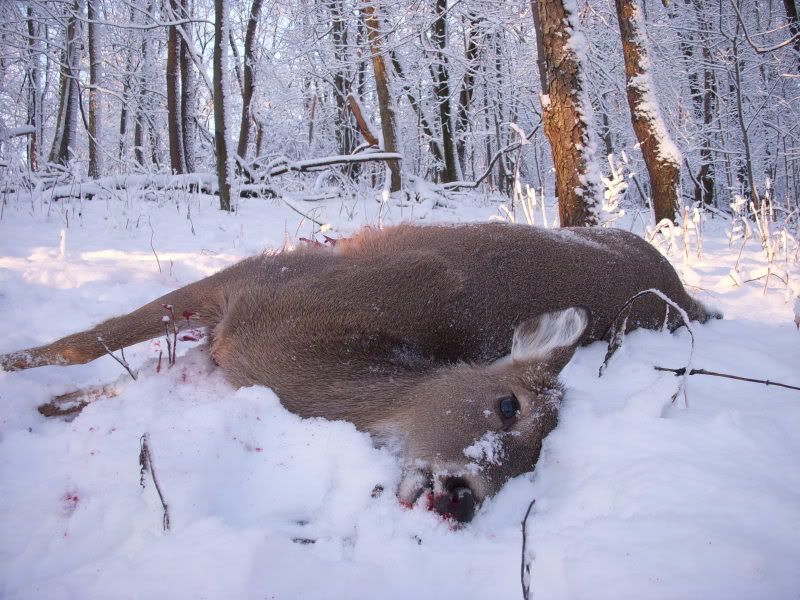 Happy Meal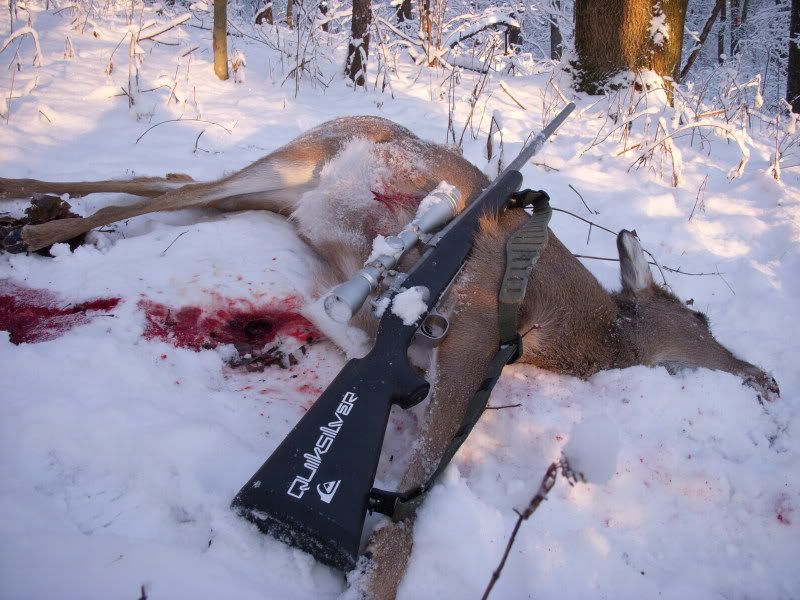 Freakin' Awesome.
I had fun today. It was nice to point-and-click. So easy with the gun though. Nice place to visit, wouldn't wanna live there. Bring on bow season, 2009. I'm ready.
12-13-2008, 05:47 PM
RE: Official Team The Dark Horses Thread (Returning Champs) (13)
---
Good job Fran nice pics. I don't know if you ever got the picture in the text I tried like 3 times and my phone was acting stupid.
It was a Doe only gun hunt this weekend so I went out to the new property and checked it out. My buddy told me where his stand was as I headed out to it I walked past it 3 times before I found it. By that time it was getting light so I climbed up and with in 5 minutes I had a 140+ walk right under the stand [:@](doe only). That was it for the morning I got out of the stand and looked at the rest of the property. I found a spot for the afternoon. We had 30 MPH wind and light rain. As I sat there I thought this is stupid but with in 1/2 an hour Hear comes a doe. Sorry about the Pic I shot her in the head with a 7mm it was almost gone.
Almost forgot I hate dragging. At my place I have ATV's so no dragging for me but today sucked.
12-14-2008, 11:56 AM
RE: Official Team The Dark Horses Thread (Returning Champs) (13)
---
Nice pics guys! Boy, it does look cold Fran!!

As a side note... In addition to having the Primos blind named after us, I see they are offering a finish option on The Truth 2 this year. They are calling it "Dark Horse"......