Official Team The Dark Horses Thread (Returning Champs) (13)
08-31-2008, 11:25 PM
Nontypical Buck
Join Date: Jan 2004
Location: Northwest suburbs, Illinois
Posts: 2,075
RE: Official Team 13 Thread (Returning Champs) The Dark Horses.
---
Man that last sentence was gay must be to much blood in my alcohol system.
Beer and posting on-line is a great combination, Dan. And by the way great work on the scoring chart by members of last years contest.
It looks like most of us our ready for the opener.. as I am too.
I'll be winging it throughout October hunting mostly unfamiliar ground. Not really anything different though.[&:]
I just got back in from a late night walk around our neighborhood with my wife. We encountered an Owl hooting at us before flying off. It brought me back into my treestands again.. where Owls are sometimes the only sounds I hear while in stand hours before the sun rises on many cold mornings. I had goose-bumps all over. My body seemed to awake finally... as that Owl flew off. I can't wait.. I can't wait.
It's hard knowing that I could be hunting in WI in less than 2 weeks. But due to the present course of our nations economy I will not be.
All concentration will be on Illinois. My opener is the 1st of October. And yes gents.. I am a texter. I have passed many hours away texting to JZ who is often perched somewhere else.. but usually within a short ride. I'd be happy to exchange some numbers and send you stupid words to help you pass your day on stand too.
09-01-2008, 08:11 PM
RE: Official Team 13 Thread (Returning Champs) The Dark Horses.
---
Mike-I didn't start drinking until after I wrote that.I'm finally getting pumped up for the season.
I got the rest of the stands done and the plots in. After looking at a couple of the plots I put in early and finding there wasn't much left to eat in them I disked it up and replanted about 3/4's of an acre. I hope to get some rain in the next week.
We were hanging the last stand and my neighbor looked down and there was an old indian arrow head. It was just a cool experiance. I leave you with a couple of pics
09-02-2008, 08:49 AM
RE: Official Team 13 Thread (Returning Champs) The Dark Horses.
---
Gentlemen - the Autumnal Equinox is only 3 weeks away. The nights are cooling off. Leaves starting to turn. The fall of '08 is taking shape.
Duke - I feel ya man. It actually smelled a little bit like fall, yesterday morning. I'll PM you my cellie no.
Marty - I'll get my cell number to you too.
Danno - Nice pictures, buddy. The big boys will show sooner or later.
Al - I almost bought a 2-pack of trailcams on Friday, but I resisted the impulse. I have a feeling that trailcamming would develop into yet another hunting-related addiction, and my wife may shoot me. LOL
Weekend update: I was busy all day onSat & Sun, so Ideclared Monday as a NationalMan Holiday, and headed west, alone,to Ohio. The day started off badly, b/c it was a little chillier than I bargained-for, but the goosebumps quickly turned to sweat andmisery as I slogged around trying to find all the stand sites that I mapped-out way back in Feb/March.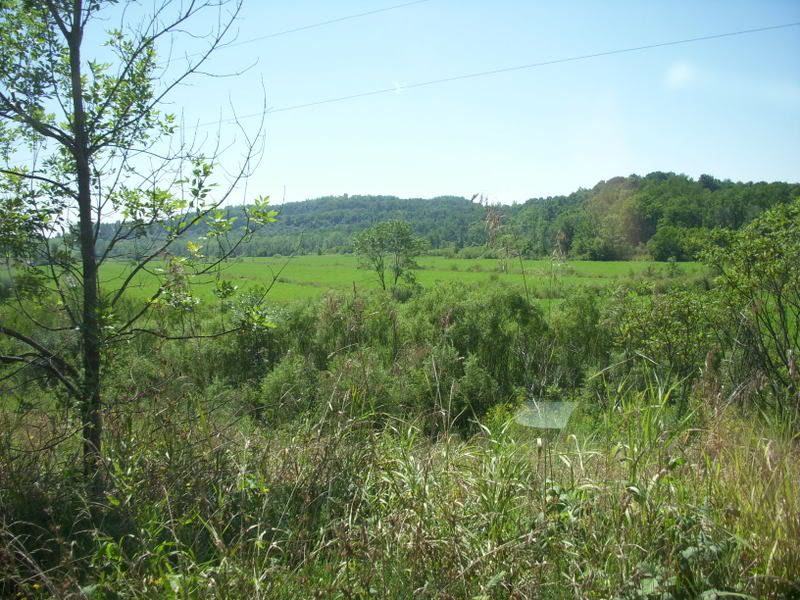 Swamps that were ankle-deep with brush this spring were 8' deep jungles of bugs, weeds, burrs and bees. I got bit twice by some kind of horsefly that was the size of a goddam turkey. I almost tore my own head off, just trying to swat him off of my red neck.
5-minute walks turned into 50-60 minute jungle safaris. What I wouldn't have done for a giant spraycan of Agent Orange.
Due to the heavy foliage, I was going through trail tacks like mad. I'll have to pop some out once the leaves come off. A lot of these places, yesterday was only the second time I've ever been in there. Things look a lot different between March and September. Ugh. I definitely underestimated how thick these areas really were.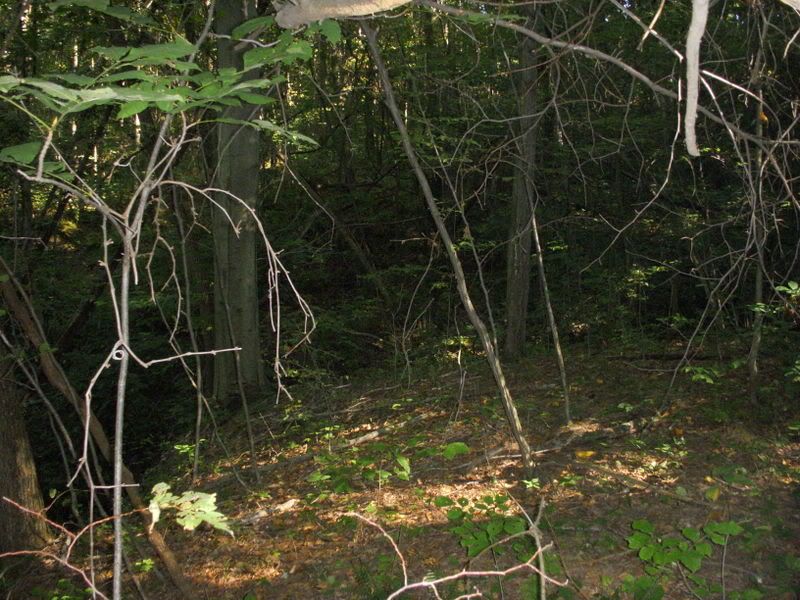 Here's the spot where I killed my Ohio buck last year.
Looking up the hollow
In sum, I wanted to hit up 10 stand sites. Due to the dense overgrowth, I was able to get to 5. The other ones are justgoing to have to wait a week or two. See, my frustration is a natural side-effect of my own tendencies. I always tend to find stand sites that are just a little farther away than I'd like to walk. I gravitate towardholes in thethickest travel corridors that I can find. The geologic barriers that I like to hunt are seemingly always in places that are tough to access. The summer foliage only makes it worse.
Granted, a few of these sites won't be hunted until 11/1, but I still can't rest until I get in there and visually confirm what I saw back in the spring, and see what it looks like now, versus then.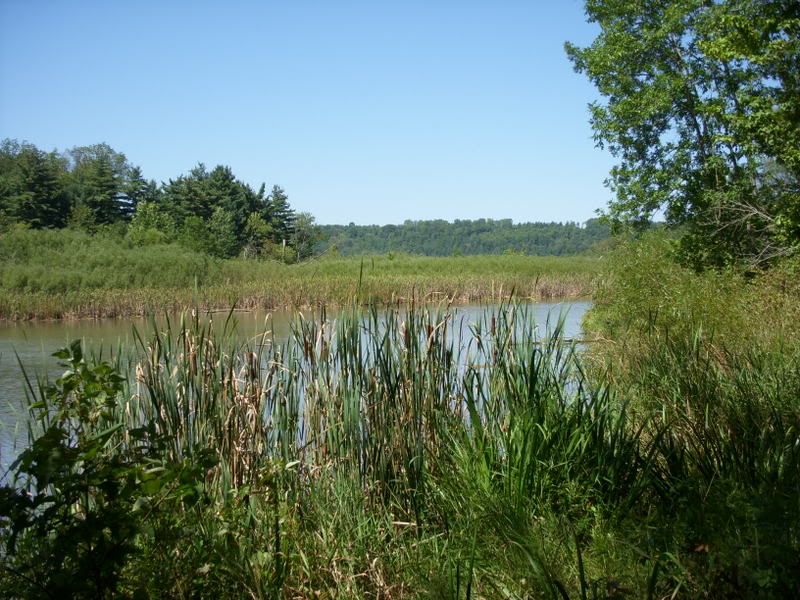 This is the view off of a trail that leads out to a nice oak flat.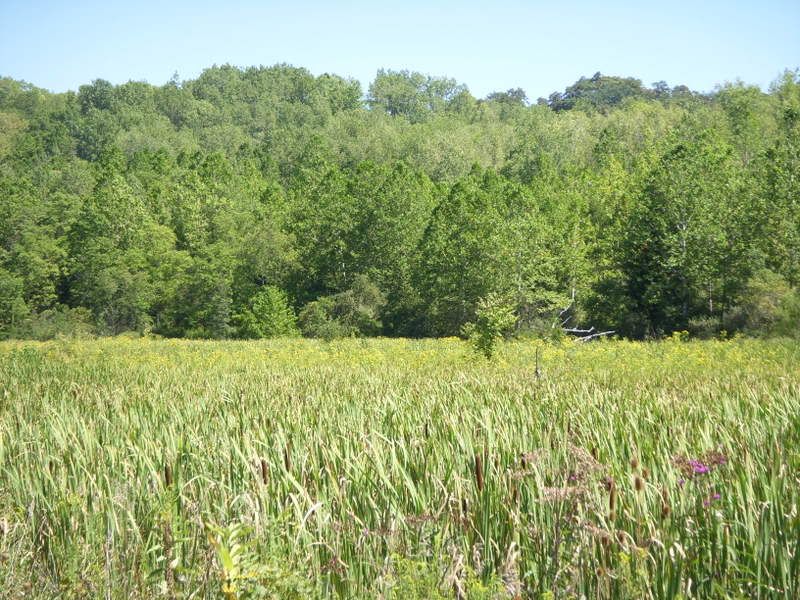 I hate cattails.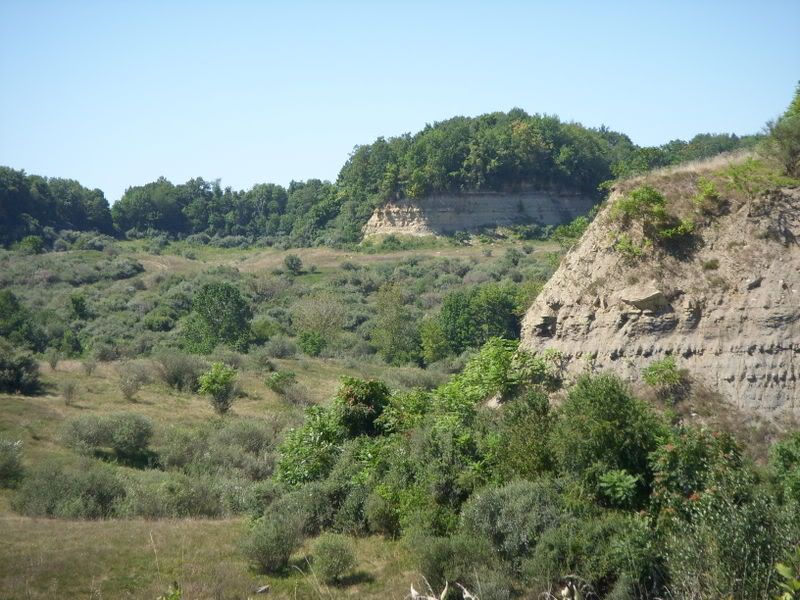 Some old Coal Strip that I like to hunt.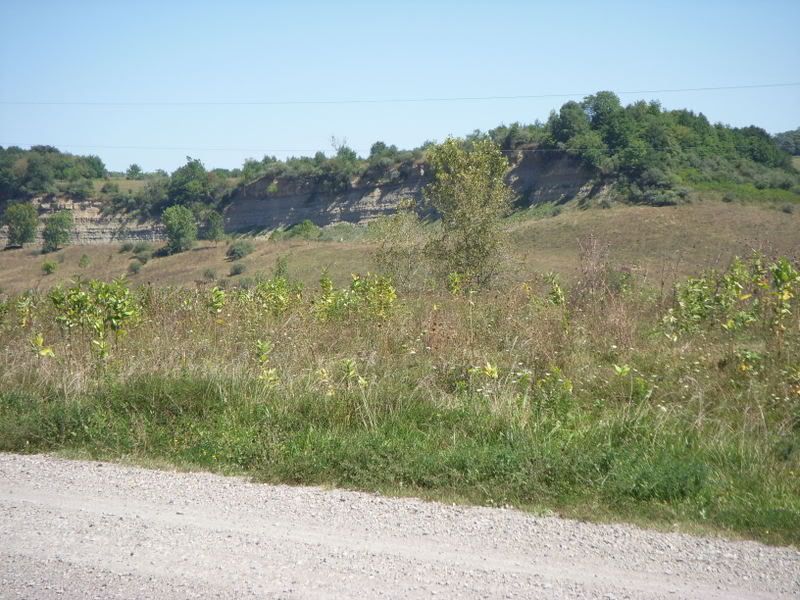 Easy to find natural funnels in places like this.
Last night, I got home, took a nap - then went out spotlighting locally. 108 deer, 32 confirmed bucks. 18 1.5 year olds, 13 2.5's and maybe 1 deer that might have been 3.5. 120'ish. I'll post a video soon. Lots of bucks out of velvet.
09-02-2008, 08:58 AM
RE: Official Team 13 Thread (Returning Champs) The Dark Horses.
---
I had goose-bumps all over. My body seemed to awake finally... as that Owl flew off. I can't wait.. I can't wait.
That's what I like to hear, Mike. Welocme "back".
Fran....awesome photos. Good luck, buddy.
09-02-2008, 12:40 PM
RE: Official Team 13 Thread (Returning Champs) The Dark Horses.
---
Mike - I'll have to agree with GMMAT, love that comment... Sometimes when people ask me about bowhunting and why I do it.... The only thing I can say is once you try it,"you either get it or you don't". To me, there is nothing else like it, to be in the woods with a bow, just blending in with gods creatures, really feel like you are one with nature....

Dan, those are some great trail cam pics. Hope to have some of my own to show off in a couple of weeks, we'll see.....

Fran, Great pics. Yeah, that stuff looks like thick crap!!

Someone should compile a list of teamcontact info and distribute it out... Right now, Itechnically we have txt messaging turned off on my phone, but I could look into getting it turned on for a month or so, during 'prime time'....

I hung a couple of stands this weekend. Feel pretty good about them. Hung them in areas/fields that I've wanted to bow hunt before but just never took the time. With the way the crop rotations turned out, this seemed like a good year to hang em. One is more of an early season stand and the other is more of a late season stand - but we'll see....

09-02-2008, 01:04 PM
Nontypical Buck
Join Date: Jan 2004
Location: Northwest suburbs, Illinois
Posts: 2,075
RE: Official Team 13 Thread (Returning Champs) The Dark Horses.
---
Jeff and Jason.. thank you. I only hope it lasts. It seems to come and go.. but it's definately more apparent these last few days. The rest of that walk home I talked to my wife about hunting like a school kid again. It's about time!
Great pics Fran. I hate scouting with the green of the woods.. mosquitos.. ticks.. and spider webs.[>:]
Dan.. some good looking bucks there. I expect BIG things from you this year.. I really do. Make sure you get ahold of me.. I'll drive up there and take some great pics. of you and the beast.
Good deal Jas. Sounds like your in the right frame of mind. I'm all for the texting gents.. I spin my best stuff when I'm short of sleep.. freezing.. and sitting in a cold tree.
Al and Dan II... I've gotten on some really great deer when it gets real warm early. Take your time for sure.. but don't let an opportunity slip away. A good plan today is better than a perfect plan tomorrow.
09-02-2008, 03:16 PM
RE: Official Team 13 Thread (Returning Champs) The Dark Horses.
---
Jason-can't wait to see what you have on film.
Mike I have high hopes for this year after what happened last year. That 8 in the first pic I'm still up in the air about taking him. If he comes in in Velvet he's done but I'll have to see what he looks like out. It's to bad about the WI tag I was hoping to get you up for a weekend. Maybe next year.
The texting thing I do it but I'm slow and pathetic at it. Being the senior member of this team I'm surprised I know how to text at all.
I'll send my contact info out to all.