Official Team Lungbusters Thread (28)
09-03-2008, 09:32 PM
RE: Official Team Lungbusters Thread (28)
---
Guys,
I have him figured out. I have found his trails in and out of his rub lines, scrapes, bedding and water source. I though I would share just how big this monster is. Pictures dont do justice, so I took one picture with no size reference, and the other I took with my foot beside it.
Tell me how much you think he weighs on the hoof, and maybe give me an example of his age.Since I have seen him twice already, and by the size of his rubs...Im guessing 3.5 t 4 yrs old.
This is my size 13 boot beside of it. Maybe this will help convince you guys that if he come into range this year, we may stand a chance at putting a winner on the board! This deer is insanely huge for these parts. The lady who owns the adjoining land says it coms in late evening to feed on her persimmon trees. She says her husband has counted possibly 12 points. He estinated it to be well over 200 pounds.
I have shown the rubs, and now his track...next is to maybe catch him on one of the two cameras!
Come on team, show us some scouting pics, or game cam pics, or hell just draw something to participate. I am curious as to who is seeing what so I can compare your land, deer sign, etc.
09-04-2008, 05:38 AM
RE: Official Team Lungbusters Thread (28)
---
I wish I had scouting pics to share but honestly I don't. I've had 2 cameras stolen from the area that I hunt and it has left a bad taste in my mouth. [:'(] I rely on the local farmers to find out where the deer are and then I do the rest on foot the old fashioned way.
Thanks for sharing the pictures though! It really helps build the anticipation for the start of the season.
09-04-2008, 06:02 AM
RE: Official Team Lungbusters Thread (28)
---
Jeff,
Again, thanks for sharing the pictures, it looks like you have a real slammer there. I'm not real sure of the age thing, but I'm guessing he is at least 3 1/2 years old if not older. Looks like you have him figured out. It would be cool to see you down him first time out.
My game cam pictures have been dull to say the least, been getting alot of young bucks (6 points and a couple small 8's). I was able to finally catch this guy cruising by the food plot. Looks to be a respectable buck, hopefully I will have a few more pictures of him as the season draws near.
Good luck and enjoy the picture.
Brian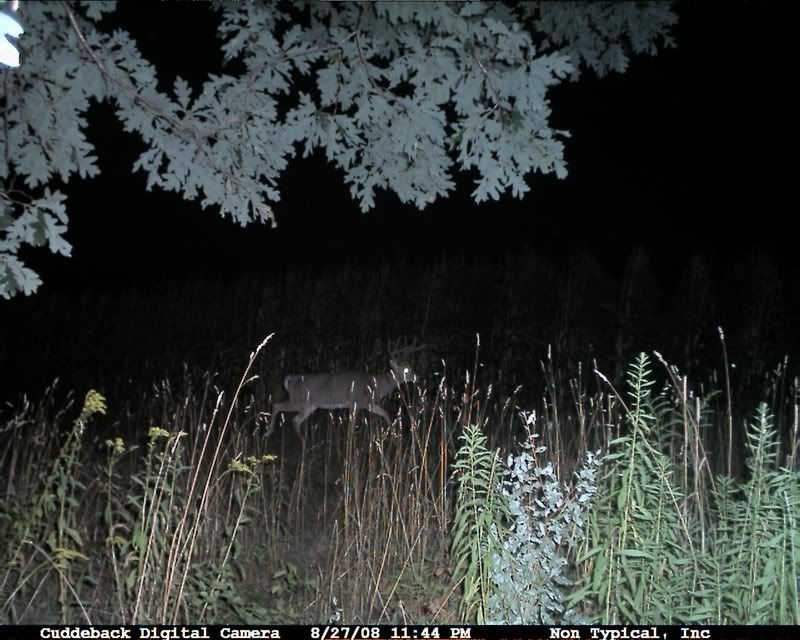 09-04-2008, 11:05 AM
RE: Official Team Lungbusters Thread (28)
---
Jeff,
You cant tell if its a buck track or a doe track by the Dew Claws, thats a myth. As far as a big buck I would say yes, but remember a small buck can make a giant size scrape aswell, and remember that hunting scrapes will only pay off 1 out of 30 times, because mature bucks visit them at night in tansition and its rare for them to do it aswell. (according to Field and stream)

However!!! Whack him and stack him for sure!! who cares about what Field and stream says, its all about good old fashioned know how and you seem to have enough of it to go around!! Any pics of the buck itself yet?

Ryan.

09-05-2008, 02:22 AM
RE: Official Team Lungbusters Thread (28)
---
Heading out to a new spot this morning its 420 AM here and I feel like a Trai wreck went to bed last night around 1:40 am so I took a freakin power nap
. Anyhow, Im taking both my video camera and my Camera man. We'll see how this works out it gets light at 6 45 here so we'll see how it goes!!
Ryan.
09-05-2008, 05:19 PM
RE: Official Team Lungbusters Thread (28)
---
Their is a ton of tracks going down to the Pond and you could see where the water was still stirred up in some of the hoof prints in the water, im not sure what their doing down there but it seems like their eather eating the vegetation out of the water or drinking im guessing drinking but It seems to be a promising evening spot due to the fact its hotter in the evening so their thirsty.

Ryan.

09-05-2008, 07:10 PM
RE: Official Team Lungbusters Thread (28)
---
Im glad to know we have some legitimate deer slayers on our team. It started to rain today so I decided to venture into an area that I have done very little scouting. I believe the time has come for the bucks to begin their rubs. I have seen dozens of them all around my stand, and when I went to this new place I saw a rub that blew my mind!
Here are the strips shredded on the ground
I also came upon some smaller ones, but neverless a potential shooter. Sorry for the blur I had my camera set for no flash and it seems to be a slowe shutter speed when flash is turned off
Since the rain has been coming down for the past few days, my clover/chickory plot is turning green again. This is a picture of one of my ground blinds up close, and then one taken from the other side of
the food plot. Its an awesome place to sit and watch them feed at night, its also the place I took a nice spring gobbler.
This was from the other side of the food plot
This is the other plot (alpha rack) that we put in early April. Its been hammered by deer, turkey, and a ton of rabbits. Tomorrow we will be overseeding it with more Alpha Rack.
Here is what it looked like before we cleared it and seeded it. Its come a long way, and still growing. We have a stand directly behind my truck in the picture above. It was a lot of work, but willpay off this fall.
I am taking a break from scouting and leaving my scent all over this property, so I will be spending the next two weeks at the other lease I have. I will post some pics of the deer when I go back in to get the cards out of the cameras. This is the piece I saw the bear last week.
Here is an aerial view of the other lease I will b clearing lanes and setting up a few stands. It doesnt need any fod plots because its surrounded by ag fields. Soybeans, corn, alfalfa.
This is where I saw the huge tracks, and the deer I call handlebars. I posted a picture of him in an earlier post. The neighbors who own the soybean farm where the yellow arrow points claim to have seen a huge 5x5 in the evenings feeding. I will bemoving a camera to the corner of that field to see if he really exists!
09-05-2008, 09:56 PM
RE: Official Team Lungbusters Thread (28)
---
Awesome Sign, and Great plot you got going there, Jeff, glad to hear your a Bone Collector yourself. Do you like hunting out of a groundblind like that? I tried mine some and diddnt have any success to each his own I guess.

Ryan.

09-06-2008, 03:12 AM
RE: Official Team Lungbusters Thread (28)
---
I bought that ground blind for turkey hunting, and have called birds up to 3 feet away from it. It has the mesh windows to shoot an arrow through, so I figured this year I would set it up near enough to a plot that I can get a shot with a bow.

Normally you would have to look up a tree to find me, but in the evenings I will sit in it and watch the deer feed at about 30-35 yrds.

09-06-2008, 09:15 AM
RE: Official Team Lungbusters Thread (28)
---
Thats pretty cool, The only time I ever used my ground blind they made me before I even knew they were comming!! I was playing my hand held yatzee game killing time since it was still around 85* out and i just heard this blowing from about 150 yards away, they knew what the blind was, their not quite as dumb as I had taken them for.

Ryan.