Official Team Lungbusters Thread (28)
08-29-2008, 11:12 AM
RE: Official Team Lungbusters Thread (28)
---
Here is piece #1
Here is #2
Here is #3
I also have a few private pieces on a farm across the street. will gean aerial view up when I determinewhat spots I willb hunting
08-30-2008, 03:10 PM
RE: Official Team Lungbusters Thread (28)
---
ORIGINAL: BPBowhunter
Team,
I've put together what seems to be the most popular Avatars for our team. Let's see if we can agree upon the most popular and make it our official Team Avatar. I've numbered them so it would be easier to identify which one you like.
#1
#2
#3
#4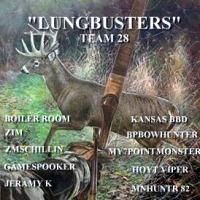 #5
#6
My vote goes to #1
I vote for 1. I cant download it and save as my avatar. It says file too large. Can you send me one to put as avatar
08-30-2008, 03:16 PM
RE: Official Team Lungbusters Thread (28)
---
ORIGINAL: gamespooker

our thread is dying! what's the deal w/ the avatar?
Sorry, I've been on the forums a lot but haven't had much to post about. My early doe season starts 3 weeks from today so that's a good thing. Other than that I've just been practicing in my free time.
08-30-2008, 05:25 PM
RE: Official Team Lungbusters Thread (28)
---
Guys,
It seems that most everyone is picking Avatar #1 as the most popular. I have saved it as a JPEG file and everyone can download it to their profile.
This will be our official Team Avatar. Sorry for not posting more, but I was away most of the day today. My season opens Oct. 4th and I can't wait. It seems like it will never get here.
Take care and here is the Avatar.
Brian
08-31-2008, 02:59 PM
RE: Official Team Lungbusters Thread (28)
---
Hey guys,

Just wanted to wish everybody a happy andsafe holiday tommorrow. Hopefully if all goes according to plan, I will be shooting a (30 target) 3d coarse at my local sportmans club. They do a really nice job with it (give aways and door prizes), and it also supports the "United Bowhunters of Pennsylvania". Should be a really good time.

Take care,

Brian
08-31-2008, 03:54 PM
RE: Official Team Lungbusters Thread (28)
---
Good luck at the 3D shoot Brian.
I'm just happy to be off work tomorrow. In fact I only work 3 days this week since I also took Wednesday off because my oldest son has his pre-kindergarden orientation that day. Maybe I'll make the trip to Cabelas that day. I just had my birthday yesterday and received a few gift cards and I need a new pair of boots.
08-31-2008, 04:35 PM
RE: Official Team Lungbusters Thread (28)
---
Just got back from shooting the 3D course I helped setup at the local sportsmans club, I shot a 300 which is my best ever. 30 targets scoring 12 10 8 5 and 0 (miss) but anyhow. I went to see Ted Nugent last night in 7 springs PA I cant hear a damn thing now, we stood maybe 5 yards from the speakers the entire time from 7 30 till maybe 10 30 or so. just SOOOO loud. Shot a pistol for the 2nd time ever today, Turns out im a pretty good shot. Im pumped for the season opener.


Ryan.