Team #18 - Silent Strike
11-25-2008, 08:17 AM
11-26-2008, 08:34 AM
RE: Official Team 18 Thread
---
Nice one!

11-29-2008, 03:33 PM
Fork Horn
Join Date: Sep 2006
Posts: 185
RE: Official Team 18 Thread
---
Nice buck klecanc. I just looked at the standings and we are in first place in the contest. So the ones that have not shot a deer yet good luck in addding to our total. We could use any points that we can get. So get out there and get us a big one
11-29-2008, 06:38 PM
RE: Official Team 18 Thread
---
Alright guys, heres my monster buck!! He scores a whoppin 34 5/8!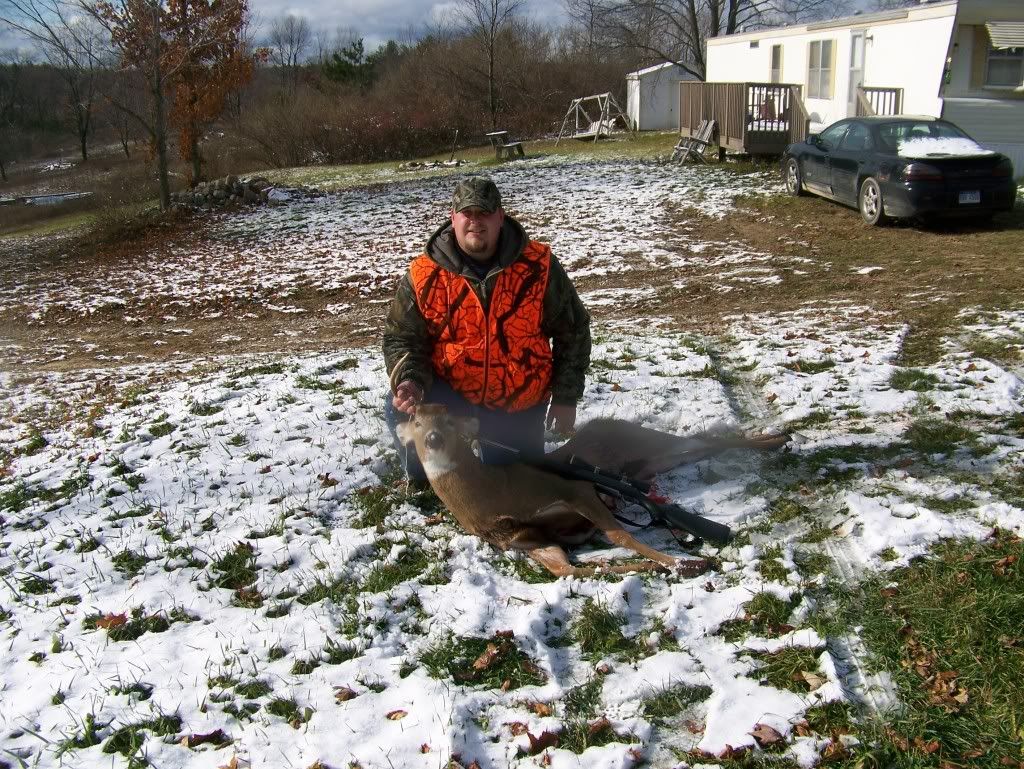 12-02-2008, 09:03 PM
RE: Official Team 18 Thread
---
That's ok! It still counts! And I bet you had fun hunting him!
12-02-2008, 11:41 PM
RE: Official Team 18 Thread
---
Nice bucks guys! I'vegotten to goa handful of times so far, seen a bunch of does anda spike. A buddy saw a 6 and a nice 8 atone of my placeslast week, but couldnt get a shot before they saw him move his dang head and ran off. I'm busy with finals coming up so I won't be going again for a couple of weeks. But our rut never kicks in until Decemberor January and I normally dontstart seein bigbucks until then. I got mybig unlast year on jan 4th so I'm not too anxious about getting in the woods every single day until Christmas break rolls around. I need to make sure I pass classes. I got word from a buddy that hunts a club next to a piece of propertyweown, he said a member of his club has a picture of a monster, and described him by saying"Hell wouldn't have him." I have never ever hunted that property, only been to it once because it's so hard to get to. Once rut kicks in full blown I'll beputtin in some all day hunts there to hopefully see this beast. Also got some real good sign at another place that will hopefully pay off soon. Just lettin yall know I've been tryin to go every chance I get, but it really never gets good until the end of the year and beginning of January. Hopefully I'll beat last year's buck with that big nasty at that other place. Good luck guys, have fun and be safe!
12-03-2008, 08:09 AM
RE: Official Team 18 Thread
---
Good luck with your finals Blake!

12-05-2008, 01:06 AM
RE: Official Team 18 Thread
---
Thanks a lot John! My last one is on the 16th, I'll be glad when it's over. After that I'm going after that devil buck those boys were talkin about! He'll look good on the wall beside my 140!
01-06-2009, 01:13 PM
RE: Official Team 18 Thread
---
Well guys, anyone still out there huntin? Our season ended the 1st.
Thread
Thread Starter
Forum
Replies
Last Post
2008 Deer Bowhunting Contest
2006 Deer Hunting Contest
Posting Rules
You may not post new threads
You may not post replies
You may not post attachments
You may not edit your posts
---
HTML code is Off
---