Official Team 21 "The Blood Brothers"
11-19-2008, 05:42 PM
RE: Official Team 21 Thread
---
ORIGINAL: mossberghunter93
ORIGINAL: drakeb3
killed this 14 point this afternoon. Goin to score in the high 120'sI think.
wow man thats a dandy but i think he would score more than that maybe 135
Agreed! Nice buck! Man, would I love to hunt whitetail west of NY State!!
11-20-2008, 10:54 AM
RE: Official Team 21 Thread
---
Morning guys
Went out hunting yesterday, which all i can tag is a doe, I seen 5 bucksall yearlings, anywhere from 6pt to a spike. The 6 pointer and 4 were locking horns some. That was nice to see, anyway giv'em about 2 1/2 years they'll be nice bucks. Going out Saturday with my son hoping we see few deer. He's getting a little aggrivated with me coming home and telling him of all the deer I've seen. Told him they'll be there don't worry. He's been in basketball practice after school, so no time to hunt till this weekend.

11-22-2008, 08:05 AM
RE: Official Team 21 Thread
---
Good morning ya'll. Been hunting ducks alot and not seeing many up here.[:@]I have been out in the tree stand the last 2 days and I got to say this state really screwed the gun hunters this year by having the deer season a week to late. I have seen around 50 killable does and 0 bucks!!!
Still trying though. I do have a doe tag so I think I will probably take one tomorrow morning if one gives me the chance. I see a couple of ya'll have had some great luck.
Keep up the good work and I'll still be trying to do my part.
Good luck to everyone and stay safe!!
11-23-2008, 07:42 PM
RE: Official Team 21 Thread
---
Didnt see any worthy of shooting first season. Got a thicket that the big boys head to during 2nd and muzzy season. Wife shot this 7 point tonight. Been in the woods gun hunting 2 times and she is 2 for 2. Killed a button last year with the 50 and this guy at 4:45 tonight.
12-03-2008, 07:44 AM
RE: Official Team 21 Thread
---
IL_Ray, that is a big bodied deer brother, congrats to your wife!!!!! I know our deer here in the 3.5 y.o. range will go about 140-150 lbs...
Thats tiny compared to you guys deer.
My wife also made her first trip to the stand (being the hunter) this last week during the Thanksgiving holidays...We were fortunate enough to have a good shooter doe come out at first light we watched her for a little bit lettingit get a little more daylight so she could see better, onceit was daylight enough to see good she got ready and put the smack down on that doe at about 80 yards with the 25-06.... It took a little talking to calm her down but she made it happen, she was proud!!!!!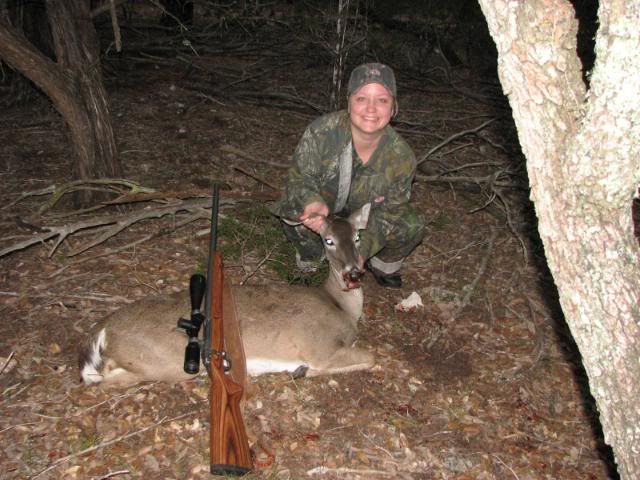 12-05-2008, 06:15 AM
RE: Official Team 21 Thread
---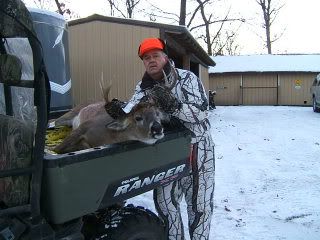 Good morning everyone. Finally got a shot off and can contribute to the contest. It is a little bittersweet though. 10 min. after I shot this 8pt buck, a 170 or better class 10pt stepped out at 50 yards[:@]. Guess I'll have to get him with the Bow
. I'll get the measurements shortly. I know he is about 17" inside but that's all I measured so far. Let's see if I can load the pics.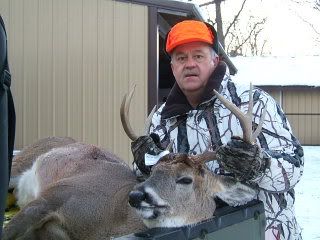 [/align][/align]
12-07-2008, 07:22 AM
RE: Official Team 21 Thread
---
Hey guys,
I think I screwed up![:@]The 20ga Benelli was in the cab of the Ranger when my wife took the photos. My hands were soooooo cold it was all I could do to hold the rack. I do have the rack on the skull cap and it measured 96 gross. I don't think I can fix the situation so it is allowed to be entered though.

12-11-2008, 03:23 PM
RE: Official Team 21 Thread
---
Hey guys congrats on the deer, 2foot I dont think you can enter it without the gun, I shot one as well without the gun in the pic however I was expecting to shoot another and wasn't going to enter the one I shot, I have passsed some nice young deer thus far this season..... He was 3.5 years old and had nothing but 16"main beams and a 1" G2 on both sides.. Doesn't look like I will get back out before heading back to Mexico to go to work....