24-Official Team 24/7 Thread
08-12-2007, 08:59 PM
RE: 24-Official Team 24 Thread
---
ORIGINAL: KBacon

KBacon signing in... sorry guys.. been working alot lately.. tryin to save up for all the goodies I "need" for the upcoming season.
Good to hear from ya welcome to team 24!
08-12-2007, 10:37 PM
RE: 24-Official Team 24 Thread
---
AK NIMROD CHECKING IN !!!
Sorry to check in late i thought the selection for teams was not until 1 sept. must have mis read info. i'm tickled to be party of the team. sounds fine to me for MD to be team captain. i have a big season planned.
i'm 58 yrs old, live and work in Alaska, took my first two WT last year with my bow. lot of time spent trying to break the ice. Jan. i was on an antlerless hunt i SD and shot a little button buck.....no head gear showing. [:@]then i hunted late season Colo. eastern plains skunked and then SE OKLA. arrowed a hen turkey about day5, morning and next afternoon shot a very nice 14 point buck.main frame 10. I have taken fair amount of Alaska game 3 moose, 4 black bear, 2 caribou and 10-12 blacktail sitka deer with bow plus few others with smoking stick.
i hunt with both recurve and compound...black widow and mathews
prefer recurve and will useit the most this fall.
i work 2 weeks on and two weeks off. well with vacation i'm off 6 weeks work 2 then another 6 off.
lots of play time!
get off in 3 days. in 6days i will start a 2 day drive to north slope haul road to bow hunt Caribou for 5 days then early sept will be driving to America. will hunt WT in Alberta 3-4 days then on to Colo. visit my daughter and then to SW Colo. to hunt up to 9 days for mule deer. then back fly to work 2 weeks. then to OK to medical meeting and then 2 weeks in WIS. then back to daughters in Denver then head NORTH TO ALASKA, stopping for 4-5 days in Alberta to hunt again...if i did not fill my tag the first trip.
long winded run down of saying i have a good chance of getting a good animal. first hunt in alberta will be just for big one. because i will hit early rut the second trip.
happy to be part of the team. LETS WIN THIS THING !
Pat McCabe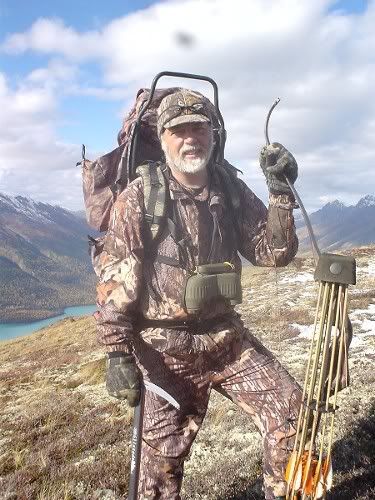 08-13-2007, 07:59 AM
RE: 24-Official Team 24 Thread
---
ORIGINAL: SD_Gobbler

SD_Gobbler checkin in for the contest!! When does everyones season start? Sept 22 here in South Dakota. Lets kick ass, good luck everyone!!
September 15th here! Cant wait, about a month to go! Its almost time to shut down those other teams!
08-13-2007, 08:31 AM
RE: 24-Official Team 24 Thread
---
I have now brought the picture down to size for those of you who want to use the photo as an avatar. well here it is! Also I am guessing our team name is 24/7. Most of the team mates agree that it is a good idea.
08-13-2007, 09:11 AM
RE: 24-Official Team 24 Thread
---
I am hear... Sorry I don't know how to "check in". So please let me know.. Unless this is considered "checking in" then i'm in. I have approxmatley ten solid spots this year with a planned trip to Macoupan County IL and Pope County IL. Both of which are known for producing big boys. Anyway I am very optomistic for this sesaon and will be taking video of almost all my hunts. Please let me know if there is anything else you need or would like from me.
08-13-2007, 02:50 PM
RE: 24-Official Team 24 Thread
---
WELCOME GUYS
SOUNDS LIKE WE ARE SHAPING UP WITH LOTS OF GOOD OPTIONS.
24/7 IS FINE WITH ME
HERE IN ALASKA WE CAN HUNT 24 HRS A DAY NO SHOOTING HOURS LIKE MOST PLACES. JUST NO ARTIFICIAL LIGHT.
CARIBOU OPENED 15 JUL BUT DOES NOT MATTER FOR THE CONTEST.I THINK DEER SEASON HERE IN ALASKA OPENED 1 AUG BUT I WON'T BE HUNTING DEER THIS YEAR IN ALASKA. ALBERTA ? NOT SURE WHEN IT OPENS BUT IT WILL BE OPEN WHEN I'M TRAVELING THRU.COLORADO TAG STARTS LAST WEEK OF AUG. BUT I WILL START THERE 15 SEPT.

08-13-2007, 02:52 PM
RE: 24-Official Team 24 Thread
---
I like the name! Thanks for the avitar, im definately adding it to my profile. I have a couple decent spots, im pretty new to bowhunting but Ill do my best to get a good one for the team!!
08-13-2007, 03:04 PM
RE: 24-Official Team 24 Thread
---
AK - I was in Soldotna just last June, part of a pleasure trip with the wife... nice country you have up there. I am jealous, save the frozen north aspect. And thank you for your service!

Looks like a good team, we'll have a go at it...

-fsh