24-Official Team 24/7 Thread
10-23-2007, 07:44 PM
RE: 24-Official Team 24 Thread
---
I had an 8 ptr at 14 yds last week, and a 9 ptr at 17 yds this evening... passed on both of the 3 1/2 yr olds... I am hoping a nice nontyp will cross my path... still trying.

-fsh

10-24-2007, 06:39 PM
RE: 24-Official Team 24 Thread
---
Fsh,

Sounds like your in the right spot, just need a little lady luck to be on your side and your in the money.

Was out last weekend and passed on two does, saw 2 different buck, a small 6 or 8 point (not a shooter) and one very respectable (shooter)8 pointer that never made it to me before dark. I've got a vacation day on this Friday and next Thursday and Friday so I'm hoping with the weather change and the increase buck sign that I can score on one of those days. It's getting to be that special time of year and anything can happen.

Good luck,

Brian

10-27-2007, 06:27 AM
RE: 24-Official Team 24 Thread
---
Went last night and seen 12 deer. 6 bucks with the biggest being a 120" 11 pointer. Nice just short tined. Got them all on video. They are really checking scrapes now in SE KS. Good luck to all. Waldo

10-27-2007, 07:56 PM
RE: 24-Official Team 24 Thread
---
I hunted a spot for the first time this year this afternoon,having "fixed" it up last January for a pre-rut adventure. It's in a nice travel corridor/funnel. Close... a shooter 10 ptr came thru the thicket following a doe in the early afternoon - not a monster, but a respectable 4 1/2 (??) -maybe 130-ish, but he met my criteria. Just no legitimate shot, he never got closer than 35 yds in heavy cover and ignored my grunting then rattling. If you guys can max out your hours in the stand next week, I think we're in for an early rut...

Then a scary moment tonight when a dead ~8" tree crashed down just 20 yds ahead of me across my intendedpathas I was walking out of the woods - we had 6+" of rain the past three days. It would have done some serious damage, when your time is up, its up! My time is not yet up, lol.

-fsh
11-01-2007, 05:53 AM
RE: 24-Official Team 24 Thread
---
Hey guys, still hunting??

I took a break from the bow to (shotgun) hunt fall turks yesterday with a friend of mine, something of a tradition -we've been doing since the 80's. I called in about 20 turks off the roost, and soon had one at 8 yds in front of me. But I wanted my friend to get off the first shot (we're sitting on opposite sides of the same tree), and when he did, my turk was out of range. Still, if I had my wits about me, I could have nailed one... regardless, it's alwaysa fun hunt whether we get a bird or two or not...

I saw a slew of deer on a marathon sit in the tree stand Tues. One nice 3 1/2 8 ptr followed a doe < 10 yds past my tree stand, the rest were dinks. I passed on him - there are two bigger bucks still (?) around that area. Three friends have nailed mature bucks in the past week+, two of them were ~160 class (gross). The big guys are vulnerable now...

-fsh


11-01-2007, 07:38 PM
RE: 24-Official Team 24 Thread
---
On the board teammates. I just posted a 10 ptr I took this afternoon, 126 4/8. Not one of the monsters I've been hoping for, but a nice one. I was on the stand just 15 minutes this afternoon when a doe came running up and stopped. She kept looking back, and next thing I know, the 10'er was standing just 8 yds away. He met my criteria, and I aimed for the heart, center-punching it. He only went ~40 yds before piling up.
-fsh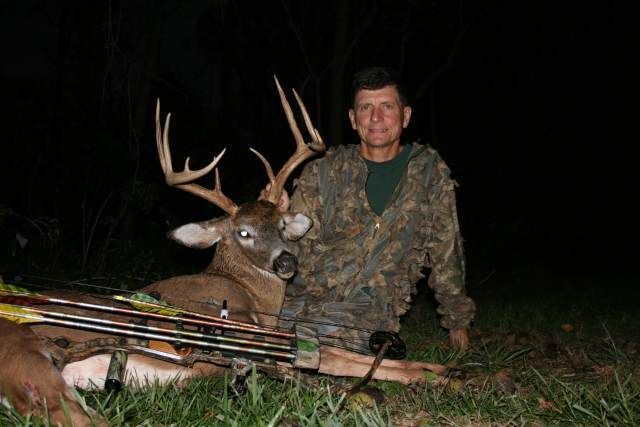 11-01-2007, 09:23 PM
RE: 24-Official Team 24 Thread
---
Fsh,

Way to go congrats!!!!!!!!!!!!!!!!!!!!!!!!!!![:-]Super buck

I was out today as well, saw only a small fork horn and 6 does. Hitting it hard in the morning.

Again, awesome job, you deserve it.

Take care,

Brian

11-02-2007, 06:08 AM
RE: 24-Official Team 24 Thread
---
Fsh...Way to go buddy. Another great buck. Awesome looking tine length. I was gonna start a "who's next" thread for the weekend and you were gonna be my pick! [
]... Glad ya got it done early though!
Congrats!