24-Official Team 24/7 Thread
09-10-2007, 10:58 PM
RE: 24-Official Team 24 Thread
---
hi guys well finally made it to colorado. took 9days usually 5...2 flats on trailer one ruined tire and blew up intercooler for turbo on truck , luckily still on warrenty. nearly got p&y antelope buck today......with my f-350
because of problems on the trip i did not hunt in Alberta.....will hunt there in Nov, hunting will be better then anyway.
later guys i'm bushed so good nightdrove from Blackfoot, Idaho to Denver
-Pat
09-12-2007, 08:49 AM
RE: 24-Official Team 24 Thread
---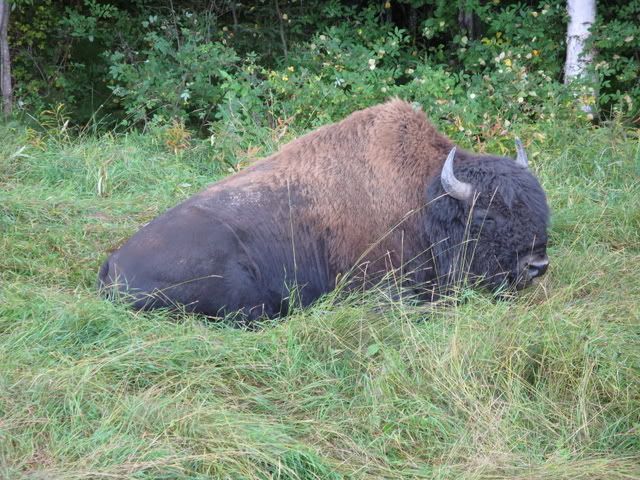 WOOD BISON ALONG ALCAN HWY IN YUKON FROM OUR TRIP DOWN.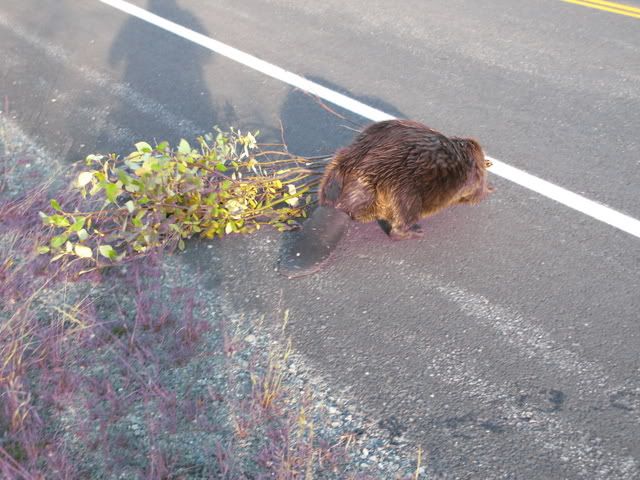 BEAVER CROSSED ROAD INFRONT OF US IN ALASKA, I GOT OUT TO SEE IF I COULD GET A PHOTO. IT WAS CHEWING ON WILLOW AND CAME BACK ON ROAD. I HAD TO GET OUT OF IT'S WAY. IT WAS WITHIN 5-6 FEET OF ME.
Morning, talked with my Nephew last night. he has obtained permission for me to hunt on some land that has not been hunted on for a number of years. while there buying hay and asking permission had 6-7 bucks come out into field fairly close that could care less they were there.
he and his dad used to hunt that area with rifles and took 180+ mulies off that property. biggest deer he has ever seen was there.
So i'm pumped and will drive down there from Denver tomorrow. if i put in time i should have a chance at a nice buck.
also if i fill my tag early he says i should get an otc elk archery tag he has been seeing some every night in this one area, he has been hunting.
progress report when i return to Denver.
good luck to you all while i'm down hunting -Pat
09-12-2007, 06:34 PM
RE: 24-Official Team 24 Thread
---
Pat,
Thanks for sharing all the pictures, really love seeing them.
Man, good luck in your hunt sounds like you are in for a treat. Please keep us posted.
Had a little trouble with the bow the other day, developed a crack in my lower limb. [:@]Don't really know what caused it, but have anew set of limbson the way, no charge
. Should be here by Friday or Monday at the latest, so everything should be back to normal by our opener on the 29th.
Take care and good luck.
Brian
09-12-2007, 07:06 PM
RE: 24-Official Team 24 Thread
---
Pat
neat pics, are bison ever legal game up there?

Brian
good luck on the bow, I hate last minute snafu's, but better now than during the season... what bow brand are you using out of curiosity?

I had another dove hunt over my sunflower field yesterday, and plan a dove dinner tomorrow night: dove stuffed with wild rice and wrapped in bacon, ummmm!!

-fsh

09-12-2007, 07:39 PM
RE: 24-Official Team 24 Thread
---
Fsh,
I know what you mean about the last minute thing.[8D]
I must admit I started to panic a bit but my dealer and Bowtech are standing behind it 100%.
I know people like to jump on the "bash" bandwagon on limb problems but I'm not one of them. I really love my 2006 Allegience and I would not hesitate to buy another one.
Your dove dinner sounds great, I'll be down save me some.
Good luck in your season.
Brian
09-13-2007, 03:27 PM
RE: 24-Official Team 24 Thread
---
I just returned from Elk hunt and no luck. I maybe seen 1 cow elk as I was taking down stand. No bugling and very few elk where moving. Seen a black bear and got it on video. I will try and post video later. Alot of big mulies just no elk. Waldo
09-13-2007, 07:17 PM
RE: 24-Official Team 24 Thread
---
Heading out for opening day, this Saturday Sept. 15th. Got the clothes washed with Dead Down Wind, air dried outside and stored in plastic bags. Withsome luck and a straight arrow, I hope to get the team on the board!

Dave Bozarth