38 - Official Team Rack Em Up Thread
10-30-2007, 04:57 AM
RE: He got him!
---
ZACH way to go buddy, just seen the pic out in the bowhunting forum. I put it on our team website
www.greatdeer.com
. Congrats lets hear the story a bitfor the team.
10-31-2007, 01:02 AM
RE: He got him!
---
saturday was a bust! only seen 2 all day an they seen me b4 i seen them... how ever monday i made the choice to go after squirels ( bad move) i know where there is a black one an id like to get him.. ne way i pick up my dad an we go huntin both after squirels. hes heads towards where ive been bow huntin.. he calls me at 8:00 oclock an says man u picked a bad day to be doin this... has hasnt moved 40 yards in hour an half an seen 16 deer. (50 yds from my stand)... 3 were bucks but no shooters thank god ! by the time we were done hes seen over 25 deer all with in 80 yds of my stand.. he had a blast i could jus hear it in his voice when talkin to him... he seen a bear the morning 2!. so i walk over to him an check to make sure my stand is still there an theres a freakin scrap 3 yds from my climber. i could pee in it if i was up in the tree!!!... so today my pap goes huntin about the same area an sees 17 deer an shoots a 6 pt......so the deer are movin its got me all excited to get in the woods but work has me all tied up workin 3pm to 3 am! this is the most deer weve seen in a while so thats exciting to......oh yeah my uncle seen the 9pt today while turkey huntin. ive been after him so far no encounters yet! jus glads to know hes still alive!! sorry so long.hope everyone else is seenin deer.... that deer pap shot today STUNK!!!!! his hocks were awful! its wqont be long now!
11-01-2007, 05:50 AM
RE: He got him!
---
Hey guys. Hope everyone is having a good season so far. Really sorry i havent been able to get on the team forum much, between girlfriend, work and trying to be in the woods every chance i get i dont have much time left. Boy i wish i could have put some bigger numbers up for the team but with this being the only buck i've seen so far while archery hunting this year, i couldnt pass him. Good luck everyone
Zach
11-01-2007, 08:08 AM
RE: He got him!
---
Hey guys
I got back from Iowa late last night, yesterday "Halloween" morning, this guy came in from behind me grunting and ears pinned back and pawing the ground "he didn't like the decoy!"
There was plenty of light as it was almost 8 am so I got a very good look at him and could see that he wasn't a scoring machine. But I could also tell by his huge body, massive bases and messed up rack that he was going to be the oldest buck I'd ever taken by far!
"I've always wanted to take an old deer"
I don't really remember getting my bow off the hanger or attaching my release, everything kind of went into automatic! But I do remember stopping him with a.. some kind of sound, and then putting a slick trick broadhead into his shoulder THWACK! I was surprised with the lack of penetration, thinking it would zip on through. But it did have to go through the shoulder area and two ribs. But I knew he wasn't going to far thou and he took off down the middle of the cut soybean field and was down quickly and within sight.
The coolest thing about him is that his left base is almost 8 1/2 inches around, you don't see that very often. His G2 on the right is 12" but was busted off 3/4 of the way up on the left and both beams curve up. Just a beautiful animal, and a great hunt!
It was a really rewarding hunt in that I did everything on my own. Found my spot hung my stands and cameras and was able to take this old timer in only a couple days! Oh by the way I did pass on a better scoring buck the first night, he came in right at last night and came in ears pinned back and walking stiff legged all the way around the decoy and then stood there nose to nose staring it down! I thought he was going to wipe it out! This happened only 2 hours after I had gotten down there and set up the stand and decoy and did a couple call and rattling sequences!
Here's where he laid, I shot him in the far back left side of the field, you might be able to see the decoy it's that dot. Didn't even wreck my shaft!
Just a gorgeous animal!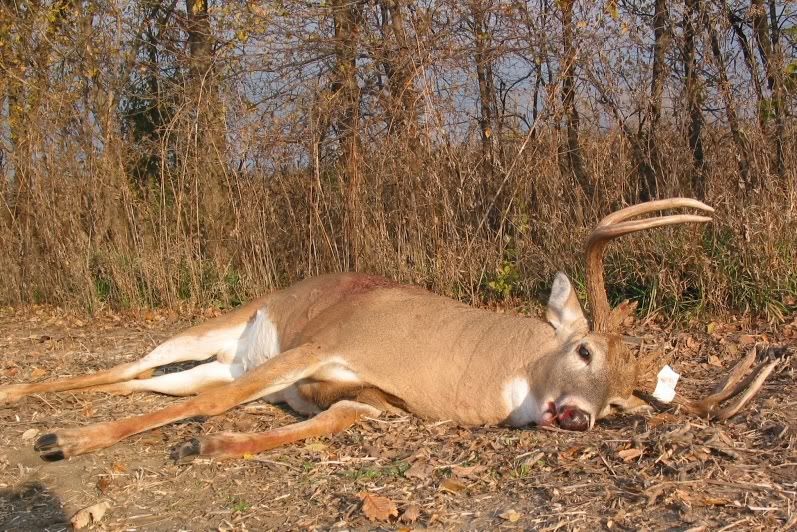 Told you he had a body on him! Took everything I had to drag him over to the trees and get him hung by myself let me tell you!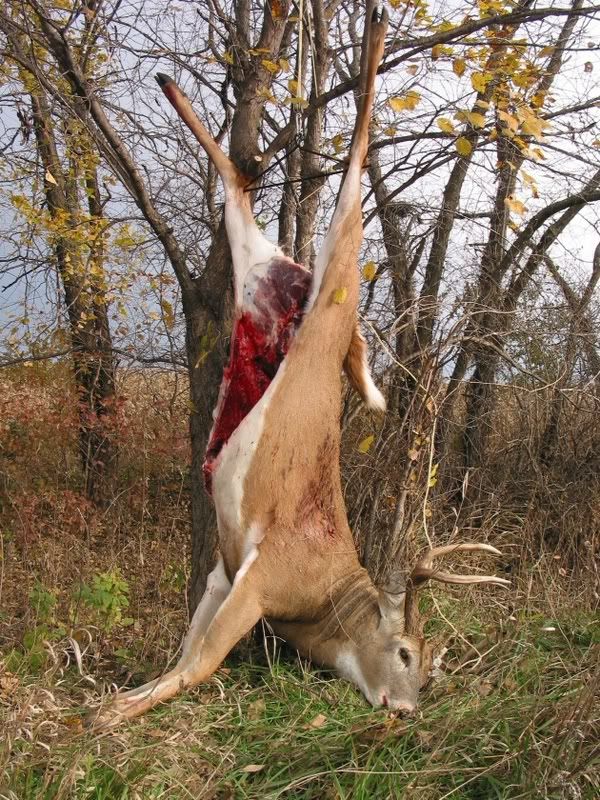 Here are those gnarly bases!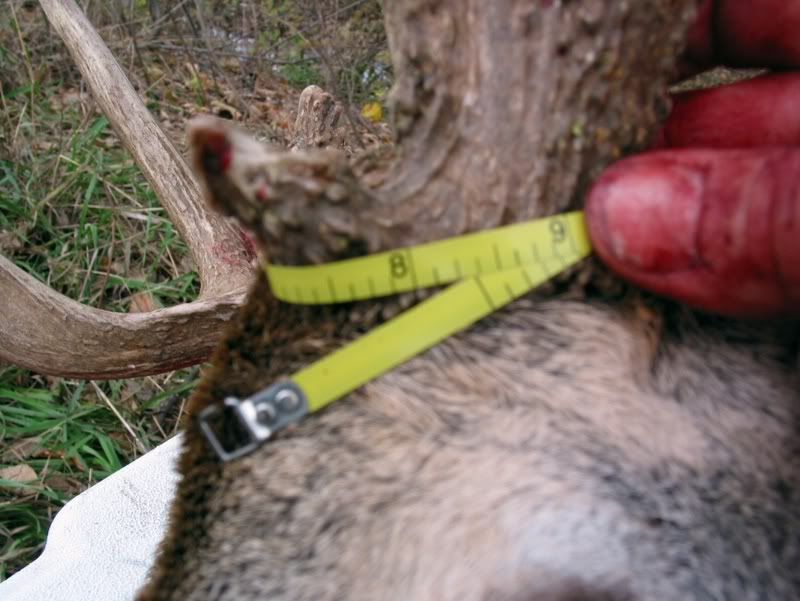 Talk about a side of beef, check out that neck meat!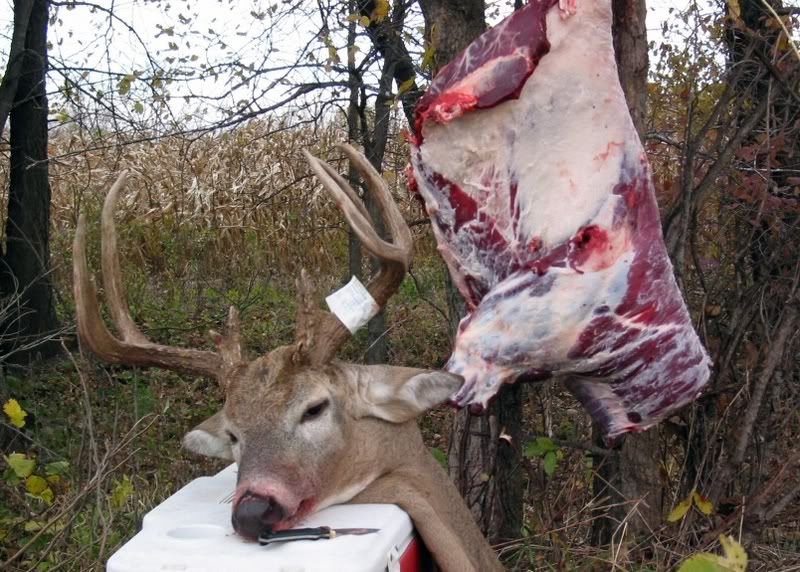 11-01-2007, 12:26 PM
RE: He got him!
---
CHAD my blood brother CONGRATS on one great buck. I have all the motivation I need.

Zach I put your pic with the bow in it on greatdeer.com. Chad I am putting yours on in 2 minutes.

For the contest we need one with you in it.

11-01-2007, 01:53 PM
RE: He got him!
---
How does the contest work, does it go by score of the buck? If so I'll hold off till my other tag is filled if that's ok.
Oh by the way, the most important thing happened this hunting season! My 8 yr old took his first deer, a nice big ole doe!