26-Official Team "Bustin' The Nuts" Thread
09-30-2007, 08:00 PM
RE: 26-Official Team 26 Thread
---
Well the hunting is starting to pick up here as the temperatures go down. I could've shot a few does, but I have passed to this point...but my father got a decent buck last night...
150lb 8 pointer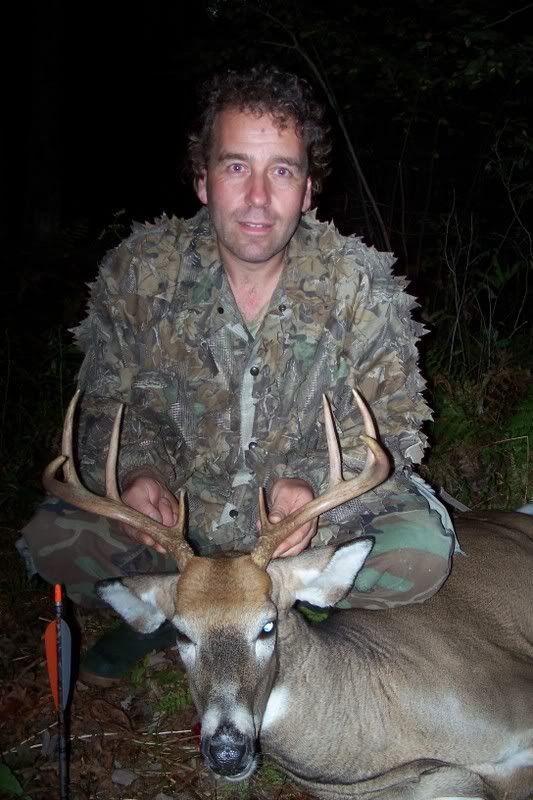 10-01-2007, 08:33 PM
RE: 26-Official Team 26 Thread
---
Well guys, still thinking about getting out. I may put it off til next month. Tonight, I met a guy on my flight who invited me to hunt 2000ac in Al. Don't get you hopes up because this has happened before with a CEO who lived in KS. Never got to hunt it. Besides deer just don't get that big down there. I told him I will shoot what ever he tells me but I won't pass a 150 or better.
10-03-2007, 08:24 PM
RE: 26-Official Team 26 Thread
---
Ok so my season opened Monday, but I have yet to get into the woods do to having a tooth extracted yesterday. But now it is feeling much better and I WILL be on stand this weekend, and I can not wait
10-04-2007, 08:26 PM
RE: 26-Official Team 26 Thread
---
Great, we have a few hunting. I have a few pretty bucks running around my property but I'm leaving them for my neighbor. I just spoke to one of my hunting buds and he has some more hot spots to hunt. I'm holding off another month. Have no fear, I will put a buck on this board.
10-05-2007, 09:29 PM
RE: 26-Official Team 26 Thread
---
Guy's we trail on the pages. I just ordered my new target. I wish I did it sooner because my bow was sinking them deep to the vanes in my old one. Anyhow, getting ready for next month to begin.
10-06-2007, 02:44 PM
RE: 26-Official Team 26 Thread
---
Hey, you'll get a kick out of this, Today I went down below in my yard to get my trailer out to go cut grass at one of my rentals. The way my yard is my trailer is really just below my deck in between my deck and my 35yard target spot when I'm shooting. It just happens to be about 30' below where I shoot. Anyway, backed my truck up to the trailer and walked back to hitch it up and that's when he jumped up and ran off. One of the 10 points that's hangs out around my house was sleeping right behind the trailer. He didn't jump until I got to the back of my truck. I bet he's watched me several times park my truck down there and walk back up to my house.
10-07-2007, 07:07 AM
10-08-2007, 08:34 AM
RE: 26-Official Team "Bustin' The Nuts" Thread
---
Belated Happy Birthday DW.
I hunted tuesday thru friday. Mostly just does, lots of does. With all the heat I decided to hunt over the pond and had a small eight come in and wade around for a half hour. Back to work for the next week before doing it again. Hope some of you guys get a chance to hunt this week.

10-08-2007, 04:08 PM
RE: 26-Official Team "Bustin' The Nuts" Thread
---
Hey guys,

I have been hunting a little more lately, and I have gotten some results from it. Last saturday I got two deer, one nice doe, and a smaller doe...I have some pictures but I havent put them on the computer yet.

I am just waiting for the nice buck to walk by so we can get on the board!

10-08-2007, 08:21 PM
RE: 26-Official Team "Bustin' The Nuts" Thread
---
Bought my NC license yesterday and was going out this morning but I couldn't get past the chigger's in my mind. Still waiting for the frost, if there will be one this year.