2- Team "Deuce" Official Thread
10-10-2006, 02:22 PM
RE: 2- Team "Deuce" Official Thread
---
jj first the finger now the ankle
wrap it up tight and youll be good to go.u have luck like me if its not one thing its another, count down for opening day 7 more days ill be hunting.ther calling for possible showers high of 55 degrees ,but that wont stop me ,acorns are falling all around in the woods should be preety good day i hope,good luck people
10-10-2006, 06:35 PM
RE: 2- Team "Deuce" Official Thread
---
hey fellas and lady just thought I would check in, haven't posted in a while. No luck just yet, I did put my buddy in my stand when he was home on vacation and he shot a 90 class 4X4. So I know there is a bigger one out there cold front moving in towards end of the week so we will have to see what the brings us. Hope every one else is doing good
10-11-2006, 06:36 AM
Join Date: Jul 2006
Location:
Posts: 242
RE: 2- Team "Deuce" Official Thread
---
The ankle has came back around quicker than expected - I can climb trees now. We'll be taking advantage of Kentucky's youth season this weekend so next week I'll be starting to get serious about finding the bucks.

We've been chasing fall turkeys spot-n-stalk style. I've missed twice and Casey's missed once (he's not trash talking me about judging yardage on turkeys in the open now - smile).

Something should be breaking in the next couple of weeks; we're supposed to get our first freeze Friday morning - calling for 31 degrees...it's starting to finally feel like deer season!

10-11-2006, 09:03 PM
RE: 2- Team "Deuce" Official Thread
---
well the much anticipated snow storm that was suppose to hit here in NE got blown right past us(damn the luck) full moon all weekend so it is going to make things a little challenging this weekend, then it is off to South Dakota for a week of pheasant hunting can't wait.
10-15-2006, 11:53 AM
RE: 2- Team "Deuce" Official Thread
---
Well sorry guys and gals, another weekend has come and gone without releasing an arrow. I had an 8 point at about 15 yards on Friday evening, I needed him to take three more steps and he would have tasted some aluminum. My treestand was at the bottom of a slight draw and he was walking the hillside at eye level to me, he never spooked but when I tried to draw he looked in my direction. We played cat and mouse for about 2 or 3 minutes before he walked straight away with no shot offered. He had 8 scorable points and a 13/14 in spread. Not a trophy for most, but would have gotten us on the board. Next weekend will come soon enough.
10-15-2006, 04:14 PM
RE: 2- Team "Deuce" Official Thread
---
JJ glad to see you healed quick
palmer good luck on the pheasent hunt you be sure to get some birds out there they are #1in the bird hunting in my opinion
fop23 dont worry you get another shot, thats hunting
well guys my season starts in the morning, boy iam so happy went did some shooting today did great no arrows out of the kill zone, i guess all i need is a nice deer to come in shooting distance,good luck guys and gals will let you no how tommrow turns out
10-16-2006, 04:18 AM
Typical Buck
Join Date: Feb 2003
Location: florida
Posts: 972
RE: 2- Team "Deuce" Official Thread
---
over the weekend had a few turkeys come into range but couldn't ever get the shot off...had to put my bow up and break out my muzzleloader so today was my first blackpowder hunt of the year...i got a nice lil 7pt....i was half asleep when i first saw him and i thought he was HUGE...everything happened so fast...he's meat in the freezer, a nice management buck, and he's my first 7pt...i'm a happy girl...he weighed 120lbs and was 4 1/2yrs old...shot him at 60-65yds...almost passed on him because i'm not used to shooting that far and he had trees all around him...i got him to stop and felt like i was on him so i pulled the trigger...he basically dropped.
i'll be back later today to catch up on all the posts that i've missed...good luck to everyone...y'all be safe.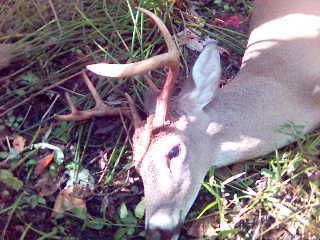 10-16-2006, 07:24 PM
RE: 2- Team "Deuce" Official Thread
---
congrats FL.on the nice buck
well folks today was opening day went out this morning around 530,got to my stand got ready for the morning sunrise ,and to see any wildlife , well around 7.20 i had a nice doe and a skipper come 25yds to the side of me but cause the way of the cover i coundnt get a clean shot ,about 10 min later following behind them comes a nice spike (very tall) and behind him a decent size 8, but they were following the same trail, again not a clean shot so i didnt want to take a chance , that was all the excitement of the day but theres always tommrow