23- Team "Antler Mafia" Official Thread
01-02-2007, 05:21 PM
RE: 23- Team "Antler Mafia" Official Thread
---
Man those times in the stand without seeing a deer really suck don't they? I still have not seen a deer while bowhunting this year. I do have to admit to y'all, I've been taking my boy to the stand quite a bit lately. He's been asking me to take him and i can't tell him NO. However, the times that he doesn't want to go out, I'm in the stand ready and waiting. I've got until sunset on the 7th to get a buck, so I'll be trying again for one more weekend. Hopefully I'll see a deer.

Waid

01-07-2007, 03:37 AM
RE: 23- Team "Antler Mafia" Official Thread
---
Well, I am getting dressed for my last bowhunt of the season[
]
It is 28 degrees out with a chance of rain/snow by about 1:00 pm
I have high hopes for today!
I will be hunting by myself since my main bowhunting partners wife won't "let" him come out and play.
Still have both my any sex and a doe tag left.
The perfect day would be to shoot one this morning and the shoot another one this afternoon.
I'd be happy with just one at this point.
Been a frustrating season.
The best news I've had in a while came Friday night when the owner of the first building I looked at for my archery business now wants to get things going! I am meeting with him tomorrow morning at 9 am and should have the building locked down so I can finally open! Wish me luck! I have had many ups and downs with the building search and have looked at 6 different buildings. Kind of funny I am back at the original one I wanted? Sometimes things just work out that way if you stay after it. I always stay after it. I have been described as "stubborn" by many people in my life. I prefer "persistant"
Good luck to those of you still hunting and hopefully, I will have some pictures of deer to show you tonight.
And tomorrow, good news about my business.
Gotta go!
01-08-2007, 07:13 AM
RE: 23- Team "Antler Mafia" Official Thread
---
Well no pictures of deer for me[
]
I hunted all but 2 hours yesterday.
I did have 3 does come in right at last legal shooting time.
One came in and was licking the bush under my stand that I had pissed on a couple times[:'(]
She walked out and I did shoot but I missed. I'm not that good with high angle shots and I was 23 feet up.
So, bow tag soup for me this year
anyone got any good recipes?
This is only the second time in quite a few years I have not tagged a deer with my bow lic. but I had a great season! I got out as much as I could and did get 2 shots. I do enjoy my time in the woods andwith friends I hunt with.
Next weekend I will be hunting the late season for anterless only deer with my ML but I'm taking my bow too. If I can shoot one with the gun early I'm going to switch back(no pun intended) to my bow and see if I can still arrow one.
I am sorry I was not able to add any antlers to our teams score.
Next year I will be able to hunt more if all goes well with the business. I will be able to hunt most every morning of the season! Whoo Hoo! I will also have lots more time to practice, something, from my results this year, I need to do
Thanks to all of you for being on the team with me and the well wishes and encouragement.
Some of may end up on the same team next year, yeah, next year we will show them!
01-09-2007, 07:22 AM
RE: 23- Team "Antler Mafia" Official Thread
---
Well fellas I didn't even get a chance to bowhuntfor my lastweekend. My boy wanted to hunt so I sat with him in the stand, no luck. I too am sorry I couldn't help out with the score. It's been a very discouraging season for me, my bow, and my new Slick Tricks. Maybe, I'll get a hog or two during the off season.

Thanks to all of my teammates for sticking with it and giving a great effort.

It's been fun,
Waid

01-10-2007, 07:19 AM
RE: 23- Team "Antler Mafia" Official Thread
---
[8D]Right On Buell [8D]
Congrats to you on your new persuit,glad everything fell in place for you. Hope it all works out for you in the long run bud.Open the doors and they will come. When do you plan on the opening for? Let me know what you can get me a new Guarian Bowtech bow for and I'll order it through youfor the spring time. Any cheaper prices for teammates
Huh! Huh ! LOL j/k.Best of luck in you new Job & lifestyle my freind.
Rocky
01-10-2007, 07:56 PM
RE: 23- Team "Antler Mafia" Official Thread
---
Thanks Youngfart
I am looking at Feb 15th as opening day.
I may need to push it to Mar 1 but no later than that.
I appreciate the offer to purchase a bow from me but I will not be selling Bowtech Bows
There is already a Bowtech dealer in town, he sells them out of his garage.
I'd make you a good deal on a Ross or Ben Pearson?
01-10-2007, 08:33 PM
RE: 23- Team "Antler Mafia" Official Thread
---
Congrats on the news Buell. Man, that must be exciting. You gottatake some pictures of the new place and when you have it all set up. Keep us in the loop as to what you are carrying and such. The Ross I might be interested in.
Sorry I haven't been checking in guys. I just really lost drive late in the season, I still have a few more days but really, I don't deserve seeing any deer for what I have put into hunting this year. Work, school, family = little time for hunting.
But in all seriousness, I commend all of the guys out hunting. I really do. Sorry for not being a devoted teammate and I really am proud of those who continued to hunt, despite the weather, their own busy lives, and all the stuff thatmakes life "hectic". I guess that is why "bow" hunting is a passion, it takes a heck of a lot more time than gun-hunting does. This year proved thatto me.
I really hope next year is a completely different year for me. I hope I can get out hunting more and really do some serious scouting in the off-season.
Hope the new year brings you all many blessings.
Good luck in your future endeavors and God Bless.
Dave
01-10-2007, 10:00 PM
RE: 23- Team "Antler Mafia" Official Thread
---
From the Hwy
From the side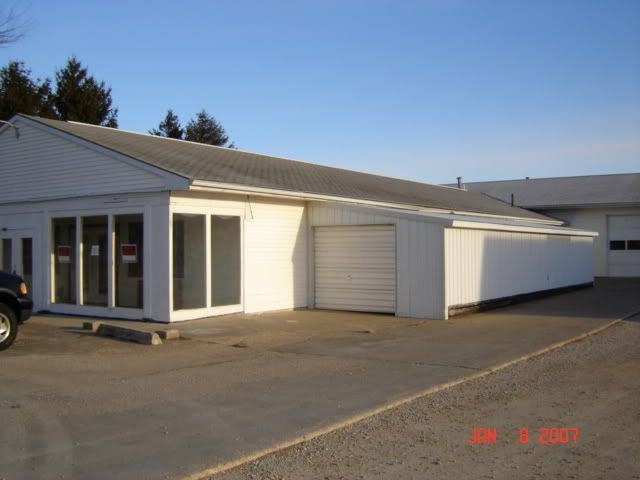 Inside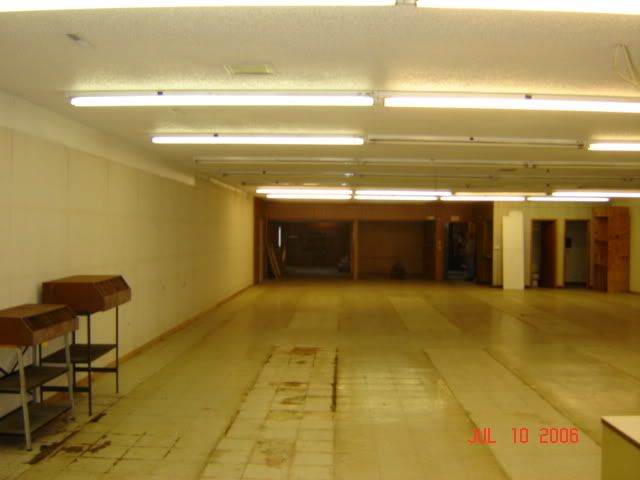 One more
The owner is going to replace the bad tiles ,scub the floor and build a wall to divide the shooting range from the retail/shop area
I and some helpers are going to paint the walls,build a workbench,bow racks and bow case storage shelves
As you can see from the dates on the pictures, I first looked into this building back in July! Man, what a long road it has been.