Official Team Mail Men (9) thread
10-03-2005, 01:02 PM
Nontypical Buck
Join Date: Feb 2003
Location: Heaven IA USA
Posts: 2,597
RE: Official Team Mail Men (9) thread
---
The opener for us like some others here was Saturday. I didn't get to go out in the morning and could only go for the last hour and a half of the day in the evening due to work commitments....nothing. I sat for a couple of hours on Sunday but saw nothing. It is just to hot and windy here right now. It is suppose to be around 90 degrees F. here today and the wind is just howling. I did put up two more stands and opened up an additional two so I have ten stand locations now but I am still way behind schedule.
I don't have any time to do a story justice on my elk but here is a teaser....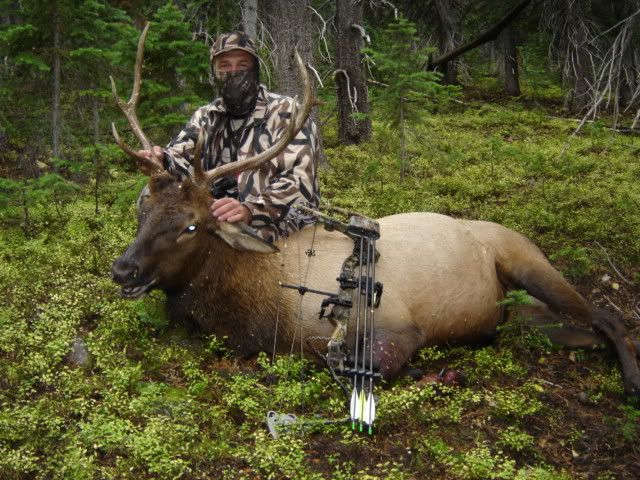 10-03-2005, 03:50 PM
Fork Horn
Join Date: Nov 2003
Location: Ontario, Canada
Posts: 387
RE: Official Team Mail Men (9) thread
---
Wow, beautiful animal Antler Eater.
I went hunting yesterday, but only saw squirrels and turkeys. A friend I was hunting with saw about a 150-160 class buck but she got 'buck fever' and couldn't shoot it.
That means that it is still there for me.
10-03-2005, 04:00 PM
RE: Official Team Mail Men (9) thread
---
Good deal StealthyOne. Get that buck.

Antler Eater, nice animal and great photograph. I held my breath that it wouldn't involve a cheerleading outfit. LOL. When you post your story, I will be interested to hear how you quarter an animal like that and pack it out, especially if hunting far off the beaten path.

Good luck Extreme on the upcoming hunt. Sounds like everyone's had similar weather - hot and windy. Cooled down some today. Will be low 60sF tomorrow and high 40sF on Wednesday. Might get the chance to go out tomorrow night. Mosquitos seem to be gone for the most part.

10-03-2005, 11:23 PM
RE: Official Team Mail Men (9) thread
---
Thats one sweet lookin elk Ken,congrats
Someday I will get a chance to hunt those magnificant animals.
Good luck with that big buck Andrew.I will be expecting to see a pic of you and a 160 class buck real soon
Where are you located in Ontario?I am assuming the weather is stinking hot as well[>:]
Thanks chuck for the good luck.Hopefully this weekend does cool off like they say.Maybe it will get the deer moving around a bit more.But I still plan on hunting this weekend come H@ll or high water.I am hoping the deer respond to my rattling antlers.I just might try some scents as well.Not sure though.
Good luck guys
Jason
10-04-2005, 01:28 AM
Nontypical Buck
Join Date: Feb 2003
Location: ND
Posts: 1,627
RE: Official Team Mail Men (9) thread
---
chucker34
I held my breath that it wouldn't involve a cheerleading outfit. LOL.
Antler Eater congrats on the bull !!! We are going to start calling you " THE MASK " . LOL You are even famous with the wife. She took one look and said, " Wasn't he on your team last year andgot his buck?? " . The mask gaveit away. Well that and you were the only one to score on abuck but that is besides the point.
Good luck with you hunting and congrats again on the elk.
Extreme1
Good luck on your hunting. They are talking snow here in a day or so. BBBrrrrrrrrr!! It won't last but it will be a reminder of what is coming.
Tim
10-04-2005, 08:17 AM
RE: Official Team Mail Men (9) thread
---
Jason, what is your experience using scents? I hung a scent dripper this weekend thatI bought last year. Iput some fresh Active Scrape (buck urine and doe in estrus urine) over a mock scrape andI made in an area that I saw bucks last year. I made a series of scrapes and some light rubs on some maple saplings.

I had a buck approach the dripper last but it was too dark yet to shoot (pretty sure it was a buck the way he walked and thought he rubbed the tree). This was during November shotgun season though. Not sure about using scents this early but we'll see.

Anywhoo, also don't want you guys to think I'm a jerk about setting up 100 yards from my neighbor's property line. I'm really pretty respectful and considerate about it. Most of the deer I've seen head down the trails away from that line and I've gotten permission from all of my neighbors for their woods on the other side of our property.

The neighbor usually puts his tripod stand up about 50 yards away from our property line during shotgun season. He's shot a nice buck (8 point or better) every year for the past five years on his land and he is a farmer that has thousands of acres of prime whitetail habitat. Combine this with the fact that I approached him to have a civil discussion about when and where I'd be hunting so we could both be safe and not goof one another up and that one of the reasons I thought about bowhunting was that we could both be in the woods at times. So I'm not sure why he was giving me the evil eye about moving my ladder stand other than it was about 20 yards off a prime travel area.

10-04-2005, 10:33 AM
RE: Official Team Mail Men (9) thread
---
TJF-----Thanks for the good luck.I really appreciate it.Its supposed to get cold this weekend,usually does for the long weekend(thanksgiving on monday)I am hoping to see some frost in the morns.Really gets the deer moving,and can hear them coming from afar.

Chuck----I have used trails end 307 by wildlife research early in the year with good results.Its a sex and curiosity mixture combined.I will be honest and say I have never used buck and doe urine itself this early in the year.I will give doe estrus a try If I havent baged my buck by the rut though.
Have you tried rattling yet?This is probably the best time of the year as the batchelor groups are breaking up and they are getting a little edgy.Dont rattle hard mimmicking a real all out fight,just rub them together as though they are just shoving each other around testing each other.
As the season gets a little later towards the end of Oct and into nov try using a tarsal gland from a mature doe.A few will be better.Place them about 20-30 yards from your stand.Hopefully a buck will come in and investigate them.I get them from does that have been shot by the gang members or friends.Wear rubber gloves and cut them off the inside of the back leg.They really reak of urine so you will know exactly where they are located.They are the little tuft of hair in the inside joint.Place them in a baggie and keep in a cool place till use.
I would say 100 yards is more then sufficient.Its your property.I can understand you wanting to be neighbour friendly of course but hey.I think he knows its a good spot and you just beat him to the location.
Listen your giving this guy 100 yards off his property,he is only giving you 50 during shotgun season,who is the nice guy now.He just dosnt want you to shoot the big buck before he does.You got yourself a great spot,dont move.And no---your not a jerk.

10-04-2005, 11:27 AM
RE: Official Team Mail Men (9) thread
---
Hey guys. Hows everyone doing? Well i hope good. Im sorry i really havent posted on the team thread and theres no excuse for not doing so. I been outonly liketwice andit looks like thats going to be it for me for this year. I was playing tackle footbal atschool and i broke my arm. I've had a cast for over a month now and i think istill have a long time before they take this thing off my hand. I dont know if its to late or not but i think i would justget off theteam and they can put someone else that will be hunting.If someone can tell me who can i talk to to see if they can replace me i would really appreciate it. Sorry that i havent been any help me to the team.
10-04-2005, 12:13 PM
RE: Official Team Mail Men (9) thread
---
Well guys i just talked to Extreme and he was telling me it was up to me wether or not i want to stay on the team. If u guys dont mind i would like to stay on the team and hopefully be able to hunt b4 the season is over and bag a buck. So i will be seeing u guys around. Good luck to everyone. Go out there and have fun but most important be safe.