Official Team Mail Men (9) thread
09-17-2005, 08:01 PM
RE: Official Team Mail Men (9) thread
---
I went out to the lease this afternoon and saw 3 does with fawns, to far for a shot. Nothing else, not even a squirrel.
Extreme: thanks for the tips on my son's bow.
We went down to the pro shop this morning and tried everything you suggested as well as switched the limbs and put in new washers and spacers on the axles, we tried different spined arrows, increasing and decreasing draw weight, broadheads. We had 3 different people shoot the bow thinking maybe he was tourqing the bow. None of the changes made any difference when we paper tuned or shot at a target. The shop did take the bow back and I have ordered him a new PSE.
09-18-2005, 09:08 AM
Join Date: Jan 2005
Location: Central Wisc.
Posts: 653
RE: Official Team Mail Men (9) thread
---
Last night I saw 2 nice 8 pointers that came onto the field about 50 yards from my stand. As I was about to get out of my stand, 5 bucks walked out 20 yards away 2 were the 8 pointers I saw earlier that night. Too bad it was too dark to shoot! I going to give it another try tonight.
09-18-2005, 08:38 PM
RE: Official Team Mail Men (9) thread
---
Wow Chucker,SIDEWAYS and 24/7 hunter,You guys are really rubbing it in eh
I can take it,only 12 more days and Ill be out like the rest of ya's.I am glad its not season here yet anyways.much to hot and dont think I can sit on the couch on my spare time knowing its hunting season.I am keeping my fingers crossed the temp will drop a bit by Oct.
Good to hear SIDEWAYS that you got a new bow.Was maybe the riser damaged ,maybe bent?It was a free replacement bow?
I am sure the bucks will start moving more for ya,only a matter of time.
Have anyone of you guys seen any rubs or scrapes yet?
I seen a rub on a tree today as I finished hanging my stand,Its on the trail heading into the hardwoods.I dont think they are starting heavy here yet.When it gets cooler Im sure.
I am officially finished all 4 stand sites,yeeeeeeehaaaaa.Next time I visit the woods will be on opening day.
Remember the camo suit that I ordered a while back.well.its finally in and hopefully picking it up tomorrow night. Hunter has a hockey practice tomorrow night at 5 so hopefully after the practice it will be picked up,on the condition of course the shop is open.
24/7 hunter,good luck on those two 8 pointers,I'm sure you will get a chance at one,only need alot of patience sometimes
Hows everyones hunting going?Its sunday night and I need some stories.I'm going board out of my mind
If season dosnt start soon I'm going to SNAP
09-18-2005, 08:45 PM
RE: Official Team Mail Men (9) thread
---
Good luck 24/7 hunter. I'd imagine your night's hunt has wrapped up by about now. Let us know how it turned out.

SIDEWAYS, hopefully your son's bow will come soon. Is he excited? Is this his first year? You may have already mentioned that.

I shot my foam and 3d targets pretty consistently today with my Muzzys. Hitting the small circle in the bullseye half the time and within a six inch circle the rest of the time. Really feel like I am back in the groove now and that makes me feel even more confident for going outnext weekend.

Good luck everyone!


09-18-2005, 08:53 PM
RE: Official Team Mail Men (9) thread
---
Good deal Jason. Do you build all of your stands? I haven't seen any scrapes yet. A rub here and there on the many maple saplings but nothing too consistent. I've been watching a six pointer travel an alfalfa field the past few mornings but he has been the only buck in sight. Still, where there's does there will be bucks in a little over a month or so. Does anyone know how old does have to be before breeding? I have seen at least two mature does - both with twins (saw them all feeding together so I know they're separate. But we get a lot of does that can't be more than a year or two wandering around. Wonder if so many does - even if only a handful are mature -could entice more than a buck or two come the rut.
09-19-2005, 05:10 AM
RE: Official Team Mail Men (9) thread
---
Chuck----1 stand is a hang-on.This is put in my favourite spot.
I have 3 other stands that are placed in different locations.I have not hunted these areas yet so it will be a trial and run.
Sorry----1 stand is homemaid,other is a Gorilla and 2 permanent stands.
Here is a pic of my homemaid stand.I built it back a while ago and just painted and replaced the bolts on it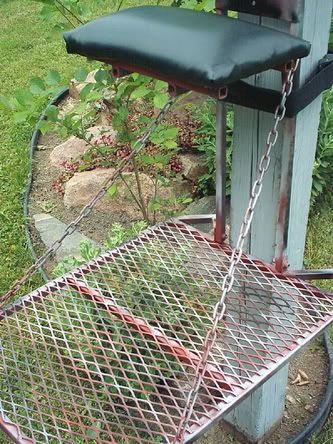 There will be more bucks to follow,Like you said,just give it time.
I can say that I have seen does 1.5 years old being bred by the bucks in the rut.From what seems to be the norm around here is the younger does-1.5-will have a single fawn,and the older,more experienced does will have the twins and triplets.
During the rut,all does will go into heat and alot of bucks are constantly moving from area to area to compete with other bucks for the right to breed her.Typically if the buck to doe ratio is low then they wont have to compete to much and breed the does without any competition from other bucks.They will be around,just give it time.
09-19-2005, 06:54 AM
RE: Official Team Mail Men (9) thread
---
I went to the lease yesterday to do a little scouting and remark the boundaries. I did not see any signs of rubs or scrapes but did jump 2 does on the way in and a spike when checked on my son's ladder stand.
My son is excited about his new bow, it should be in on Wens. but the wife and I have to fly to Texas on Wens. and won't be back until Saturday.
2 years ago he took a button buck with his Browning Micro Midas.
09-19-2005, 09:39 AM
Fork Horn
Join Date: Sep 2003
Location: Jamestown, KY
Posts: 207
RE: Official Team Mail Men (9) thread
---
Things are kind of slow here in Kentucky. I have seen serval does & small bucks but no shooters. My uncle killed a doe this weekend. I have seen serval turkeys while out. I have been working on food plots & waiting for rain to plant them. It has been hot & dry. Acorns are starting to fall some. Does are eating what falls in the yard whether it be apples or acorns. This weekend I am going after a 140+ class buck. I told my brother-in-law he had til Thursday, then it was fair game.
09-19-2005, 06:57 PM
RE: Official Team Mail Men (9) thread
---
Thought I would post a very familiar funny for all us to enjoy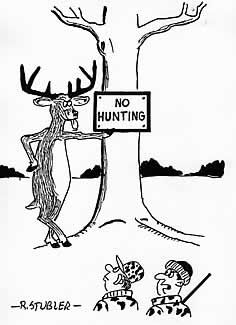 Sideways----glad to hear everything is going smoothly for you and your son on his new bow.You going to have enough time to set it up and tune it for hunting this year.?
little indian----Let me get this straight,you will pass on the 140 class buck today but he is open game on thursday
hmmmm--I think he would be dead in his tracks if he was under my stand
Was it some sort of a deal you came up with your brother-in-law?
24/7 hunter---Glad to hear you are still seeing these 8 pointers hanging around.I hope one of them offers you a shot
Dosnt look like I am heading to the shop for my new hunting suit,oh well,maybe tomorrow night after shooting with my bud.
I am happy to announce that my son hunter made the first cut for the "A" team---only problem I am having now is my wife dosnt want him on the A team--she says that its way to competitive and the parents are even worse
He won the MVP last year,as a goalie to top it off and the leagues outstanding goalie award.Not bragging
I am just real proud of him and his accoplishments(sp)at the age of 10
Take care guys
Jason