Official Team Shaft'Em (14) Thread
10-01-2005, 07:25 PM
Fork Horn
Join Date: Feb 2003
Location:
Posts: 196
RE: Official Team 14 Thread
---
Tagged a doe this morning. 15 yd shot from 20 ft up. Deer took three leaps and fell over not more than 15 yds from where my arrow passed through and stuck in the ground. Never saw one drop that fast in all my years of bowhunting.
10-04-2005, 06:44 PM
RE: Official Team 14 Thread
---
well, I went out opening morning (oct. 1) and had a monster doe and a little six pointer come in to the rattle bag. they hung around for about a half hour as i was waiting for big daddy to show. finally i said what the heck and had a perfect 25 yd. double lung shot on the doe. The slick trick did the job. talk about a exit hole. i about crapped when i seen it. well i wanted to share with you. good luck in the upcoming month.
10-09-2005, 07:13 AM
Fork Horn
Join Date: Feb 2003
Location:
Posts: 196
RE: Official Team 14 Thread
---
Didnt get out yesterday due to the heavy rains. Plan on going out tomorrow morning (I could put up with a light drizzle that they are calling for). Some areas here got 11 inches of rain in 2 days but I think we were around the 4.5 inch range) Is anyone else on this team having any luck besides me andryan with the 2 doe we killed?

ps. congrats on your deer, ryan

10-10-2005, 09:05 AM
RE: Official Team 14 Thread
---
Hey Team 14,
Just reporting on my son (Hoyt14). You guys are on the board but it is nothing huge. He is 17 and working a lot of weekends now so his time to hunt is almost nothing. Anyway he had a great season all in one weekend. Started out on Saturday night the 1st. He missed TWO does that night. Well the next morning he got a 7 point off the same stand. He will get on here sometime to tell you all about it but I wanted you to know that he got one. Either he or I will post it on the official score card sometime. Not sure how they feel about me posting his deer. Either way it will get on there. He does have to get it scored yet. Not even sure if all the points are scoreable. Here is the picture.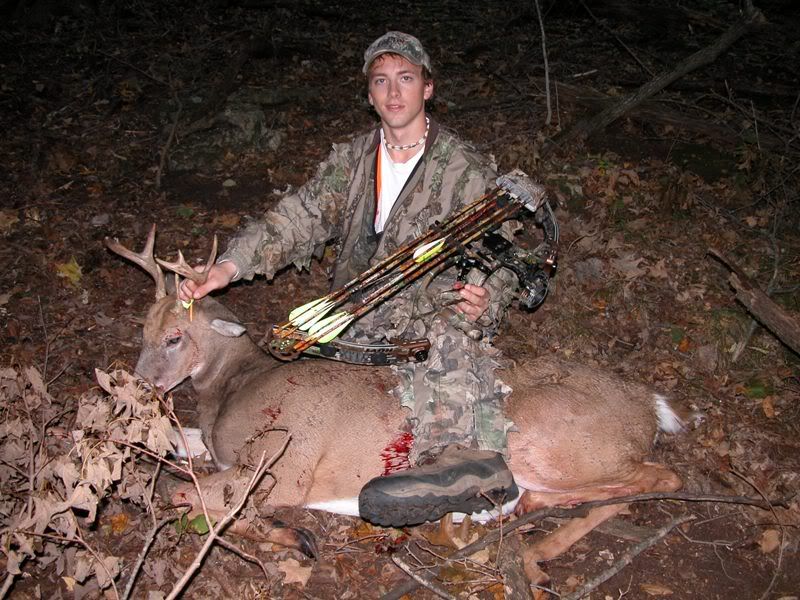 10-10-2005, 02:42 PM
Fork Horn
Join Date: Feb 2003
Location:
Posts: 196
RE: Official Team 14 Thread
---
Congrats to Hoyt 14 for getting us on board.
I went out this morning and had the drop on 2 small deer at 6 yds but decided to hold out for a more mature animal. Mamma doe came down to be with the twins but she also was on the small side. I let all three walk without spooking them in hopes that a shooter buck would come by. He never did and unfortunately I couldnt get out this afternoon.
The three stayed under my stand for about 10 minutes. One little bb was butting and chasing the other small one from eating "his" leaves off a small sapling. It was cool to watch.As long as Ialready have one in the freezer, I will continue to hold out for a shooter.. I wont be out again uintil the 15th ( antlerless in-line season). c- ya


10-23-2005, 06:19 PM
Join Date: Nov 2003
Location: Central, Illinois
Posts: 119
RE: Official Team 14 Thread
---
well fellas sorry i havent been around to post in here but ive been at it hard since opening day and i finally seen my first deer tonight. I had 7 does come to about 50 yrds from me out in a field feeding but couldnt get them to come in any closer. they werent responding to the grunt call yet. Though they werent close enough to get a shot off it was such a great feeling to finally see some deer and know that i havent been wasting my time