Official Team Coast 2 Coast (27) Thread
08-15-2005, 10:56 AM
RE: Official Team 27 Thread
---
I can make a signature, i made the one under my name now. let me know the team name and I can whip one up real quick, we have some good ol midwestern boys in here don't we
team coast to coast sounds good. can't wait.
Update...
I went scouting last night and got some good video of some nice bucks.
08-15-2005, 11:43 AM
RE: Official Team 27 Thread
---
Any name is fine with me as long as contest champions are behind it at the end of the season. So far I've been second twice in the turkey contest and second last year in the deer.

So how did everybody do last year.
08-15-2005, 12:06 PM
RE: Official Team 27 Thread
---
Nice, very nice photo of your buck! I could use oone like that this year. As fot the other,
I always get a sick feeling in my stomach when I see to big bucks end up tangled and dead after battle.
08-15-2005, 02:26 PM
RE: Official Team 27 Thread
---
Great to see everyone checking in so quickly! It looks like we've got a strong team on our hands this year, we'll have no problem being number 1!
I say we stick with Team Coast 2 Coast, it seems almost everyone likes it.
As for how scouting is going so far, I've seen several larger whitetail on our property here in Spokane, but I'm holding out on shooting a whitetail (unless it's a monster) until after my Mule deer trip at the end of September.
This is a shed I found in April from the buck I was chasing last year.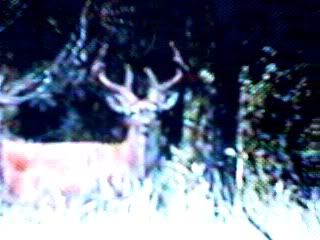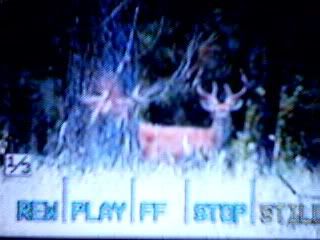 Those are pictures I snagged off of my video camera of him on a scouting session last August.
Well, that's what I've got to look forward to this season! Good luck everybody!
08-15-2005, 02:44 PM
RE: Official Team 27 Thread
---
I like that name coast to coast,nice pics guys,i tell you guys a little bit about hunting inma. its very hard i dont have alot of feids or farms around me its alot of hardwoods pines,they say we have 100.000 deer in ma.ive been hunting this one deer i seen the last 2 years, i hope he made it threw the winter , cause if he was shot during the season i would have heard , ihunt on semi priviteland, so far i seen alot of good sign this year , good luck everyone
08-15-2005, 02:56 PM
RE: Official Team 27 Thread
---
Those are a few of the deer i have pics of, and i have video of quite a few deer as well. some nice deer on the property this year. Last year I killed a 115" buck during shotgun and a yearling for some meat during bow. The biggest buck that I have shot is 145"non typical with a few kickers during shotgun season. my brother found sheds that roughly score around 180" and is definatley still alive. I can not wait til the season starts.