2009 Turkey Hunting Success Pics!!!
04-25-2009, 06:13 PM
RE: 2009 Turkey Hunting Success Pics!!!
---
Turkey #3
This ol' boy was a unique turkey. The only way to kill him was to neek up on him. My 13-year old son Peter and I were able to do that in spades.
4 year old turkey with curved hooks that you could hang him by.
04-26-2009, 09:52 AM
Senior Member
Join Date: Dec 2008
Location: Southwest Indiana
Posts: 114
RE: 2009 Turkey Hunting Success Pics!!!
---
Congrats everyone thats some good birds!!!Heard 7 this morning couldn't get them close enough.Had 3 out in the field all struten,at least i know they are their.Can't wait to get back out to the woods.
04-26-2009, 10:15 AM
RE: 2009 Turkey Hunting Success Pics!!!
---
We had our first annual Massachusetts youth turkey hunt yesterday. Our regular season starts tomorrow.
The kid I brought scored on this nice tom in the AM. His first time ever turkey hunting... never had heard a bird gobble until that AM. He didn't disappoint. Bird weighed 17lb... had 1" spurs, but his beard was broken off... only a couple of inches.
We had a total of 6 kids hunt w/ their sponsors. 4 were successful. Here is the group pic of the kids w/ sponsors behind them.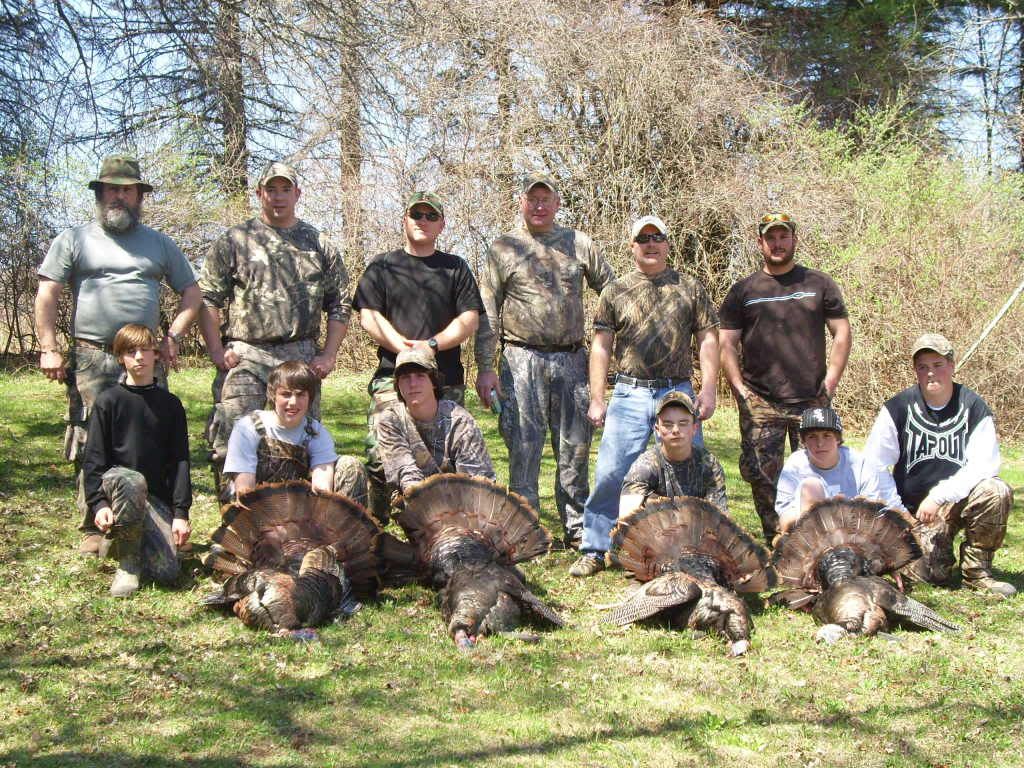 04-26-2009, 04:46 PM
RE: 2009 Turkey Hunting Success Pics!!!
---
Killed this bird in Pike County, Indiana with a Benelli SBE loaded with Hevi-shot #5. Shot was 38 yards. 23 lbs, 11 inch beard, both spurs 3/4". Pretty neat story, my brother, dad and I were hunting a small thicket and year after year the birds in this thicket kick our butts. We put dad along a 4-wheeler trail and my brother(chipper1) and I headed to the other end. We heard 2 birds on the roost but were on the other side of some back water that runs down the middle of the thicket, after we were sure they were on the ground we made a move to where we thought they would go. We decided on a spot and we sitting down about 30 seconds when this bird came along. I was wanting to wait as long as I could to shoot because we thought there were 2 birds. We finally heard the other bird gobble so I shot, my brother hit his slate call just as my bird started to flop and here come 3 more toms. For the next minute they attacked my bird and finally one stood on top of him and my brother shot him, first time we ever doubled. His bird was identical to mine except it had very nice spurs, one was 29mm and the other 25mm. So my score would be 23+7.5+7.5+22=60 Eastern Tom.