| | |
| --- | --- |
| johnnybravoo77 | 05-11-2009 07:23 AM |
---
RE: Team 7 check in

Good job Zub!
| | |
| --- | --- |
| zubba | 05-11-2009 07:25 AM |
---
RE: Team 7 check in

Well, here is bird number 2. Even though we can only enter one for the contest, I thought I would post it anyways. Besides, I believe JW has a seperate score sheet for the total number of birds taken by a team...even though I believe we are in last place...lol.
Itook this guy Sunday morning. I seen him strutted out with 3 hens about 200 yards away to my right. I then had a hen come in to my decoys from my left. She milled around the decoys and was yelping & clucking...so I put my call down and let her do the dirty work. She called enough to get the Tom & 3 hens to start working their way over, then she started going out to meet them. They met up about 100 yards away. So I picked up my call and started doing some softclucks and purrs. Sure enough, the group of hens started coming in and he followed behind them. Had them all within 30 yards, but he wouldn't break strut. After the hens milled around the decoys for a couple minutes, they started to loose interest in my foam decoys....lol. Since the Tom wouldn't break strut, I hade to take himat 27 yards when he was in half strut. 23 lbs, 8" beard, 3/4" spurs. Tagged out in Iowa. Good luck to anyone still chasing birds.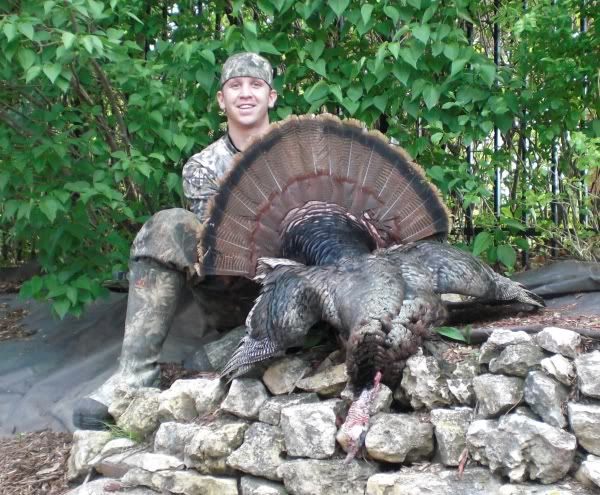 Your score is 23 + 7.5 + 7.5 + 16 = 54
| | |
| --- | --- |
| ryncam16 | 05-11-2009 12:04 PM |
---
RE: Team 7 check in

Hey guys. I havnt been on in a little bit but i have great news! I finally got a big bird down. Ive had many downs this year missed 2 diffrent birds. So i ended up switching guns. but any ways heres the story. I didnt get up and go out this morning i heard the weather was going to be crapy. I get up at 6:30 to a txt from a friend and they had got a bird i look outside and its beautiful out. So i get in my new 09 silverado and head for a ride to find some birds. I ended up seeing 3 big toms with hens in this one field so i decided heck ill give it a try. I ended up sneeking in from behind them and calling and they gobbled but werent coming any closer. So i said well ill try to move in on them. So im sneeking threw this thick stuff and i look over to my right and sure enough theres a strutter at about 40 yards. so i find a little hole to shot threw and and put it on his head squeeze the trigger boom and the bird takes off running. I was so upset was the 2nd time i missed this year. i look at the hole i was shooting threw and lets just say i did some good trimming and my pattern couldnt of been very good. The birds i was trying to sneek up on stayed out in the field and slowly worked there way to the woods. They ended up going down in a ways so i waited a few mins and sure enough they were down there gobbling. I ended up sneeking down to were they were and got within 30 yards of them. I call to him a little he gobbled and was strutting spitting and drumming. I couldnt take it any more i pull up and shot and all i get is a click when i ejected my last shell i was in such thick brush i ddint fully eject the shell. so i said well if i do it fast enough maybe i can get a shot. So i pump the shotgun and the turkey gobbles at the noise. so i pull up and shoot and the big longbeard drops. i start to run up to him and sure enough there was another tom with him i pull up and shot and i hit a tree and the big tom runs closer to me i go to shoot again and i was out of ammo would of had 2 birds but im happy with this one. He is a double bearded turkey my first ever.
he went 19.4 oz has one beard thats 9 inches and one that 7.2500 inches and both spurs are 1.2500 inches total score of.....76.75
| | |
| --- | --- |
| ryncam16 | 05-11-2009 12:07 PM |
---
RE: Team 7 check in

yup
| | |
| --- | --- |
| ryncam16 | 05-11-2009 12:09 PM |
---
RE: Team 7 check in

beards
| | |
| --- | --- |
| zubba | 05-11-2009 01:46 PM |
---
RE: Team 7 check in

Nice ryncam...almost looks like 3 beards in the pic. Finally starting to drop some longbeards.
| | |
| --- | --- |
| RIStrutStopper | 05-11-2009 03:01 PM |
---
RE: Team 7 check in

ryancam, that looks like 3 beards to me, you may wanna look at that again. Great bird! My lil guy was 12.5 pounds, .25" nubs for spurs and a big 3.5" beard, lol. My smallest bird ever. I'm still chasing the big boys, let 3 jakes walk on Saturday.
| | |
| --- | --- |
| RIStrutStopper | 05-11-2009 08:14 PM |
---
RE: Team 7 check in

Here's a pic of my brute. He weighed a whopping 12.5 pounds, had this 3.5" paintbrush of a beard, and .25" hooks, uh nubs on both legs [&:]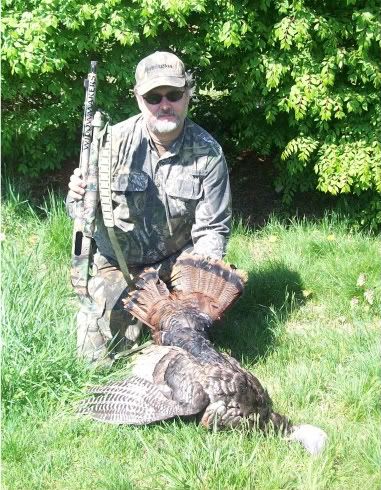 | | |
| --- | --- |
| ryncam16 | 05-12-2009 05:36 AM |
---
RE: Team 7 check in

Yea he looks triple bearded Its just real hard to tell he has a real messed up beard and theres rot inbetween the two lower beards so i think it just fell off or somthing. I dont no how i would get it judged or who to bring it to up here in vermont.

| | |
| --- | --- |
| ryncam16 | 05-12-2009 05:40 AM |
---
RE: Team 7 check in

heres another look
All times are GMT -8. The time now is

12:06 AM

.

Copyright © 2023 MH Sub I, LLC dba Internet Brands. All rights reserved. Use of this site indicates your consent to the Terms of Use.