Team #12 Thread Wingbone Warriors
04-30-2009, 03:35 PM
RE: Team #12 Thread Wingbone Warriors
---
ORIGINAL: whatisup02

Its not that I dont have any more time to go hunting.
Oh darn [&o]... well you tried anyways, maybe next year you'll have better luck and good wheather.
Speaking of wheather ... it was raining again today and the only birds I saw was one nervous jake and a lonely hen.
I'llkept going back out untill my last day to hunt, maybe tomorrow I'll have better luck.
04-30-2009, 05:41 PM
RE: Team #12 Thread Wingbone Warriors
---
Hey guys,

Sorry I haven't posted anything for such a long time. I'm finally going out for the first time tomorrow. I know there are at least4 around my area that have been strutting pretty regularly.

Wish me luck

05-04-2009, 04:51 PM
RE: Team #12 Thread Wingbone Warriors
---
Well guys .. my season is over , I go back to work tomorrow after having nine days off to do my hunting.
My last four days were spent hunting this guy and when I went out this morning I found a small pile of feathers with some blood on them.
My guess is that some coyotes got him after he got off his roost , here's a picture of him two days ago when I found him henned up and the other one is when is just came in the medow.
05-05-2009, 06:55 AM
RE: Team #12 Thread Wingbone Warriors
---
Thats too bad rd, wish you could have got him. I killed my second tom of the season on Friday. Went in to kill the bird I thought was a quad beard and took a buddy with me to kill the other tom that he had been hanging out with. About 645 pm we had 3 birds coming in, 2 toms and a jake. The toms came in first, but due to the rain their beardsboth looked the same, long and wet. I decided it was pointless to see if one of the birds was the quad or not so I told him to shoot the one on the right and I was going to shoot the one on the left. We pulled our guns up and both toms just sat there eating with their heads down, so I wanted to wait till their heads were up (I didnt have a mouth call in at the time to get their attention). The bird on the right lifted his head and my buddy shot him, sending my bird flying up to about 20 feet in the air, which is where I shot him. I hit him in the head, but when he fell from such a high altitude he broke almost all of his tail feathers, one wing (which almost came completly off) and on leg in the fall. Upon inspecting the birds, mine was a nice 3 year old with 1" spurs and a 10.75" beard. His was the one I thought was a quad beard. It "only" had 3 beards, 9.75". 6.25" and 3", almost a twin of my bird I shot so I am assuming they are brothers. Anyway, I did not get the one I was after but it was a really fun hunt and one I wont forget. Pics of the 2 together and then the beards of my buddys bird.
My bird, the one on the right scores as follows. 20.5 lbs, 10.75" beard, 1" spurs for a total of 62.
Buddies triple on the left scores as follows: 21 lbs, 9.75", 6.25", 3" beard and 1" spurs for a total of 79. Too bad I didnt get him, but my triplewas bigger!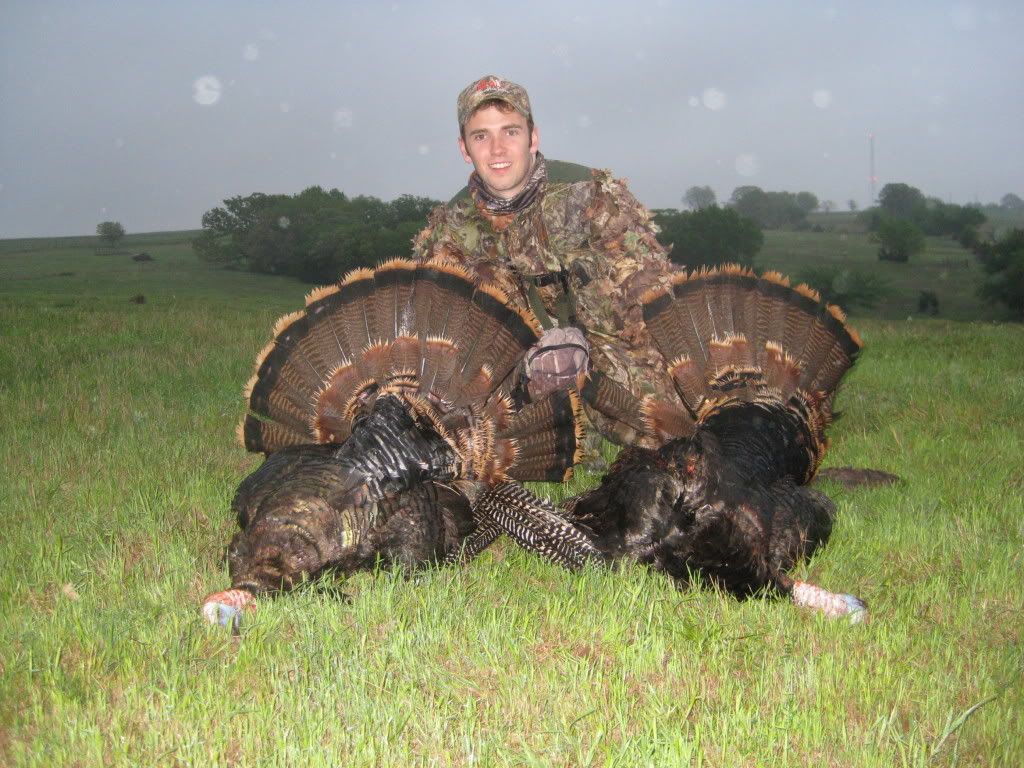 Here is the beard shot from his bird.
05-05-2009, 07:14 PM
RE: Team #12 Thread Wingbone Warriors
---
congrats gbrownlee ur on a roll. sorry to hear about ur season ending rdhunter. i will be hunting this friday,saturday and sunday so hopefully i will get a shot...as long as it doesnt rain...i know in the midwest we have been gettin soaked! talked to u boyz this weekened.

05-06-2009, 02:56 AM
RE: Team #12 Thread Wingbone Warriors
---
Way to go Brownlee. I am glad all your hard work paid off. Even though you didn't get the turkey you were after, you put your buddy on him and took another at the same time. I would say that is even better. Congrats on a great season. I am giving it a try in WI this weekend. We'll see how it goes.

Dan