Team 5: Team Overload Thread
05-08-2009, 09:52 AM
RE: Team 5: Team Overload Thread
---
Well boys, this mornings hunt didn't go so well. Not a single gobble...i fear the worst for this bird because he roosts on a sportsman's league property that is heavily hunted.
05-08-2009, 05:21 PM
RE: Team 5: Team Overload Thread
---
Well no turkey for my buddy (so far). It has been terrible hunting, few birds seen, no gobbles what so ever. Wednesday morning we were walking down a logging trail and noticed a bird roosted directly above us. So we had a seat right below and waited for him to wake up. So he starts moving around and scratching himself, it's getting lighter so we start looking for his beard but it was no were to be seen. He finally turns around and low and behold it's a jake. He passed and thats the closest we got to a bird. Disapointing to say the least. We got this weekend left but it just dropped 30 degrees and rain is in the forecast so it's not looking to good but we'll try.
We've been fishing Green Bay in the afternoons and slamming the eyes'. Wednesday we got our limit of 10 and Thursday we got 5. Not to bad at all. Good fishing helps when the turkeys are being gay.
Trolling the cranks. Husky Jerks and Bomber Long A's in firetiger, firetiger orange, and anything with chartreuse in it we're taking fish.
Wednesday's limit. Bucket o' Fish.
Thursday's five fish.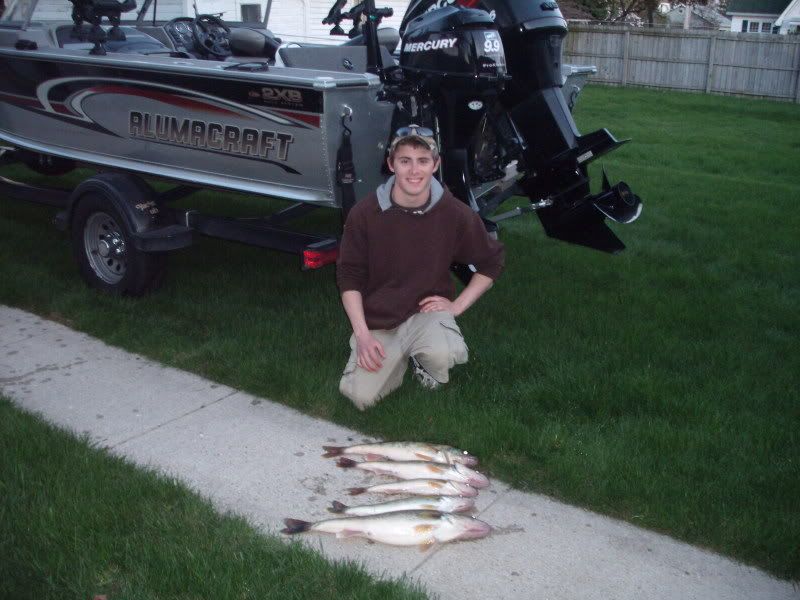 Biggest fish in the two days, 27" even.
The last thing the bait see's!
Slicing and dicing.
The end result. Mmmmmmmmmm.
Just thought I'd share those. Hopefully I'll have pics of a dead turkey tomorrow. My season starts on Wednesday so I'm pumped for that. Well I've only gotten about 5 hours of sleep in the last three days so I'm hitting the sack early... 3:00am wake up call. [:'(]
Later...
05-08-2009, 10:17 PM
RE: Team 5: Team Overload Thread
---
Irhuntr- nice fish, looks like you're tearing them up. Good luck to you guys.
Caleb-good luck to you also, you've laid down a ton of awesome footage this season, thats an accomplishment in itself especially with turkeys.
You're gonna get that big bird.

05-09-2009, 04:59 AM
RE: Team 5: Team Overload Thread
---
Ir...great post. Im a huge Packers fan btw
This morning we went back on my farm, and ended up spooking 2 separate birds off the roost. Im pretty sure they were hens. We didn't hear any gobbles, but we did talk to a gentleman hunting a bordering property that seems to have my birds patterned. Apparently they like to strut an old logging road right off the border of my property (i do have permission their). very useful info
We moved over to my buddies property after that (bordered where Seth shot his gobbler on video) and heard a few gobbles but he shut up once we moved in.
The birds are tough right now, and we only have a week left. I have today through Tuesday off to try and get it done.
05-09-2009, 07:41 AM
RE: Team 5: Team Overload Thread
---
ORIGINAL: Siman08/OH
Heres the pic of
jalvja
's bird: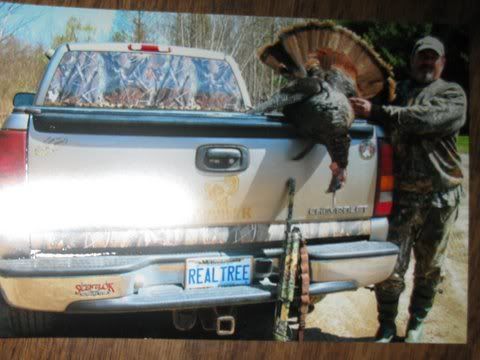 We need jalvja to post up the numbers on this bird so we can add it to the scorecard for the total page
My wife deleted the pics from t6he camera before I got them downloaded so I had to take a pic of a pic.That is an Ontario bird.Weighed 17 lb,9 1/2" beard and 7/8" spurs I came up with a score of 53.5 but someone better check my math,lol.By the way that's Adrian's truck I'm standin near.
05-09-2009, 07:44 AM
RE: Team 5: Team Overload Thread
---
Never made it out this morning. 40mph winds and torrential downpours. [:@]I aint hunting in that.
Ir...great post. Im a huge Packers fan btw
Awesome!
Are you still gonna be a Favre fan when he plays for Minnesota? [:'(][8D]
05-09-2009, 01:18 PM
RE: Team 5: Team Overload Thread
---
well guys michigan was a bust had one good day and a cpouple of close calls but all and all it wasn't too but
but i will tell you i wish i knew the bag limit on mushroom hunters because i could have limited out every day i was there
everywhere i looked there was a mushroom hunter it actually pissed me off
but in the light of things i did talk to a guy this morning before i left to go home and got perm. to hunt some of his property and i mean hundreds of his thousands of acres so i will be back up next week to hunt
i seen alot of birds on his propertys his places border state land and the mushroom hunters have them pushed over there so well see and give it a shot next week

05-10-2009, 06:23 AM
RE: Team 5: Team Overload Thread
---
Not a great day today boys, i heard 1 gobble off in the far distance. My buddy Tyler's younger brother killed his first spring turkey today (a 15lb Jake) out of the blind Tyler took his gobbler on video out of though. Im getting ready to go to the Indians game now, ill be back out in the morning.