Team 3: Sunrise Demise
05-18-2009, 05:23 PM
RE: Team 3 Thread
---
05-23-2009, 07:33 AM
RE: Team 3 Thread
---
Hey fellas, I scored again. This guy came in silent right off the roost to check out the decoys. He flew right out into the opening I was set on the edge of. Flydown to shot was about 3 minutes. I've been after him for about three days, so it's nice to finally connect. I called him in for my brother on tuesday around 9am but wasnt given a shot opportunity, then on Wednesday I was in the same spot and called in four jakes. Meanwhile, this longbeard gobbled down over the hill about 100 yards and would not come up over. Today it worked out nice but without any gobbling it seemed a bit weird. Nonentheless, here he is.
18 pounds
1 1/8" spurs
8.5" Beard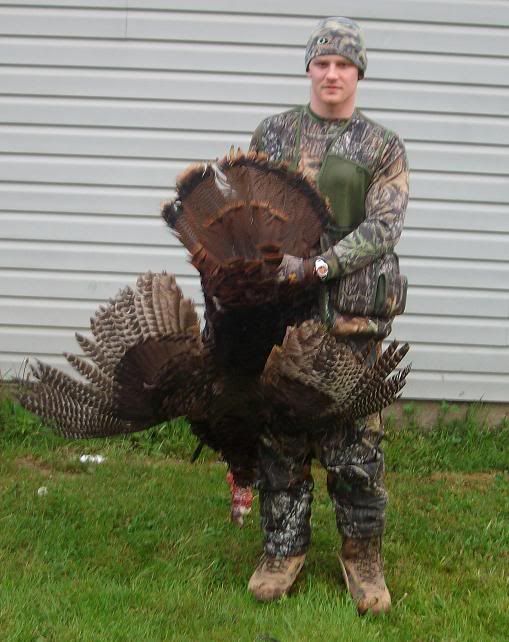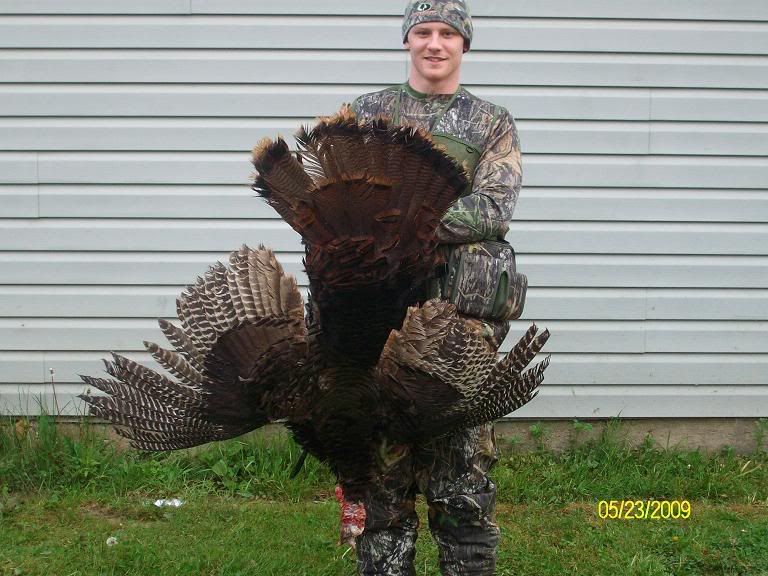 I'll get him entered here soon..
05-25-2009, 07:59 PM
RE: Team 3 Thread
---
Good going fingerz. Turkey season is long gone for me, but I'm always thinking about it. I've been at the beach in Florida for the past several days. I love it down here, but I would rather be turkey hunting.
05-25-2009, 08:05 PM
RE: Team 3 Thread
---
Thanks bud. My season is over now as well. It was definitely fun, but now I can sleep in some.

Just as an update, all birds to date have been entered. I'm not sure if anyone still has a season going or not, but if so good luck.

Also, the stickers are to be sent out this coming Thursday... This date has been changed numerous times by Arrow, but he plans to send them thursday, and when he does I'll send them to the guys who have given me an address to do so..

It's been great having you all as a team and if you havent noticed, we are currently FOURTH for overall score. Not too shabby.

06-05-2009, 05:13 PM
RE: Team 3 Thread
---
Stickers were sent out yesterday... Hopefully they all find their way to your mailboxes.. If they arent received within a week let me know and I can see about sending out another..