I am what some folks call a "bowbuyingaholic". When finances permit I love buying a new bow each year. There are so many exciting new designs on the market that it is difficult to just settle on one. Last year I hunted with a Diamond Triumph and was fortunate enough to take that nice 8 pointer on opening day of the PA Archery Season. This year I chose to try the Bowtech Old Glory. After owning it for several weeks I decided to write up a little review of my experiences so far. It has been posted on the HuntingNet.com message baord but I thought I would post it here as well since it is the hunting related issue I am focusing on this month.

It has been quite some time since I put together a bow "report" for the net. A true lack of time on my part is the primary reason for this though I must admit to not feeling as motivated to do so for a variety of other reasons. One of these reasons is the very nature of the forums themselves. As time has passed archers/bowhunters have become more and more knowledgable about the equipment they use and how to use it. Basic terminology and the fundamentals of shooting are almost second nature to most of the well-educated folks that visit these forums. Going over the specifics of any given bow then becomes less than exciting to some people, or an issue debated upon to the point where little knowledge is actually gained. I have not wanted to enter that field of discussion until this point. Now I have found a bow that has garnered my attention and made me "fall in love" with shooting all over again….the 2006 Bowtech Old Glory.

Some of you that know me well enough know that I had a 2005 model of the same bow. Though it was an excellent bow in terms of overall construction and design it never really seemed to "click" for me. The draw cycle with its early rise to peak and gradual slope into a moderate valley was so different from what I was accustomed to shooting with my previous single cam bows. It felt more dual cam in nature and I just wasn't able to get the same feel and subsequent accuracy out of it. Speaking of which, my Pro 40 Freedom cam was a pure dream to shoot. The draw cycle was smooth as butter and the valley and backwall were very comfortable to shoot from. Arrows almost seemed to find the center of the target on their own. Overall specifications between these two bows were very similar – it was the cam design that separated them. This left me with a dilemna. The Binary cam system was widely regarded as the latest and most advanced cam system on the market in terms of overall design, efficiency and tuning but I was not comfortable with it…. …which brings us back to the 2006 Old Glory.
You may ask why I chose to use the same bow despite my misgivings. Well, I have a lot of faith in a company that takes actual consumer suggestions to heart when they design the following year's lineup. For several years now Bowtech has taken the initiative in creating threads on forums such as this in the hopes of improving their lineup for the subsequent year. One suggestion I know that has been repeated is that folks would like the option of having different cams with different draw cycles on their bows. From a cost perspective I can see why companies do not want to follow this route. However, the research and design team at Bowtech came up with an excellent solution to the issue – different modules for different draw cycles. Having a "smooth" module and a "fast" module makes so much sense that I am truly surprised that it was not utilized before.
In addition, due to my physical size and subsequent long draw length my options for bows are relatively limited. When was the last time you saw a flagship bow from any of the major bow companies offered in a 31-inch draw length? Bowtech has been fairly good in this regard in that at least a few bows in their lineup each year are offered with a draw length that exceeds the 30-inch norm. The 2006 Old Glory is one of them. Well, enough about my reasons for choosing this bow I think it is time we actually discussed the bow itself and my experiences with it thus far.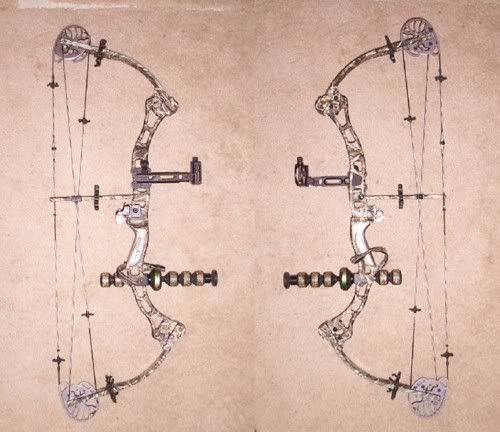 Technical Specifications:
Axle to Axle Length: 36.75 inches
Brace Height: 7 7/8ths inches
Mass weight: 4.3 pounds
IBO Speed (birth certificate): 323 fps (60 pound draw weight, 300 grain arrow)
Draw weights: 50-70 pounds (peak)
Draw Lengths: 28-32 inches
Camo patterns: Mossy Oak Obsession (standard), Realtree Hardwoods HD, Realtree Hardwoods HD Green, Advantage Max 4

Riser: The Old Glory's riser is 25.75 inches in length and is manufactured of T-6061 Aluminum. The riser is of the reflex design and carries a reflex measurement of 2.75 inches. It is extruded for strength and then machined for accuracy. There are two stainless steel mounting holes to attach both a forward and a rear stabilizer.

Limbs: The limbs that adorn the '06 Old Glory are 14.5 inches in length and are a compression molded carbon/glass combination. They are set at a 25 degree angle which though much less parallel than that of the Allegiance (44 degrees) and Tribute (53 degrees) still qualifies them as a parallel limb design. Comparison of newer limb pockets and older style found on Pro 40 Freedom cam bow.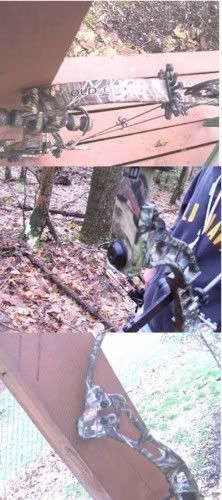 Limb Pockets: The limb pockets have also been redesigned for the '06 production year. They now utilize an offset design for greater stability and easier tuning. In addition there is now a larger bezel for increased limb strength and stability as well as two lock-down screws on the side of the limb pocket itself.
Story continues below
———————————————————————————————————
advertisement



---------------------------------------------------------------------------------------------------------


Grip: A one piece wood grip with the word "Bowtech" engraved on one side adorns the bow. It sports a very smooth finish and though relatively neutral still tends to promote more of a low wrist grip position.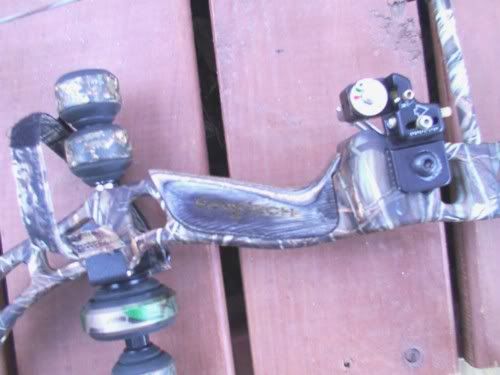 Cam Design: The 2006 Old Glory utilizes a redesigned Binary Cam system. This cam system takes cam design to the next level by eliminating the "Y" yoke attachment to the axles. Instead, the cables return to the opposing cam. It might be useful to consider this an entirely new cam design as opposed to that of a single, dual or hybrid. The 2006 model Binary Cam system is offered with both "speed modules" and "smooth modules" to more precisely fit your choice of archery activity. The cams also utilize sealed ball bearings and limb tip caps which help eliminate the need for nylon spacers. Several small "dots" are machined into the cam to act as a quick reference aid for monitoring the cams' optimum performance settings. Letoff is adjustable via a small draw stop peg located on the outside edge of the top cam. The draw stop peg must be adjusted accordingly when a new draw length module is installed in the cam.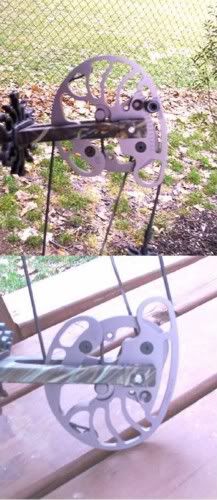 Strings and Cables: Each Bowtech bow is equipped with low creep BCY 452X strings and cables. Strings and cables are manufactured entirely "in-house" now. My Old Glory's strings and cables were black and gray in color.

Cable Guard: The 2006 Bowtech Old Glory is outfitted with a carbon cable guard rod located above the rest mounting holes. This year's cable guard is also film-dipped to match the camo of the bow.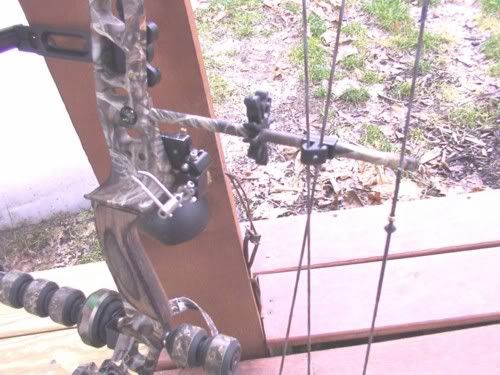 Hush Kit: Every Bowtech model bow comes equipped with a factory installed Hush Kit that includes four "squidee" string silencers, a cable guard dampener and two Vibrablock limb dampeners.

Camo/Film Dip: The Old Glory comes standard with the Mossy Oak Obsession Camo pattern but can be special ordered in several additional patterns. I chose the Advantage Max 4 and though it is considered a "waterfowl hunters" pattern I must say that it looks exceptional in just about any environment. The dip is flawless on this bow.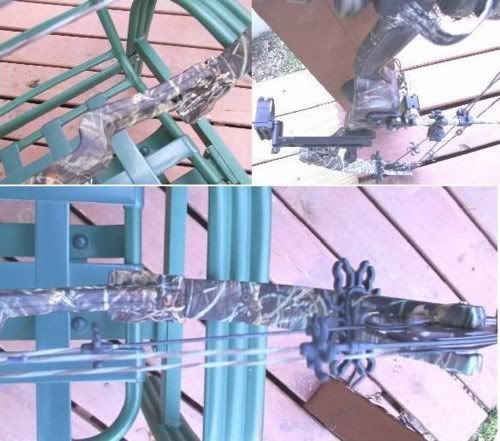 Overall Impressions: Overall I am very impressed with the bow. The first thing that struck me when I picked it up was the bow's balance. I have owned several previous offerings from Bowtech that did not have the well-balanced feel that this bow does. Without any accessories installed the bow is very well balanced with only a slight "top heavy" feel to it. This may be attributed to the "arrow centered" design. Some companies design their bows with the grip in the true vertical center of the bow while others prefer to have the "arrow pass" occupy that position. The Old Glory's exceptional balance may also be attributed to the exceptional job that was done in machining the riser. The bow has an extremely solid feel without feeling bulky or unwieldy.

3D shooting/ in the field accuracy: I took the bow out to its first 3D shoot a little over a week ago and it performed quite well. Mike (DOPVFT) and I shoot for fun but shoot quite regularly in the off-season. The typical 10, 8, 5 scoring system (30 target) is used and we shoot at the green "hunter's" stakes. I was on track for a 270-275 performance if it wasn't for the "back 10" but that was due more to my fatigue from lack of regular shooting rather than any characteristic the bow might possess. The bow's relatively "long" axle to axle length coupled with its generous 8 inch brace height made it very comfortable and accurate to shoot in my hands. The cam system, though somewhat aggressive, was still quite manageable even with the "speed modules" installed. The accuracy potential of this bow is definitely above average in my opinion.



Noise Level: I have only been shooting my 380 grain Easton Excel 400 arrows out of the bow so far as part of my 3D setup. With the bow set at its peak weight, the 31-inch draw length and the Excel arrows there is a very low level of noise during the shot. I do not have access to any type of decibel meter but would offer that the bow is definitely quieter than average based on my own senses and that of others that have commented on it.

Speed: I took time last weekend to put the bow's speed rating to the test. I set up both of my chronographs, an older model Chronotech model and my newer ProChrono. I chose to shoot my two primary arrows, a 380 grain Easton Excel 400 and a 440 grain Easton Excel 340. Though the difference in weight is not monumental I thought it would at least give me some idea as to how efficient the bow was. The bow's birth certificate listed a 323 fps speed rating at the peak 61 pound draw weight with a 31 inch draw length and a 300 grain arrow. I do not have access to any 300 grain arrows that are properly spined for my setup so I could not do a true comparison of the bow's birth certificate speed rating. I shot 3 groups of 3 arrows through each of the chronographs and then averaged the results. The 440 grain arrow averaged 267 feet per second while the 380 grain arrow averaged 284 feet per second. That yields approximately 68 ft. lbs and 69 ft. lbs of Kinetic Energy respectively. Those are some pretty impressive numbers when you consider we are only talking about a 60-pound bow and a fully loaded string. It would most often take a 70-pound model of some of the previous designs to achieve that same level of energy. I did not have the opportunity to do a speed test on the smooth modules but will update that information as time permits.

Recoil/Vibration: Bare bow with nothing installed except for the rest and the factory installed hush kit the bow exhibited no recoil or "jump" during the shot. This could be attributed to the parallel limb design as the limbs tend to flex up and down rather than forward and backwards. Many bows on the market these days offer this design advantage. However, there was a small amount of vibration felt in the grip during the shot. It was not excessive but noticeable nonetheless. Attaching a Sims Modular Stabilizer completely eliminated the vibration.

Nitpicks and Suggestions: Surprisingly, and for a change, I have very little negative to say about the bow. Balance has always been one of my "nitpicks" when it comes to parallel limb style bows. The 2006 Old Glory seems to have remedied that to a large extent. There still is somewhat of a higher weight distribution to the upper half of the bow but it is, by no means, excessive and might actually be beneficial depending on which accessories you choose to install. However, I would still like to see a completely neutral level of balance which would mean either shortening the upper half of the riser or redistributing the weight via the specific level of machining. In addition, probably the only arguable downfall of the long riser/parallel limb design is the amount of reflex found in many of these bows. In order to achieve the high level of speed and still maintain a healthy amount of brace height the riser design must be moderate to heavily reflexed in nature. Though the argument continues as to whether or not this is detrimental to accuracy each individual has to, in my opinion, consider their own shooting form when weighing this issue. It would be interesting to see if a parallel limb bow could be designed with less reflex in the riser and yet no loss in speed or reduction in brace height. At the very least it would be something to consider for those hardcore target enthusiasts who demand the most inherently accurate design possible.
Bowtech has also been continually refining the grip that they offer on their bows. They have even gone so far as to offer a "Shrewd" grip for the Target model bows. I appreciate the neutrality of their stock grip. It does tend to promote a low wrist position which is popular among many shooters. However, I would still like to see a more contoured grip available as an option. I prefer a more defined thumb rest and actually enjoyed shooting with a high wrist position for several years. Though there might be some issues with small changes in draw length I still believe it would be a worthwhile issue to pursue.
Lastly, for those target and 3D shooters out there I would also like to see a "high mount" stabilizer tapped hole located on the string side of the riser and above the cable guard rod. Additional devices could be added there for better weight distribution or just additional noise and vibration suppression. I tried something similar to this with the Pro 40 Freedom and some NV Dampeners a couple years back and it definitely aided in balancing a fully set-up bow.

Conclusion: Considering the market today for ultra-short and short length bows the Old Glory might not be high on many potential bow buyer's lists and yet it should be. The bow is right on the borderline of what I would call mid-sized with a very compact feel to it. Its excellent overall balance coupled with the parallel limb/long riser combination and cutting edge cam design make it a superb all around bow for hunting, 3D shooting or even indoor target archery. Throw in the excellent warranty and customer service that Bowtech is known for and you have a real winner in every regard.